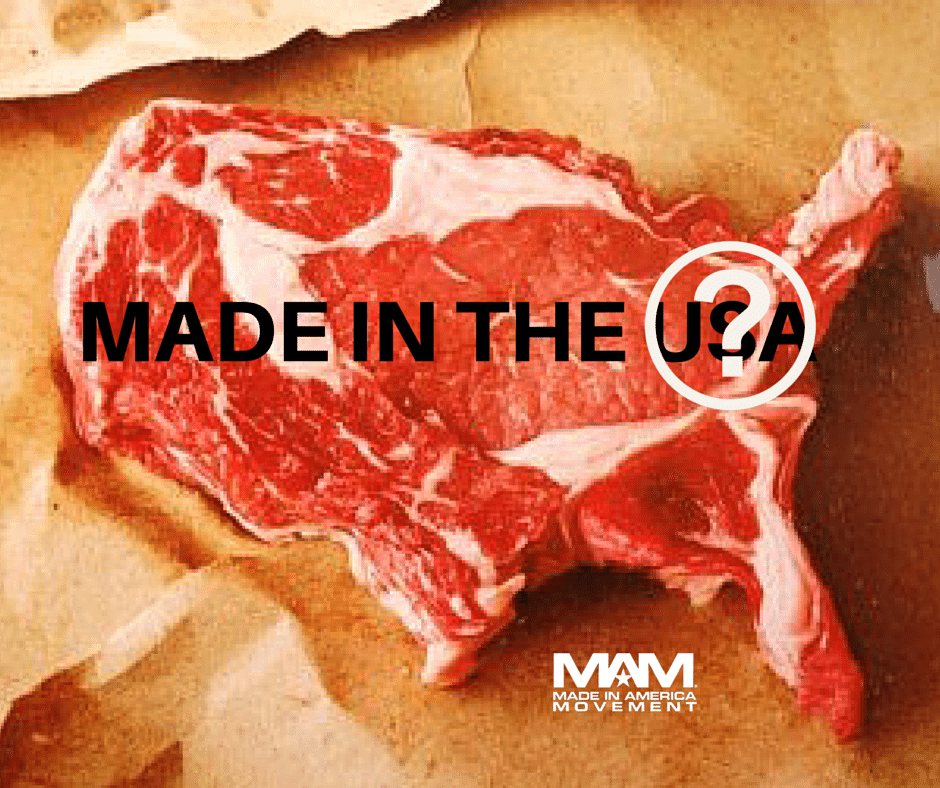 Beef Imports from FMD Infected Brazil & Argentina Approved
USDA Approval of Brazilian Beef Imports Coming Soon??
Foot & Mouth Disease Threat Alert!
USDA appears to be gearing up to do the unthinkable: allowing fresh beef imports from Brazil, a country contaminated with highly contagious Foot-and-Mouth Disease (FMD). No sane person would dare risk this "nuclear option." Exposing U.S. livestock herds to an FMD outbreak could devastate millions of cattle, hogs & sheep, destroy rural communities, and immediately shut down our export markets – at a potential cost of hundreds of $$ billions. What is the Obama administration thinking?!
In a deeply disturbing development for U.S. livestock producers, Brazil – a country infected with highly contagious Foot-and-Mouth Disease – is preparing to begin beef exports into the U.S. as early as August 2015. That's according to a Reuters News story posted online May 12, 2015 by Beef Central, an Australian livestock industry publication. Government and beef industry sources in Brazil have received assurances of approval from USDA, and are preparing to begin beef export shipments to the U.S. as soon as official approval is announced, the report said.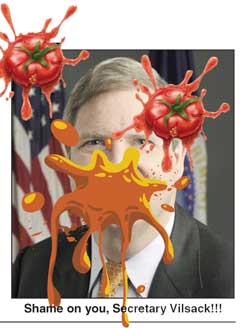 U.S. beef producers, meanwhile, have been kept in the dark about the pending status of USDA's controversial proposed rule. Fresh beef imports from Brazil could wreak havoc in the U.S. – exposing livestock herds nationwide to the risk of FMD infection and driving down beef prices at a time when cattle producers are struggling to recover from years of severe drought that have decimated foundation cattle herds in the Southwest.
Approval of USDA's controversial proposal to allow regionalized fresh beef imports from Brazil is expected to follow Brazilian President Dilma Rousseff's official state visit to Washington, DC in June, Reuters reported. Rousseff is scheduled to visit the White House on June 30 to discuss trade and other major issues. USDA's Animal and Plant Health Inspection Service (APHIS) proposed to allow imports of fresh (chilled and frozen) beef from a FMD-free regions of Brazil on December 23, 2013. That proposal raised such a firestorm of public protest that USDA was forced to extend the public comment period until April 22, 2014.
First shipments promised in August
Brazil's agriculture ministry stated that the U.S. had "promised the first shipments of fresh beef could occur in August," the Reuters report said. Martin Secco, CEO of Brazilian beef processor Marfig SA, said technical and sanitary questions had been resolved. Authorities reportedly had finished providing technical data and documentation to the U.S. by early June in preparation for the beef exports to begin.
Al Almanza, administrator of USDA's Food Safety Inspection Service was in Brazil during April, according to Bill Bullard, CEO of R-CALF USA. "An audit of Brazilian slaughter houses is in the works," Bullard said. FSIS inspection of Brazil's meat packing plants is a key step in moving the beef import approval process forward. R-CALF (Ranchers-Cattlemen Action Legal Fund, United Stockgrowers of America) is a grass-roots organization representing independent U.S. cattle producers.
Wesley Batista, CEO of JBS SA, said the U.S. trade proposal is in the "final phase" and described the development as "a very good moment for Brazilian beef," Beef Central reported March 24, 2015. JBS, based in Sao Paulo, Brazil, is the world's largest meatpacker and would be one of the leading beneficiaries of the USDA proposal.
JBS operations in Brazil are certainly well positioned to channel beef imports to JBS USA, the firm's American subsidiary. JBS USA has extensive beef processing facilities and feedlot operations in the U.S. as well as Mexico, Canada, and Australia. JBS, by no accident, has a global operating structure ideally suited to "Free Trade" agreements such as the proposed Trans-Pacific Partnership involving 12 Pacific Rim nations.
U.S. key to opening global beef markets
Apparently, the announcement of opening U.S. markets to Brazilian beef imports is a grand "Free Trade" gesture being timed as to coincide with President Rousseff's Washington visit. Obama's opening the U.S. market to fresh beef from Brazil is critical to gaining access to Japan and other major markets for Latin American beef, Beef Central reported March 13, 2015 online story.
The APHIS proposal has been highly controversial from the start. Virtually all of the 870 public comments posted on the APHIS website strongly condemned the proposed rule for the risks of exposing U.S. livestock to FMD infection. APHIS has been uncharacteristically silent about that proposal in the 13 months following the end of the public comment period.
Approval of USDA's proposal to allow imports of fresh (chilled and frozen) beef from a region of Brazil could expose U.S. livestock producers to the threat of highly contagious Foot-and-Mouth Disease (FMD). If approved, imports of fresh beef from Brazil would expose the U.S. livestock industry to extreme economic and animal health risks, a wide range of critics warn.
U.S. cattle numbers near 60-year low
U.S. beef numbers remain near their lowest level in more than 60 years. USDA reported that U.S. cattle numbers totaling 89.8 million head as of January 1, 2015 are up 1% from 2014 and represent the first increase in nine years. The slow recovery of U.S. beef numbers is due in large part to severe drought that forced the liquidation of foundation herds in Texas and other key Southeastern states.
The cattle shortage has driven retail beef prices to record levels in recent months, generating political pressure from the big meatpacking firms and their allies to open the U.S. market to more imports. USDA responded by proposing beef imports from Brazil and Argentina, two leading cattle-producing nations that have long histories of FMD infection. Many Latin American countries are included on the long list of countries lacking FMD-free status, according to the World Organization for Animal Health, a Paris-based organization also known by its French name, the Office International des Epizooties. Brazil also has reported cases of Bovine Spongiform Encephalopathy (BSE, or "Mad Cow" disease), another dreaded livestock disease that justifies continuing the current U.S. ban on Brazilian beef imports. Brazil violated international rules recently by failing to promptly report (for more than a year) a "Mad Cow Disease" infected beef animal.
The APHIS proposal brings the risk of FMD contaminated Brazilian meat transmitting the virus to the U.S. The last outbreak of FMD occurred in 1929, among swine in California that were fed table scraps containing meat from a cruise ship that sailed from Argentina.
FMD is among the most highly contagious and economically devastating livestock diseases known to man, and Brazil has a long history of FMD infection in its beef herds. FMD threatens all cloven-hoofed livestock, including cattle, hogs, sheep, and goats, and many wildlife species including deer, antelope, and elk. The FMD virus is very rugged and spreads easily by humans, vehicles, wind, water, wildlife including armadillos, and many other carriers. FMD virus present in infected meat survives refrigeration. Infected herds must be destroyed and carcasses are burned, taking a tremendous economic and emotional toll on affected farmers and other rural residents.
An outbreak of FMD would devastate the U.S. economy and imperial national food security. USDA's own risk analysis report conservatively estimates the economic cost of an FMD outbreak in the U.S. in the range of $37 billion to $42 billion – a low estimate. In addition to threatening domestic national food security, an outbreak of FMD in the U.S. would bring an immediate halt to all U.S. animal product exports – including meat, dairy products, and semen, a fact that should have all legitimate segments of the livestock industry up in arms.
Potential losses: "hundreds of billions"
The U.S. Department of Homeland Security lists FMD as one of the top bio-security threats to the nation. Maureen McCarthy, a senior DHS advisor on weapons of mass destruction, in November 2006 warned the Association for Intelligence Officers' annual convention that "an [FMD] outbreak would cost the American agriculture economy 'hundreds of billions' of dollars and could shutter some trade borders for 'years' if officials deem it necessary. 'It will happen instantly,' she said of the financial and trade impact, 'even if there are no deaths,'" Homeland Security Watch reported in a November 7, 2006 online report.
NCBA cites "extreme concerns"
Even the National Cattlemen's Beef Association,a conservative industry group with close connections to the big meatpackers, expressed "extreme concerns" about the proposed beef imports from Brazil and Argentina. NCBA said USDA failed to produce documents revealing Brazil's inability to monitor and control FMD and BSE.
"We have significant concerns regarding the willingness, committed resources, and infrastructure of Brazil to consistently perform adequate risk management in order to mitigate the risk for the introduction of FMD into the United States through the importation of fresh Brazilian beef," President Bob McCan said in NCBA's April 22, 2014 comments on the APHIS proposal.
Industry observers agree that the risk of FMD infection is major, if the free traders at NCBA are so strongly opposed to Brazilian beef imports.
The below social media message by R-CALF USA and the Organization for Competitive Markets criticizes Ag Secretary Tom Vilsack for allowing the NCBA to use national beef promotion checkoff funds to lobby for the repeal of the U.S. Country of Origin Labeling (COOL) law in Congress.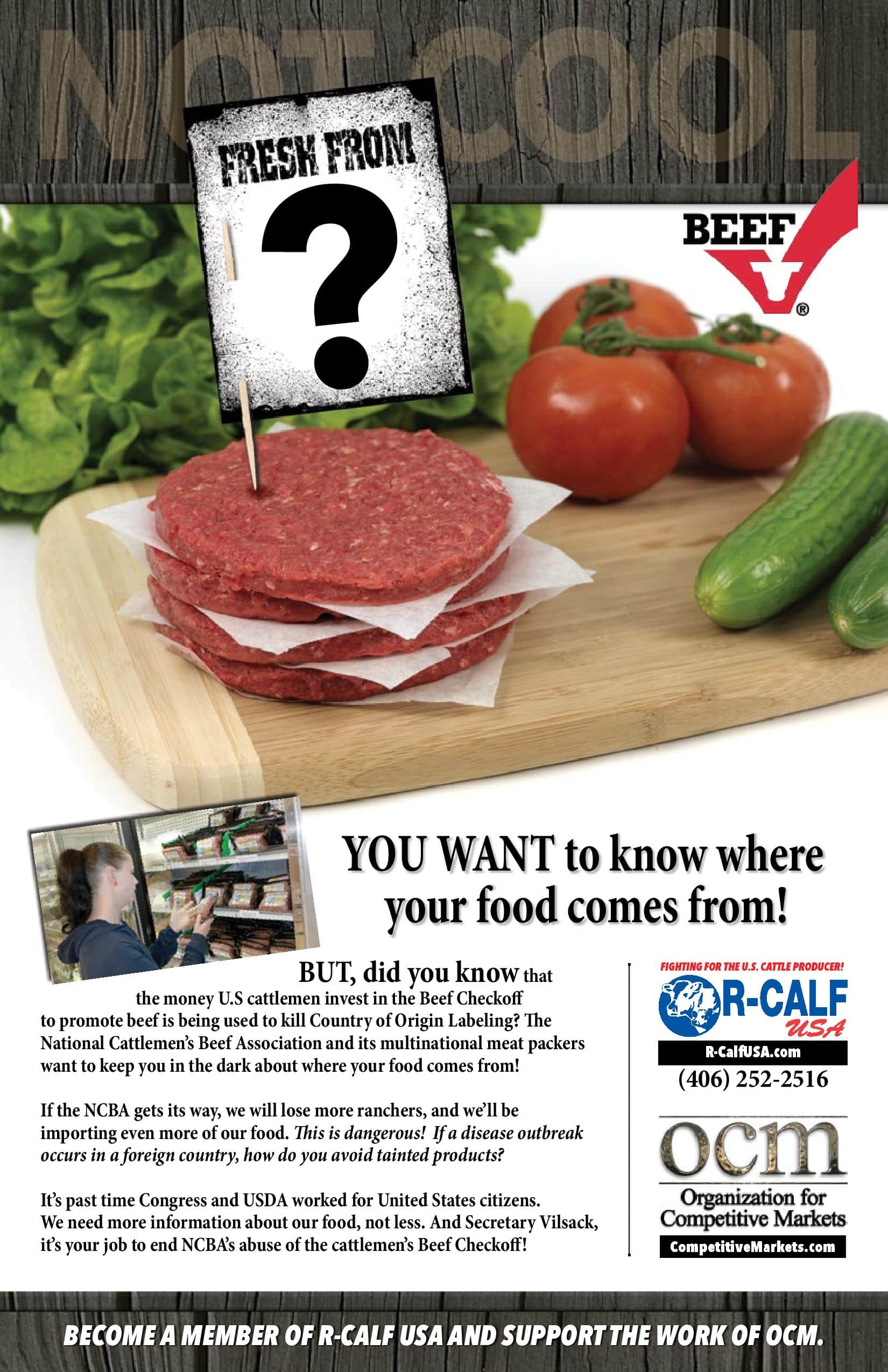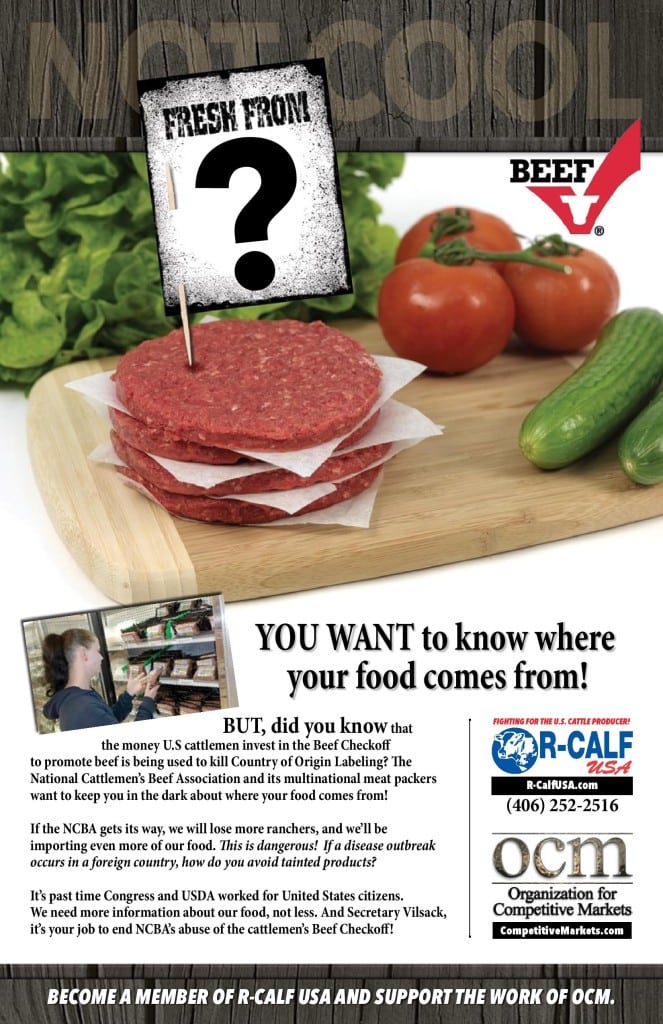 https://www.themadeinamericamovement.com/wp-content/uploads/2015/07/Add-subtitle-text-6.png
788
940
The Made in America Movement Team
https://www.themadeinamericamovement.com/wp-content/uploads/2017/08/Made-in-America-Movement-Logo_340x156.png
The Made in America Movement Team
2015-07-21 12:52:49
2015-07-21 13:47:42
Beef Imports from FMD Infected Brazil & Argentina Approved