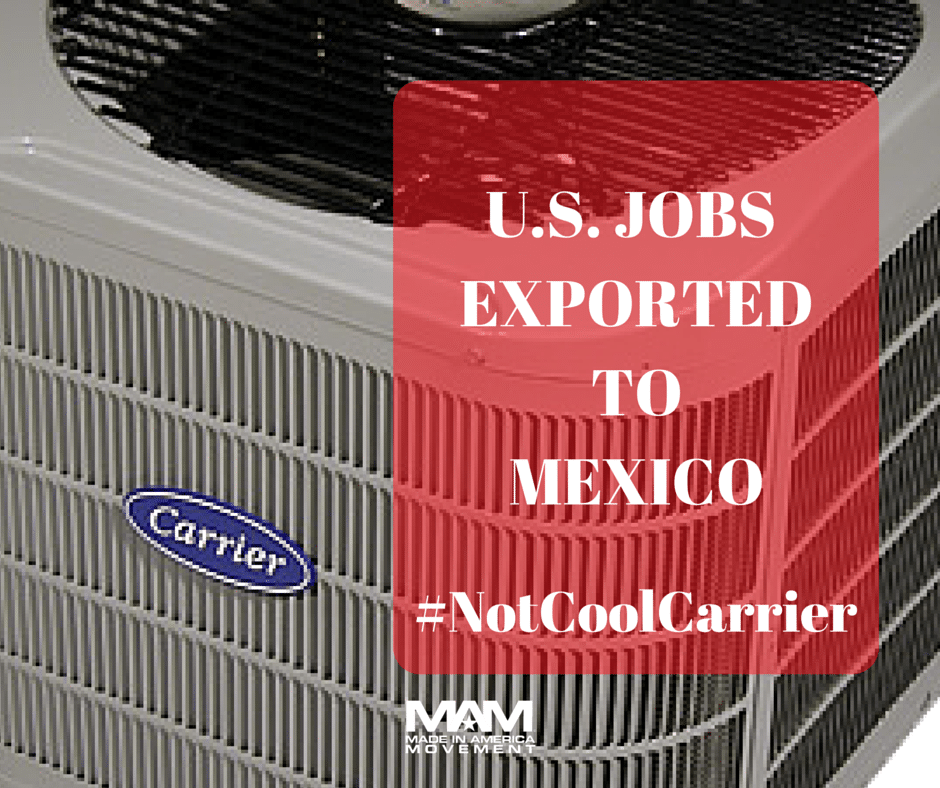 Carrier: Anger, Resignation as Massive Pay Gap Prompts Mexico Move
Carrier – Union leaders at an air conditioner factory in Indianapolis threatened with losing 1,400 jobs to Mexico said on Tuesday the plant's owner expects to pay Mexican workers $3 an hour compared to an average of more than $20 an hour for the U.S. workers.
"We haven't given up the fight yet," said Chuck Jones, president of the United Steelworkers union local that represents workers at the Carrier Corp plant. "But they have pretty well indicated that the wage differential is too great and there's not much we can do."
A spokeswoman for Carrier, a unit of United Technologies Corp, said the company pays a "competitive wage" based on local conditions and could not discuss pay levels.
Union and Carrier officials were locked in talks on Tuesday as a political storm raged around them.
The announcement last week that it would shift 1,400 jobs from Indianapolis and 700 from another plant in Huntington, Indiana to Monterrey, Mexico starting in 2017 prompted Republican presidential front-runner Donald Trump to say he would tax their air conditioning units for moving to Mexico.
Local leader Jones said it was "helpful to have anyone talking about job losses" but added that Trump has said auto workers get paid too much. Democratic presidential candidate Bernie Sanders has been more consistent on the dangers of trade deals and corporate greed, he said.
Carrier is one of many U.S. manufacturers moving jobs to Mexico. However, videos of a company official delivering the news to the Indianapolis plant's stunned work force, posted on YouTube, provided a vivid look at the pain and anger such decisions cause.
Indiana's Republican Governor Mike Pence said in a statement on Monday he was "profoundly disappointed" in their move and offered retraining support for the workers who will be laid off.
Democratic Indianapolis council member Zach Adamson said he has told the heating company that services his house he does not want Mexican-made Carrier products, and said the city should try to "claw back the incentives and benefits they have received to be here," he added.
Abby Gras, Indiana Economic Development Corporation spokeswoman, said incentives contracts for Carrier and UTC are still active, "meaning they must remain compliant and maintain a certain number of jobs for Hoosiers throughout that contract."
"Closing a facility would also result in non-compliance," she said.
SOURCE: Reuters
https://www.themadeinamericamovement.com/wp-content/uploads/2016/02/02-26-16-Carrier-air-conditioner-FB-2.png
788
940
The Made in America Movement Team
https://www.themadeinamericamovement.com/wp-content/uploads/2017/08/Made-in-America-Movement-Logo_340x156.png
The Made in America Movement Team
2016-02-26 19:09:18
2016-02-26 12:53:19
Carrier: Anger, Resignation as Massive Pay Gap Prompts Mexico Move