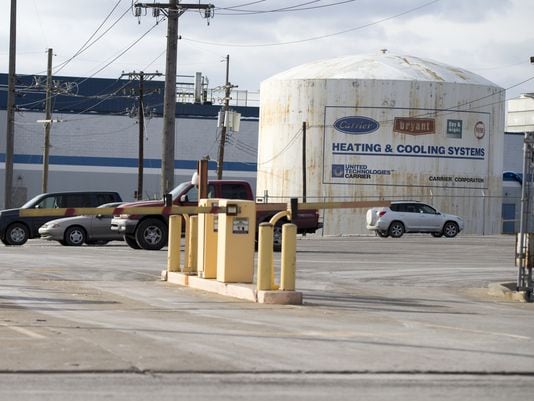 House votes to penalize corporations leaving Indiana for Mexico
The Indiana House approved an amendment to Senate Bill 308 on Tuesday that penalizes companies like Carrier Corp., which is moving 1,400 Hoosier jobs to Mexico.
The amendment, sponsored by state Rep. Karlee Macer, D-Indianapolis, places sanctions on companies that move to foreign countries. It was approved by a 60-34 margin.
The amendment empowers local units of government to claw back property tax incentives granted to companies that  leave Indiana. It further prevents those companies from accessing additional advantage or corporate tax breaks enacted by state government.
SB 308 is now up for final consideration in the House.
"Today's vote represents a chance for the members of the Indiana General Assembly to tell companies that they do not have the right to take full advantage of taxpayer-funded assistance to locate in our state, only to abandon us to move out of the country when they get a better deal for their shareholders," Macer said. "They cannot do it without repaying us for some of what they have taken."
In total, Carrier and United Technologies Electronic Controls, a sister company that also is cutting 700 jobs and leaving Indiana for Mexico, have received $520,815 from Indiana. The state is in the process of trying to recoup any funding awarded to the firms.
Carrier Corp. and UTEC are units of Hartford, Conn.-based United Technologies Corp.
The city of Indianapolis has been assessing whether Carrier received any economic development incentives.
Carrier has said it will work with state and local officials to honor the terms of its taxpayer-funded incentives.
Gov. Mike Pence plans to meet with United Technologies President Bob McDonough Wednesday morning. Details about the meeting were not disclosed.
United Steelworkers Local 1999 President Chuck Jones said he hasn't heard from the governor's office since Carrier announced it was axing its 1,400 Indianapolis workers.
https://www.themadeinamericamovement.com/wp-content/uploads/2016/03/03-02-16-House-votes-for-bill-to-penalize-cos-moving-out-of-indiana.jpg
401
534
The Made in America Movement Team
https://www.themadeinamericamovement.com/wp-content/uploads/2017/08/Made-in-America-Movement-Logo_340x156.png
The Made in America Movement Team
2016-03-02 10:06:47
2016-03-02 10:06:47
House votes to penalize corporations leaving Indiana for Mexico