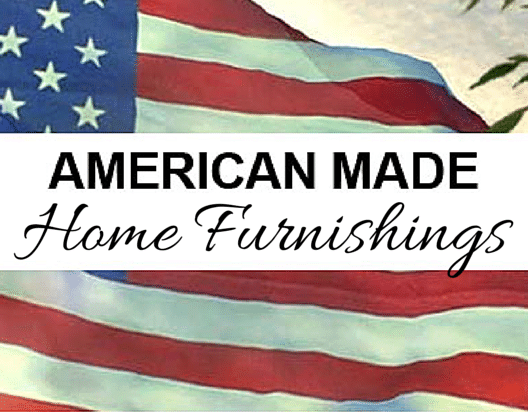 Retailers To Home Furnishings Vendors: Focus on Made in USA
For home furnishings manufacturers, the impetus to move a larger proportion of their manufacturing to the United States is about more than patriotism. It's about that time-tested business fact—that the customer is always right.
Customers, in this case, are retailers. Some of the biggest retailers in the nation—including Walmart, the world's largest retailer—have made efforts to increase the amount of U.S.-made product they are putting on their shelves.For home furnishings manufacturers, the impetus to move a larger proportion of their manufacturing to the United States is about more than patriotism. It's about that time-tested business fact—that the customer is always right.
Walmart's effort began in January 2013, with the announcement that Walmart stores and Sam's Club warehouses intended to increase their purchases of U.S.-manufactured products by $50 billion by 2023. The company followed this up by holding a U.S. Manufacturing Summit in Orlando, Fla., featuring government officials, including U.S. Secretary of Commerce Penny Pritzker and business powerhouses such as GE's Chairman and CEO Jeff Immelt, who spoke about joint government and industry efforts to bring manufacturing back to the United States.
Last year, Walmart held another U.S. Manufacturing Summit and hosted the first of its Open Call events, where current and prospective suppliers met with the retailer's executives and merchandisers to pitch their products for the opportunity to have them sold at Walmart stores, on walmart.com and in Sam's Club locations. Walmart will hold its third U.S. Manufacturing Summit and its second Open Call event July 7-8.
These efforts have put Walmart "right on target" to achieve its purchasing goal in the next eight years, according to Kayla Whaling, a Walmart spokeswoman. Last year's Open Call event attracted more than 800 meetings between Walmart staff and an estimated 500 manufacturers, and Whaling said she expects about the same number of meetings and vendors at this year's event as well.
Getting vendors on board with this program is a back-and-forth process, Whaling said. "They'll approach us or we'll approach them. Our buyers are very much involved because they make the buying decisions, of course. To the Walmart buyers, country of origin has become second in importance in the purchase decision to price," she added.
Among the success stories Whaling cited is towel manufacturer 1888 Mills. "They were one of the first," she said. Walmart's effort led 1888 Mills to build a 500,000-square-foot towel mill, which will open this fall in Griffin, Ga. It will be the largest-scale towel mill to open on these shores in more than two decades.
There is also the case of Meadowcraft, a supplier of outdoor products with a factory in Alabama. "We did a request for purchase with them for patio furniture, which will be sold in 500 stores across the U.S. under the Arlington House brand," Whaling said.
More recent examples cited by Whaling include manufacturers such as electric toothbrush maker Ranir and candle maker Korona, both of which have reshored products from abroad to the United States—products that are being sold or will be sold in Walmart stores.
Another manufacturer that benefited from Walmart's effort is Louis Hornick & Co., the window treatments manufacturer, which opened a plant in South Carolina in 2013. Crediting Walmart's commitment for the new factory, Louis Hornick III, executive and fourth generation of the founding family, said: "They are the leader of the movement because they see the great value [of made in America] and they should be applauded.
"Walmart…is making the biggest effort and splash, but others are putting their money where their mouths are."
HOME FURNISHINGS
Williams-Sonoma took an entirely different route to boost American-made assortments by creating its own furniture manufacturing division, Sutter Street Manufacturing, founded in 2007 by Eric Fulcher, who still runs the division. Sutter Street produces upholstered home furnishings for all of the Williams-Sonoma brands, including chairs, beds, dining chairs and sofas. Its factories are located in Claremont, N.C., City of Industry, Calif., and Arlington, Texas.
Up until Sutter Street came along, Williams-Sonoma had been sourcing its home furnishings from manufacturers in the United States, Asia and Europe. "The primary reason why Sutter Street made sense is it gave us the opportunity to have more control over the quality of the product," Fulcher said. "We drive the development process from the beginning. We control the full product cycle, from development to manufacturing and marketing."
Sutter Street also provided the opportunity for Williams-Sonoma to bolster its customer service in furniture. "Because our manufacturing is domestic and regionalized, we can ship furniture to you quicker," Fulcher said. "Special order is critical in furniture. People want the products the way they want them."
Williams-Sonoma declined to provide numbers about Sutter Street's performance and growth, but Fulcher said Pottery Barn is the brand in which the Sutter Street products have the greatest presence. Sutter Street is growing the fastest in the West Elm banner, Fulcher noted.
Sutter Street's future will depend on its ability to pass down the craft of furniture making to the next generation, he added. "Upholstered home furnishings is very much a craft, and we take this seriously," Fulcher said. His hope is that young people will be drawn to this kind of manufacturing, given their increasing interest in made-in-the-USA craft products.
Sutter Street isn't Williams-Sonoma's only patriotic effort. For this year's July 4, Williams-Sonoma stores conducted a 20 percent-off sale on U.S.-manufactured items including KitchenAid Stand Mixers, Williams-Sonoma-branded bakeware and All-Clad cookware.
Meanwhile, Houston-based Gallery Furniture, a specialty home furnishings store with three locations, has set itself on the path of growing its assortment of U.S.-manufactured furnishings. About 20 percent of Gallery's wood bedroom and dining room furniture was made domestically five years ago. Today, the percentage for both categories is about 80 percent, and the company's goal is to get that to 100 percent, according to a report in Furniture Today, an HFN sister publication. To stress Gallery's commitment to made-in-the-USA, Jim McIngvale, who co-founded the retailer in 1981 with his wife, Linda, wears a shirt with "Is Made In America Important To You?" emblazoned on it.
Further underscoring this effort was the exclusive entrance on June 13 of Vaughan-Bassett Furniture Co.'s Made In America Gallery in the retailer's stores.
Vaughan-Bassett produces 100 percent American-made bedroom sets. The gallery consists of two sets of 40-by-72-inch freestanding corner panels that allow Gallery Furniture stores to set up a custom-made space that features the company's products and showcases its support for made in America products.
At the opening, John Bassett III, Vaughan-Bassett's chairman, signed copies of the recently released paperback version of "Factory Man." Written by Beth Macy, the book chronicles Bassett's battle against globalization and its negative effects on U.S. manufacturing. "At Vaughan-Bassett, we're committed to living American-made, and our Made In America Gallery encompasses everything we stand for," he said.
While other retailers have not made the depth of commitment that Walmart, Williams-Sonoma and Gallery Furniture have toward U.S.-made products, vendors report that retailers are approaching them at an increasing rate about purchasing U.S.-made goods. "We've had a lot of conversations about made in America," said Mark Bachner, vice president of manufacturing for basic-bedding producer Bedgear, which has a plant in Rock Hill, S.C. "They've approached us at trade shows when they see our designs. We also see a lot about this trend in the media."
Other channels besides big box retailers and specialty stores are seeking made-in-the-USA resources. "The most active promoters of USA-made products are online retailers as well as independents," said Shimul Shah, national sales manager for housewares manufacturer Epicurean. "Many independent accounts are placing stickers or creating USA-made sections because consumers specifically ask for USA-made goods."
According to Hornick, retailers that are not bolstering U.S. manufacturing are making a mistake—and not just because of the benefits to the domestic economy. "Retailers who are not focused on this will lose ground as they will be unable to keep pace with the bottom line of a better product at a better price," he said. "This is not just a trend. The economic benefits of American manufacturing are here to stay."
HOUSEWARES: WOOING CUSTOMERS
By Maureen Azzato
Renewed consumer interest in American-made goods has improved bakeware company G&S Metal's business in the past year, according to Chris Schwartz, executive vice president. "Comments congratulating us for being made in America for over 65 years are the most frequent on our website," Schwartz said. "More and more retailers are understanding that promoting Made in America is as important for them as it is us. The number of layoffs and unemployed workers today, as well as the amount of industries that have moved offshore, only emphasizes the importance of keeping a strong manufacturing base here in the USA, along with the need for us all to support it by purchasing Made in USA products whenever possible."Increasingly, retailers are emphasizing Made in America products, recognizing the importance of supporting American workers and craftsmanship. But retailers and manufacturers also are cognizant of consumers' increased focus on all things local—from the foods they eat to the pots, pans and blenders they make their food in, or the cutting boards on which they chop their farm fresh foods.
While most cookware is made overseas, there are some companies that have been making it in this country—and some of those for quite a long time. All-Clad, for example, has been producing cookware in its Canonsburg, Pa., factory since the company's beginning 44 years ago.
"Consumers are putting a greater weight on quality, which Made in the USA delivers," said Bill Groll, All-Clad's vice president of product development. "They are also becoming more focused on buying local, particularly in the food industry." Products made in Canonsburg feature a "Handcrafted in the USA" label on the packaging, he added, and factory imagery is included in videos and point of sale materials. "Made in the USA is an important part of the All-Clad brand. Retailers have put a focus on this aspect in stores and advertising."
Lodge Manufacturing has been making cast-iron cookware in Tennessee for 119 years, and this year finished the largest factory expansion in its history, giving the foundry an increased capacity of almost 50 percent, Bob Kellerman, CEO, told HFN earlier this year.
Clipper Corporation recently relaunched Viking cookware, and two of the lines are made in America: the Viking Professional 5-Ply line and the Viking 3-Ply line. Clipper shipped its first order of the Viking U.S.-made cookware a year ago. Viking is an established American brand, and "having a U.S. made line of cookware dovetails with the Viking Made in the USA message," said Jeff Malkasian, executive vice president of Clipper Corp. "We also recognize that there is a segment of the market that is excited about buying goods made in the U.S. for a variety of reasons, from quality to job creation." Clipper itself has sourced products both overseas and in the U.S. for many years, he added.
Many housewares manufacturers promote their Made in the USA credentials on their packaging. World Kitchen also promotes it in its marketing efforts, said Kris Malkoski, president, World Kitchen North America. "For example, we're currently conducting a mobile tour campaign for the Pyrex brand's 100th anniversary where we focus on the brand's roots in Charleroi, Pa., and Made in America platform," she said. Charleroi was temporarily renamed Pyrex, Pa., earlier this year.
Meanwhile, Architec is now up to seven products—and 32 SKUs—made in the U.S., said Jenna Sellers, president. In its eighth year of manufacturing products here, the company now has use of a second factory, located directly across from its headquarters in Florida, which the company can also use as a testing ground, said Sellers. At this year's International Home + Housewares Show, the company debuted three U.S.-made products: a 3-quart serving bowl, a charcuterie board and a serving tray. It had a 7-quart serving bowl, but the new smaller size is more for everyday, she said, and the charcuterie board "is nice for serving; it has a nice impact." In addition, the company never had a serving tray before, and "our materials are so beautiful, it's a shame to put them away" when they are not in use.
Cutting board manufacturers have also noted a renewed interest and commitment among consumers for American-made products. "Our business has been growing steadily for the past three years, in part because of this trend," said Jon Blatchford, CEO of J.K. Adams, which makes its boards in Dorset, Vt., from sustainably grown and harvested hardwoods from the U.S. and Canada. "When it comes to natural products, we believe that the consumer wants to know where a product was produced and where the materials were grown and harvested," he said. "This is no different than why people have increasingly been buying their vegetables, meats and other food products from local farm stands and markets. They want to know more about the products and, in many cases, they want to know the maker or grower. We have seen numerous incidents where final assembly was done in the U.S., but in reality the materials and a lot of the value-added manufacturing was done overseas. Luckily consumers have caught on to this and are calling retailers and manufactures out on this front."
When asked, Blatchford said retailers seek J.K. Adams out because of its commitment to local manufacturing. "In addition, they recognize that our products are consistently produced at a very high quality level and that we stand behind our products with a lifetime guarantee," he said. "For this to work a retailer also has to be willing and comfortable selling products at a slightly higher price point than you might be at if you were importing a similar product. We have had some great recent successes with Williams-Sonoma and Uncommon Goods for these very reasons."
Epicurean, whose headquarters and manufacturing facilities are located in Duluth, Minn., has added a fun twist to the American-made concept by offering regionally specific cutting boards, such as its new crab shape for coastal areas, as well as one board shaped like the map of the United States. Epicurean's homegrown roots are promoted through the company's media channels and on product labels.
Although very few manufacturers of small electrics have production in the United States, those that do find it carries some advantages. One of these is timing, according to Sam Weiner, president of EdgeCraft, whose plant is located in Avondale, Pa., at the company's headquarters.
"We can be very quick, shipping weeks versus the months it takes for Asian manufacturers," Weiner said. "Also, retailers can order products from us as they need them, rather than having to order whole containers." EdgeCraft makes sharpeners in all three categories—electric, manual and hybrids that offer both electric and manual options.
Another advantage is ownership of the manufacturing process, said Doug Jentzsch, marketing director for Blendtec, whose plant is in Orem, Utah. "We manufacture our own sockets, shafts and other jar assembly components," Jentzsch said. "We have our own injection-molding machines that mold just about every plastic piece on our blenders. We also manufacture most of the wires found within the blender."
According to Jentzsch, Blendtec plans to add other components to its Utah location. "Our motors are made in Tennessee, and by the end of the year, we will be manufacturing our own motors in our Utah facility," he said. "We also desire to manufacture our own plugs."
But manufacturing here also poses challenges. "We've learned over the years that to compete with Asian manufacturers, we have to offer value for our products, prove our quality and be very efficient," Weiner said. "Consumers have to be persuaded to spend a little more for our product. It's not enough to just say Made in the USA."
Even so, Weiner said other manufacturers have expressed a wish to him that they could produce more domestically. "There is a lot of cost in sourcing and logistics from working with Asian manufacturers," he said. "Plus, the costs of labor and freight have climbed in China. And China is positioning itself as more of a consumer nation, rather than as a nation that just manufactures. So I see other manufacturers taking a hard look at manufacturing in the U.S."
Jentzsch, however, took the opposite view. "We don't see other small electrics manufacturers ramping up their U.S. manufacturing," he said. "Every other competitor, big or small, is making its products overseas. Most small electric manufacturers want more margins, so they sacrifice quality." —David Gill, Andrea Lillo and Allison Zisko contributed to this story
TEXTILES: THE COST ISSUE
By David Gill
Beginning in the late 1990s, it was those economics that drove much of the manufacturing of sheets, towels, window treatments and other soft home goods away from these shores to lower-cost manufacturing countries such as China and other Asian nations. Now, according to manufacturers, those same economics have reopened this country to the looming and cut-and-sew operations that go into the making of soft goods.The case made by textiles vendorsthat have opened up manufacturing in the United States comes down to the cold, hard economics of expense.
Louis Hornick III, executive with and fourth generation of the founding family of Louis Hornick & Co. (whose headquarters and manufacturing are in Columbia, S.C.), called the economic argument for increasing textiles manufacturing here "compelling." Louis Hornick produces window treatments, including its Firefend collection of flame-retardant curtains and draperies. "On a per-unit basis of one of our core products, it is $2.50 cheaper to manufacture in our facility in South Carolina than to import the products from China," Hornick said.
Home Source International, which opened its plant in Marianna, Fla., in 2012, also argues it is winning the cost competition with manufacturers in China and India. "Costs in China and India are rising, to the point that we have become more cost-competitive with them," said Keith Sorgeloos, the company's president and CEO. Home Source ships sheeting and top-of-the-bed products from the Marianna facility, and is adding shower curtains to its capabilities. Down the road, the company will also be able to produce towels from the factory, Sorgeloos added.
Not that patriotism is absent from the textiles side of the home furnishings business. Bedgear, for example, has literally gone down the red-white-and-blue route with its American Pride program, a line of bed pillows manufactured at the company's facility in Rock Hill, S.C. American Pride pillows feature borders in a deep blue, with red trims and the letters "American Pride" spelled out in red, along with "bedgear" spelled out in white.
Bedgear, a manufacturer of basic bedding, has had the South Carolina plant, which measures 180,000 square feet, for three years. "The American Pride line is celebrating our U.S. manufacturing and the fact that we're thriving as a U.S. manufacturer," said Mark Bachner, vice president of manufacturing. To underscore the "thriving" point, Bachner said bedgear may double its manufacturing employment, which currently stands at about 70, over the next year.
Bachner added that there have been moves toward reviving the textiles industry in South Carolina, once the home of several major mills, including Springs Industries. "There is a fiber spinning and weaving plant under construction near our plant," he said. "There is also talk of reviving the mills. They can do it. Many of the mills have been sitting empty all this time. The infrastructure is already here."
TABLETOP: ARTISANS IN AMERICA
By Allison Zisko
Made in the USA is an important label that several large tabletop manufacturers wear proudly. Companies such as Libbey and Lenox continue to make investments in their domestic facilities. Libbey has invested more than $30 million over a period of years in its Shreveport, La., plant where a second furnace will enable it to produce the finest stemware it has ever offered. The brand new Perfect Signature Collection, launching in the fall, is the result of several new technologies and specifications, lending the premium stemware a laser-cut edge, thin walls, a pulled stem and a more stable foot. "Every aspect of the design is improved," said Salvador Miñarro, vice president and general manager for the U.S. and Canada. "We will be able to compete [head-to-head] with any product from anywhere."When it comes to American made tabletop, there are two different, yet compatible, aspects of the business: large manufacturers with facilities in the United States and small companies that produce handcrafted, artisanal goods.
At Lenox, Made in the USA is an important part of the company's heritage and Lenox continues to tout it as a key attribute, said Sherri Crisenbery, vice president, Lenox brand. Lenox bone china dinnerware is made in its Kinston, N.C. facility. "We call it out on the backstamp of all of our fine dinnerware, on the retail floors with stickers on the front of the plates displayed on their fine dinnerware walls, and in all of our fine dinnerware print and digital advertising. We call it out within lenox.com and on all of our social media platforms," Crisenbery said.
In the artisan community, ceramicists and glassblowers who have been at their craft for years say they appreciate and can identify with the Made in the USA movement, although their relationships with the retailers who sell their wares tends to differ from that of larger manufacturers.
"It definitely helps, as has the recent appreciation for the handmade," said artist Annie Morhauser, founder of California-based Annieglass. "So much is made offshore by machine that handcrafted, Made in America items stand out now … so much so, that American artisans like me are experiencing the rare event of having our work celebrated enough to make it into the Smithsonian permanent collection. On top of its beauty, the fact that it was so practical—you can even put it in the dishwasher—and Made in America launched Annieglass into quick success with consumers once it was placed in stores."
Michael Wainwright, based in western Massachusetts, said he has always been in favor of American-made goods because they allow for smaller, more frequent runs, better quality control and local employment. But Wainwright thinks the uptick in his business may be more attributable to growing interest in the craft movement. Michael Wainwright USA offers gift-packaged finished goods that are commercially viable (his porcelain is made in Arizona and his bone china is made by Lenox in Kinston, N.C.) as well as one-of-a-kind, limited runs from his New England studio. Visitors to his studio enjoy seeing the product made and meeting Wainwright.
Corning, Calif.-based Alex Marshall Studios also works both directly with consumers and in small-run production for small- and medium-sized retailers. The Made in the USA movement is encouraging and benefits artisans, said company co-founder Alex Marshall. But she is concerned about larger manufacturers who produce artisan-like goods because it is trendy. "I think our stores [Alex Marshall Studio partners] are skittish about bringing in those types of lines," Marshall said, because the manufacturers may not be able or willing to fulfill orders next year, or whenever the trend dies down. The retailers most successful with the genuine craft movement are those who have had a longterm commitment to it.
Lisa Jones, founder of six-year-old Portland, Ore.-based Pigeon Toe Ceramics, agreed. "I take it upon myself to do as much consumer education as possible, and that includes buyers," she said. It's hard to explain why an artisan's prices are considerably higher than those of a large manufacturer. There's a cost-benefit analysis that some will never understand. Nonetheless, smaller makers have to embrace the fact that they compete with factories, Jones said. "I absolutely consider us part of the Made in the USA movement. We're really proud that we manufacture everything here. It's not easy."
FURNITURE: AMERICAN CRAFTSMANSHIP
By Maureen Azzato
In a quest for authenticity and artisanship, a certain sector of the consumer market values and places a premium on Made in America furniture, particularly upholstered furniture. Pearson, for example, manufacturers 95 percent of its furniture in Hickory, N.C., and its collection consists of more than 500 styles, ranging from traditional to contemporary, dressy to casual. The American furniture is created by the company's own design staff and made to the customer's order, according to Laura Holland, Heritage Home Ground luxury brands marketing director for the Pearson brand.In this world of mass-produced products, many of which are imported from low-cost Asian manufacturers, furniture that is made in America hangs its proud hat (and flag) on customization, quality and craftsmanship that resonates with today's consumer.
"There is a real interest in products that are domestically made," she said. "Our clientele knows that we make our products in our own workroom and it allows us to personalize each piece for the room it is being ordered for." Although the company does not tout its Made in America heritage in its marketing materials, social media has become a powerful consumer and designer tool to "share our workroom and our ability to personalize each piece to order." The company's new Hickory University program is another way it promotes its American quality. "We have six events this year and have had Pearson dealers attend each session," Holland said. "They leave amazed at what the craftsmen are capable of doing and all it takes to make each piece to order."
Social media is also an important marketing vehicle for Contempo Casual. "Social media is a powerful, trusted influencer among online 'friends,' especially when they can create their own custom furniture, instead of just ordering chocolate or vanilla," said Shamir Einhorn, director of business development for Contempo Space, which is a manufacturer and direct retailer—through its showroom and website—of its custom-made furniture, all made in Passaic, N.J. Made in America also allows the company to be extremely flexible, offering the customer far more choices. "Most stores offer one or two color variations, when Contempo Space offers more than 6,000 combinations for almost every one of our products," Einhorn said. "Consumers are becoming much more aware that the Made in the USA label means quality and choices."
Broyhill's Tanner's Choice upholstered leather line, like all of its upholstery, is produced in Lenoir, N.C., while Lane's domestic leather products, like 90 percent of its products, are produced in Belden, Miss. This enables both brands to speed delivery, improve special order capabilities, and service of parts and repairs, according to Dave Jaros, vice president of merchandising for the Broyhill and Lane brands, owned by Heritage Home Group. In addition, Lane collaborated with Jared Allen of the Chicago Bears to launch a new recliner, Valor, which was named in honor of wounded service members who returned from Iraq and Afghanistan. A portion of Valor recliner's proceeds will be donated to Jared Allen's Homes for Wounded Warriors to help build handicap accessible homes. "American made products for American heroes," Jaros added.
While a majority of beds sold in America are not manufactured here, nearly all mattresses sold in America are made in America, so it is not a feature companies like Therapedic International have been able to leverage as a competitive point of difference. Nevertheless, the company is beginning to include Made in America labels on its mattresses to inform consumers who may be unaware. Therapedic's new Tommy Bahama bedding line, however, is a different story altogether. "Tommy Bahama is an American brand, and while Therapedic is an international company our heritage is American," said CEO Gerry Borreggine. "So, we have an American brand made by a company that was born in America and has its worldwide headquarters in the USA," which is something the company plans to promote.
Several furniture and bedding manufacturers continue to lament how low-cost imports continue to eclipse Made in America and quality features. "The lower price is winning out over the better value," said Borreggine.
This year Contempo Space is promoting its Made in America heritage not only to existing and potential customers, but also to builders and designers within the industry. "There is a cachet to having our products Made in America, and if more manufacturers produced their products locally, the industry as a whole would have a much better reputation," Einhorn said.
LIGHTING: SMALL STEPS
By Andrea Lillo
Four years ago, Littman Brands took the unusual step of opening up a lighting factory and headquarters in City of Industry, Calif., for its brands Troy, Corbett and CSL Lighting. The 200,000-square-foot factory is fully equipped to go from concept to prototype to full-scale production. About 20 percent of Littman Brands fixtures are currently made there—and include a number of lines from Troy Lighting and CSL. The factory also has the capacity to expand production significantly.While so little lighting is made on U.S. soil, several companies have recognized the appeal of domestically made products and have added them when they make sense. For several companies, that means select table lamps, while another has its own factory here.
"I never gave up on U.S. manufacturing, even when it was in vogue to move 100 percent of a company's manufacturing overseas to cut costs," said David Littman, founder, Littman Brands. "The fact is, a large percentage of demand for residential and contract lighting comes from North America." It does manufacture abroad for products being produced in large quantities, which is "a necessity to stay competitive," he added, though "it's also critical from a quality and customer service standpoint for us to maintain and continually build upon our domestic capabilities."
Pacific Coast Lighting offers about 20 U.S.-made ceramic lamps in its line, and that will continue to grow. "A number of our retailers have a U.S.-made department or category as part of their overall assortment and are seeking U.S.-made lamps to go with the U.S.-made furniture," said Richard Spicer, vice president, sales and marketing. "There is a growing desire among some consumers to support U.S.-made products as long as the premium for these products is not an exorbitant upcharge."
At April's High Point Market, Wildwood Lamps unveiled its American Hands program, which works with artisans nationwide for a ceramic table lamp line. Comprised of four styles—Edith, Mildred, Florence and Rosaland—in six colors, the company hopes to expand the collection with a new Pantone Color of the Year annually starting in 2016.
RUGS: SPEED TO MARKET
However, more companies are bolstering manufacturing capabilities here on home soil, seeing the advantages of being closer to suppliers, retailers and consumers.While the bulk of rug manufacturing is still done overseas, rug manufacturing in the U.S. is nothing new—Capel, Karastan and Natco are three which are closing in on century milestones, for example.
Oriental Weavers, for example, plans to grow its U.S. manufacturing—30 to 35 percent of its total rug production—by 20 to 25 percent this year. The highlight of the manufacturing expansion was the installation of a new, high-speed loom—the first 5-meter loom to be installed in the U.S., according to the company, and 35 percent faster than the industry standard. The company plans to add a second 5-meter loom in September. Oriental Weavers is also expanding its distribution center by nearly 200,000 square feet.
Almost 90 years after the first Karastan rug was produced at its plant in Eden, N.C., flooring giant Mohawk Industries announced in May that the 836,000-square-foot facility was getting an $8 million investment in technology, equipment, infrastructure and new jobs, across all of the Karastan brand's business segments—including the residential, rug and commercial divisions. It will also produce woven collections for select specialized channels.
Natco Home now has 10 looms in its Maine facility, having added a loom every year for the past three years, and its warehouse has also expanded twice in the last five years. "Our strategy is to continue to drive innovation and expand our color and design offerings," said Jim Thompson, vice president of sales, and it makes a wide range of constructions, including heavyweight heat sets, high-pile frisee, indoor/outdoor and shags.
"Our business is focused on U.S. retailers, so having vertical operations in the U.S. allows us to respond quickly to our customers needs, and to work closely with them to develop new products as the market dictates," Pat Moyer, Natco's executive vice president, based in Georgia, added.
Last year, Natco nearly doubled its manufacturing and distribution capabilities in Dalton, Ga. It now has four facilities in Northwest Georgia totalling just over 700,000 square feet, and they primarily focus on its tufted rug operations, bound rug operations and its turf division. "We will continue to invest here as our business grows. We are encouraged by the availability of a skilled work force, and it's to our advantage to be located here so close to our raw material suppliers."
Capel Rugs produces about half of its line domestically at the moment, though it does fluctuate, said Cameron Capel, vice president of national accounts. Imports have been the bigger portion in the past, but with the "huge resurgence" of Made in the U.S. product, its braided rugs, made in Troy, N.C., and its Creative Concepts border program, made in Dalton, Ga., "has really gotten so much more attention," she added.
"Quality definitely makes our braids and wovens stand out," Capel said, adding that braids are handsigned by the sewer, and the company has gotten letters from consumers thanking the sewer personally for making the rug. Rugs for the border program can be shipped within two weeks. "Certainly speed to market is important for what we make domestically. No need for minimums, minimal shipping time, no stocking requirements for our customers, as we make to order."
Last fall, Surya launched its handtufted custom rug program, the beginning of its manufacturing within the U.S. With four tufting machines, the company can tailor-make rugs in any size or shape and "it's been doing really well," said Satya Tiwari, president. "We're getting lots of positive feedback from our customers." He added that a new program will launch this year that includes hundreds of designs and colors for customers to choose from, with the finished products shipping within a few weeks.
Besides the cut and sew program, Surya also sources its outdoor pillows and poufs from within the U.S. It also recently launched its Made to Order Art Program, which allows customers to get U.S.-made custom art within about a week. "Twenty percent of Surya's sales today are coming from domestic-made product," Tiwari said, "and that number will continue to grow.
"Every company has its own reason for producing product in the USA. Our Made in the USA focus is on providing customization options with a very quick turnaround time," he said. While it doesn't make sense for Surya to produce rugs in the U.S.—"the cost would be too high," he said—"there are definitely areas where it makes sense to produce domestically."
Late last year, Nourison acquired Hagaman Carpet, a U.S.-based carpet manufacturer, marking both Nourison's first acquisition and its first step into U.S. manufacturing. The acquisition of Hagaman Carpet enhances Nourison's machine tufting capability, and may include rug manufacturing in the future, Nourison said. —Andrea Lillo
https://www.themadeinamericamovement.com/wp-content/uploads/2015/07/Home-Furnishings.png
412
528
The Made in America Movement Team
https://www.themadeinamericamovement.com/wp-content/uploads/2017/08/Made-in-America-Movement-Logo_340x156.png
The Made in America Movement Team
2015-07-03 17:20:21
2017-04-10 12:39:26
Retailers To Home Furnishings Vendors: Focus on Made in USA