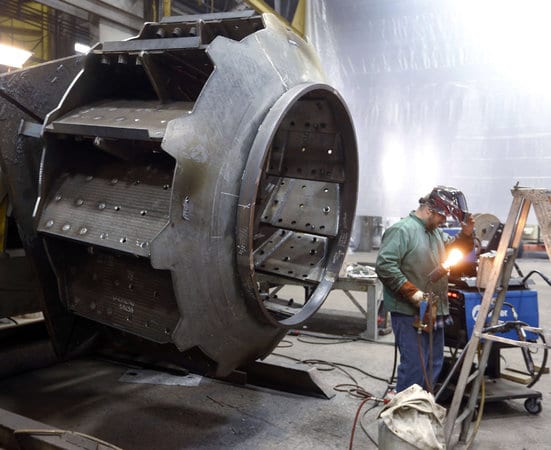 State of Manufacturing: How to Build for the Future
Jay Timmons was preaching to the "manufacturing" choir in GlaxoSmithKline's sun-drenched lobby at its Navy Yard offices.
Timmons, who heads the National Association of Manufacturers, emphasized the value of manufacturing, expressed concerns about what he described as business-stifling regulation and overtaxation, and stressed the importance of introducing young people to careers in manufacturing.
His audience of about 60 manufacturers, business association officials, and consultants didn't sing out any amens – it wasn't that kind of crowd that gathered Tuesday to hear Timmons' talk as part of his nationwide 2016 State of Manufacturing tour.
His tour comes as manufacturing in Pennsylvania is on an upward swing after the recession. Chemicals, food, and metal products are the leading categories here.
New Jersey's manufacturing, meanwhile, has yet to recover. Its largest sectors are chemicals, food, and computer products.
Experts are predicting a labor shortage over the next decade.
Timmons' tour also comes at the start of primary season. "It's time to stop selecting political candidates based on how they sound, rather than what they can actually do for manufacturing and our country," Timmons said.
Who might those candidates be?
Timmons wouldn't say – the association doesn't endorse presidential candidates, he said later.
And what might those candidates do?
They can, for one thing, extend the freeze on a federal tax on the manufacturing of medical devices beyond two years, Timmons said. In December, the tax, enacted as part of the Affordable Care Act, was suspended for two years.
"The medical-device tax was an ill-considered addition to that legislation" because it encourages manufacturers to move their work overseas, he said.
And, he said, they must take special care to protect intellectual property. That's crucial to the pharmaceutical industry, where it can take a decade and large sums to develop a new product.
"We must be vigilant and push back on aggressive state legislatures that want to require pharmaceutical manufacturers to . . . reveal highly sensitive operational information," including price, marketing costs, research investments, and funding streams, Timmons said.
Timmons also said that manufacturers need to address a coming labor shortage.
By 2025, he said, manufacturing employment will grow by 3.5 million jobs. Of them, two million would likely go unfilled, due to lack of skills in welding, for example, and lack of young people in the pipeline.
"We've got to bring the message to the people," said John Walker, director of business development at the Delaware Valley Industrial Resource Center, a nonprofit that provides consulting to manufacturers.
Walker said Timmons' talk reinforced the necessity for manufacturers and their advocates to reach out to anyone who will listen about the importance of attracting young people to manufacturing jobs.
That sounded about right to John F. McKeever 3d, 60, president of Charles Schilling Co., a 30-employee metal-fabrication business in Bensalem.
McKeever worries about finding employees, even though he has had success recruiting from a nearby vocational-technical high school.
Half of Schilling's workforce is older than 50.
"We have to get younger," McKeever said.
For David Taylor, who heads the Pennsylvania Manufacturers' Association, "pro-growth tax relief" is an issue.
He would like Pennsylvania to allow manufacturers to claim all operating losses over several tax years, smoothing the business cycle for entrepreneurs. Current laws, he said, limit that loss carryforward to 30 percent.
SOURCE: Philly.com
https://www.themadeinamericamovement.com/wp-content/uploads/2016/02/02-29-16-State-Manufacturing-How-Build-Future.jpg
450
551
The Made in America Movement Team
https://www.themadeinamericamovement.com/wp-content/uploads/2017/08/Made-in-America-Movement-Logo_340x156.png
The Made in America Movement Team
2016-02-29 10:54:28
2016-02-29 10:54:28
State of Manufacturing: How to Build for the Future