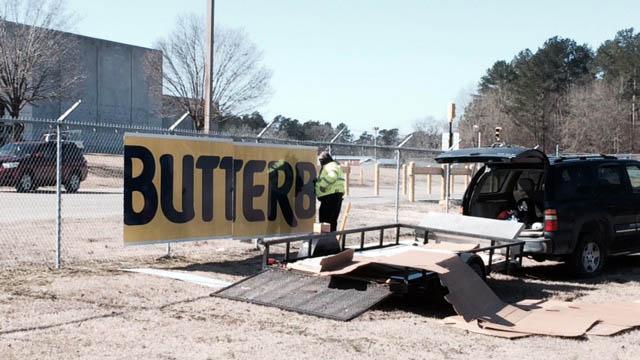 Butterball to Revive Former Raeford Turkey Plant
Garner-based Butterball LLC will take over a turkey plant formerly occupied by House of Raeford, bringing hundreds of poultry processing jobs back to Hoke County, officials said Thursday.
Butterball plans to hire 367 people at the 200,000-square-foot plant and invest $66.75 million in Raeford over the next three years.
"We are thrilled to expand our presence in Raeford," President and Chief Executive Kerry Doughty said in a statement. "We've enjoyed our relationship with the community throughout the years, and we are proud to continue building that relationship."
Butterball already employs nearly 200 people in a hatchery and a breeding operation in Raeford.
House of Raeford shed more than 1,300 jobs in Hoke County in the past two years by shuttering various operations, and Don Porter, executive director of the Hoke County Economic Development Commission, said Butterball would "put a big dent in that."
The plant could be operational as soon as May.
"We'll start out with some raw product first, and then, as we get all of the work done at the plant that we plan to do, we will move over into some fully cooked type of products," Doughty said.
Butterball has no interest in reopening a second House of Raeford plant that used to employ about 1,000 people, officials said.
The firm qualified for a grant of up to $150,000 from the One North Carolina Fund, which provides financial assistance to attract business projects to the state. Companies receive no upfront money and must meet job and investment targets to obtain the grant funds, which are matched by local governments.
The largest turkey processor in the U.S., Butterball operates plants in North Carolina, Arkansas, Illinois and Missouri and employs more than 6,000 people in its plants, farms, hatcheries, feed mills and corporate offices.
Porter said Hoke County also continues to chase a 1,000-employee Sanderson Farms chicken processing plant that Cumberland County officials twice rejected before approving an incentives package this week.
"We believe that we have the workforce, we have the infrastructure and we have the people with the stomach for this industry, and that's very important," Porter said.
---
https://www.themadeinamericamovement.com/wp-content/uploads/2015/03/03-10-15-WRAL-Butterball.jpg
360
640
The Made in America Movement Team
https://www.themadeinamericamovement.com/wp-content/uploads/2017/08/Made-in-America-Movement-Logo_340x156.png
The Made in America Movement Team
2015-03-10 10:53:17
2015-05-04 16:17:01
Butterball to Revive Former Raeford Turkey Plant