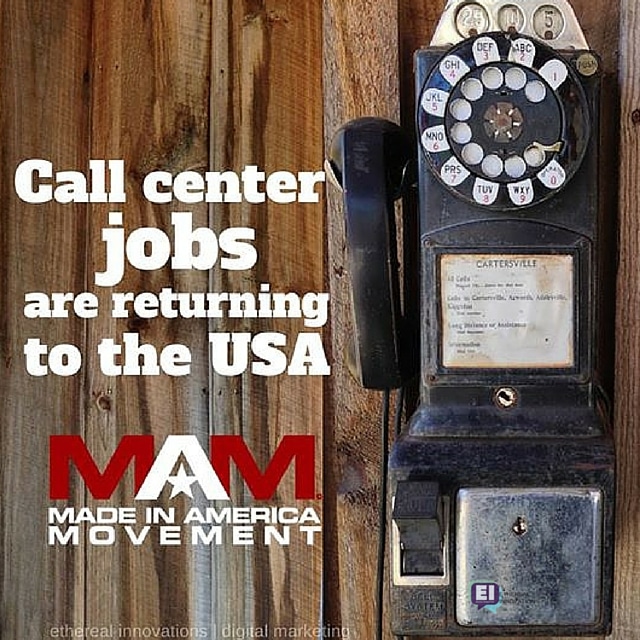 Call Centers: Reshoring Instead of Offshoring
Call centers are coming back to America, and flyover country is proving to be the biggest beneficiary in new jobs and overall boosts to local economies.
As major U.S.-based operators of call centers and contact centers increasingly sour on relying on foreign voices to deal with American customers, they are reshoring some of their work to the United States. At the same time, as expansion needs arise, the industry now more often is turning first to the possibility of domestic sites rather than canvassing locales abroad.
In the process, the Southwest, Southeast, and Midwest have gained the most new facilities and jobs, as operators for call centers gravitate toward major cities in the Heartland where workers and real estate are plentiful and labor rates are reasonable. Texas, Kansas, Michigan, and Ohio have become major winners. Meanwhile, both coasts increasingly are losing out in this particular economic development derby.
Otherwise desirable markets on the East and West coasts are already saturated with contact centers, and competitively priced and adequate workers aren't available — while both real estate and labor are available at more reasonable costs in the Midwest and South, and those regions enjoy certain productivity advantages.
Call Centers: Reshoring Trend
An estimated five million Americans now are employed in about 66,000 call centers, which typically provide online help in various forms as well as the telephone assistance that gave rise to the industry. Many companies staff call centers for their own brands, but others outsource the functions to a handful of huge contractors.
For decades, these jobs streamed abroad to the Philippines, India, Mexico, Bulgaria, and other countries where English was dominant or prominent, low labor costs beckoned, and telecommunications technology could make the connections seamless. But in the last few years, this success formula began falling apart. Labor-cost differentials dwindled as workers in these developing markets pressed to join the middle class, and as the Great Recession and endemic underemployment made U.S. workers more affordable.
"Throw in the highly improved economy in the United States with minimal to no wage inflation in call center wages, and it makes this country look very opportunistic for expansion," says King White, CEO of Site Selection Group, based in Dallas.
Another factor has been the surge in merger and acquisition activity in the United States, involving many companies that rely on contact centers, says Raleen Gagnon, director of market intelligence for ManpowerGroup Solutions, a unit of the Milwaukee-based staffing solutions giant that recently studied reshoring trends related to call center investments in the United States and advises companies that are establishing new facilities. She explains, "They have a lot of redundancy in their real estate assets, so now is the time to consolidate" contact center operations, often in a new place.
Throw in the highly improved economy in the United States with minimal to no wage inflation in call center wages, and it makes this country look very opportunistic for expansion. – 

King White, CEO of Site Selection Group, based in Dallas
Perhaps most important, American customers tired of talking with foreigners who could, strictly speaking, converse in English, but where communication was lost because of their accents and because they couldn't create the cultural understanding that so often is necessary even for mainly technical conversations.
"Some of our key customers have said they want to bring work back to the States, and we help them with that," notes Scott Wilson, senior vice president of shared services for Alorica, an Irvine, Calif.-based operator of outsourced business services including call centers. "Maybe five years ago, we helped some move that same business offshore."
Labor, Real Estate, and Incentives
When companies want to return, expand or establish call centers in the United States these days, they typically are looking for sites where they can hire 300 to 500 people, though sometimes they can be looking for 1,000 operators or more. Relocation experts and the companies themselves say primarily they're seeking three things: an ample supply of trainable workers to fill those jobs, reasonably priced real estate, and the right incentive packages.
Unlike with heavily industrial facilities such as manufacturing plants and distribution centers, call centers require minimal capital expenditures. So the biggest lure is cash incentives, training grants, and other highly labor-related lures that states and municipalities can offer for the creation of jobs. Typically such incentives amount to $1,000 to $5,000 per job in some markets, usually including "clawbacks" if a given number of jobs don't actually materialize within a period of years.
At the same time, some local economic development officials hurt their cause in luring contact centers because they require some sort of minimum wage, such as one that matches the county average. "If they do that they could be missing out on a large workforce of potentially thousands of people," Wilson says. "They're not getting a look at that business because they're putting a wage structure in place that is unobtainable, because we're generally an entry-wage business."
Costs vs. Supply
In terms of labor supply, in their new surge of investing domestically, call center operators have been favoring urban markets over the mid-sized and small cities that once held allure for them.
"They have to have availability of labor over a sustained period of time," says Bob Tenzer, senior vice president of Human Resources for C3, a Plantation, Fla.-based call center operator. "Even if you keep your turnover low, the reality is that this is an industry that still has a high percentage of turnover. So you have to have a large enough labor supply to sustain that turnover, which typically means large cities."
Yet, as ManpowerGroup's Gagnon notes, labor rates tend to be highest in large cities, and so do other costs such as taxes. Meanwhile, although many small and even rural cities once supported call centers because of low wage rates, site location experts say such places have fallen into disfavor with call center operators because they don't offer big enough labor pools. "Lowest-cost markets won't be the best, either, because you don't have enough talent there," she says.
Perhaps most important, American customers tired of talking with foreigners who could, strictly speaking, converse in English, but where communication was lost because of their accents and because they couldn't create the cultural understanding that so often is necessary even for mainly technical conversations.
Operators of call centers building new U.S. locations are "honing in on more markets with 500,000 plus in population," notes White of Site Selection Group. "They are after scale and after quality, and higher education levels, and in markets that big they can interview far more applicants and find the candidates who are the right fit."
Still, in the ideal market, the call center operator "becomes a fairly major employer in their own market," Wilson of Alorica says. Thus, as Tenzer of C3 put it, "Medium-sized or smaller markets can work when you're the biggest name in town. But markets like that have become fewer and far between. There aren't many markets left where you can be the only game in town."
Actually, some of the best local markets are cities that may have hosted call centers before operations were moved offshore or were shut down by the Great Recession. "People are looking at those markets again," says Tenzer. "They have trained work forces and operations can be gotten back on track on relatively good terms."
In any event, the trend toward underemployment of millennials has played into the needs of call centers for relatively low-priced workers who nevertheless are comfortable with live chatting, email, texting, and other forms of digital contact with a customer base that previously could only be reached by telephone.
"Call centers don't necessarily need people with years of experience," Gagnon explains. "They can take advantage of people just coming out of school, and of people who are still in college and need flexible schedules, and then blend in more experienced supervisors. Plus, [millennials] get the technology."
Call Centers: The Hotspots
Texas remains the leader in landing jobs at call centers in part because its cities offer "very attractive" cash incentives, White says. Rising Western states include Utah and Nevada. Southeastern hot spots include North Carolina and Georgia.
"The Southwest and Southeast are the hottest markets for big projects, and there is a lot of activity in the Midwest," says White. "In the Northeast, there is little to no activity, and the West Coast is being hurt because of labor laws."
Gagnon agrees: "The Midwest has become the best area of opportunity from a competitive perspective, and we don't see that shifting any time in the near future."
For example, the Plains States of Kansas, Nebraska, South Dakota, and Iowa, as well as Missouri, have become attractive. In Lawrence, Kansas, for example, USA 800 plans to open a 20,000-square-foot multi-channel call center to support a number of customers, investing more than $3.5 million to create 333 new jobs. The Kansas City-based company evaluated a number of midwestern locations but chose nearby Lawrence because the area's "history in telemarketing gives it a leg-up on location of call centers competition," says Bob Marcusse, president and CEO of the Kansas City Area Development Council.
And the industrial Midwest is rising in part because of idle real estate in factory towns in Ohio, Michigan, and elsewhere. Additionally, the very recent decision of Michigan, Indiana, and Wisconsin to provide the "right to work" has helped "ease labor conditions in some of those markets," White says.
"Michigan has been very aggressive, so there would be a natural tendency for some companies to locate there," Tenzer explains. Some native employers in Michigan are bulking up in the region, as well. When General Motors decided a few years ago that it would insource its call centers operations, for instance, the auto-making giant decided to fashion a new "customer engagement center" with more than 300 jobs on the campus of its Technical Center in Warren, Michigan.
The old-fashioned midwestern work ethic also is having an influence on site decisions, in part because many states in the region either average lower overtime premiums for workers, or their workers are available for more hours during the week at base pay, compared with workers on the coasts, according to ManpowerGroup research.
"They can work seven days a week but don't have to get double pay for Saturday or Sunday, or they don't get different pay for a night shift," Gagnon explains. "In California and the East, it's very common for night-shift work to come with a wage premium. Not so in the Midwest."
Ryan Hulland, president of Charlotte-based Netfloor USA, which supplies call centers with specialized flooring that includes built-in "data" trenches, adds that these regions are leading in landing new operations "because there is a lot of labor out there and costs for real estate are down. Plus, this isn't to say that workers don't need to be specialized, but it's pretty easy — unless you're trading stocks – to train someone," he says.
In that vein, markets that have lost out as call centers return to the United States include Washington, Oregon, California, and New York because they are "very expensive," Wilson notes. On the Eastern Seaboard, the primary bright spot remains financial call centers, where employers in an indigenous industry can take advantage of the region's high educational levels.
https://www.themadeinamericamovement.com/wp-content/uploads/2015/09/Untitled-design-3.jpg
640
640
The Made in America Movement Team
https://www.themadeinamericamovement.com/wp-content/uploads/2017/08/Made-in-America-Movement-Logo_340x156.png
The Made in America Movement Team
2015-09-04 10:33:58
2016-01-26 18:47:20
Call Centers: Reshoring Instead of Offshoring