Tell Congress to Stop FAST TRACK on TPP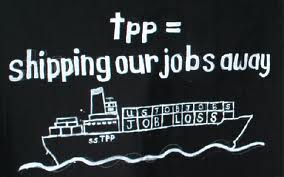 The TPP Is Another Job Killing Trade Deal—So Why Are Both Parties Supporting It?
The TPP's specifics have been hammered out during closed-door conferences held throughout the world over the past five years. The 18th round took place in Malaysia in July. Leaked chapters of the agreement have caused concern among a diverse group of critics including the Sierra Club, Public Citizen, and numerous U.S. labor unions. The agreement will give unprecedented powers to multinational corporations and affect individuals in member countries in ways that are both unexpected and undesirable.Yet surprisingly, the TPP has supporters on both sides of the political aisle.You can help stop this- tell Congress to stop Fast Track on TPP!  Let your State Reps know.  Click here and let your voice be heard!
Tell Congress to stop FAST TRACK
https://www.themadeinamericamovement.com/wp-content/uploads/2017/08/Made-in-America-Movement-Logo_340x156.png
0
0
MAM Team
https://www.themadeinamericamovement.com/wp-content/uploads/2017/08/Made-in-America-Movement-Logo_340x156.png
MAM Team
2014-01-16 11:26:44
2014-01-16 11:26:44
Tell Congress to Stop FAST TRACK on TPP