Why U.S. Manufacturing Is Poised for a Comeback (Maybe)
Some Say a Renaissance Is Already Under Way. Here's the Case They Make—and the Skeptics' Response
Manufacturing in the U.S. is starting to make a comeback, and is poised for even bigger gains in the years ahead.That, at least, is the way the optimists see it.Driven partly by more competitive labor and energy costs and companies' desire to produce goods closer to their customers, the number of factory jobs has started to rise after plunging for decades, edging up by about 600,000 over the past four years to more than 12 million. Some U.S. companies are bringing jobs back home, and foreign businesses are setting up shop. Newspapers are trumpeting investments in American production, and advertisements—such as the nostalgia-drenched Chrysler TV ad shown during the Super Bowl and featuring Bob Dylan —celebrate a resurgent U.S. manufacturing sector."The economics of the world are changing in favor of U.S. manufacturing," says Hal Sirkin, a Chicago-based senior partner of Boston Consulting Group.
That's the case made by the bulls, but plenty of skeptics argue that there are lots of reasons to doubt it. For all the positive trends and statistics, they cite numbers pointing the other way. And, the skeptics argue, the U.S. government needs to overhaul its policies and industry must invest more heavily before any real change can happen.
With that in mind, here are four reasons to bet on U.S. factories—and four reasons to be cautious.
THE OPTIMISTS' CASE, PART 1: U.S. costs are getting more competitive
While wages soar at double-digit rates in China and some other emerging countries, they have stayed roughly level in the U.S. in recent years, narrowing the gap between America and Asia. Boston Consulting Group estimates that China's overall manufacturing-cost advantage has shrunk to just 4%. When wages are adjusted for productivity and the costs of shipping and inventories are included, it can be more economical to make some products in the U.S. than in Asia.
Meanwhile, the surge in U.S. production of oil and natural gas, made possible by hydraulic fracturing, or fracking, has pushed down energy costs in the U.S. In 2012, German industrial companies paid more than twice as much for electricity as their U.S. counterparts and four times as much for natural gas, according to International Energy Agency data.

THE REBUTTAL: It isn't just about costs. It's also about workers' skills and the availability of suppliers

Both atrophied over the past two decades as U.S. companies shifted production to Asia. U.S. manufacturers complain they can't find enough people skilled in operating or repairing sophisticated machinery, and U.S. students do poorly in international comparisons of math and science skills.Euro-Pro Operating LLC, based in Newton, Mass., designs its Shark vacuum cleaners and Ninja blenders in the U.S., but it has them made by partners in China. The issue isn't labor costs, says Mark Rosenzweig, Euro-Pro's chief executive officer. It's about the profusion of suppliers in China for such things as small motors and electronic parts, and the speed with which Chinese factories and suppliers can gear up to make new or redesigned products.

Replicating those skills and supply chains in the U.S. is conceivable, but it would require many years of heavy investment. The big question is whether U.S. companies, which are typically focused on pleasing Wall Street with quarterly results, will make those long-term investments.

As for cheaper energy, sure, low-cost natural gas is spurring huge investment in some U.S. industries, such as petrochemicals and fertilizers. But energy costs aren't the decisive factor for most manufacturers.

In an August 2013 survey of 216 U.S.-based manufacturing executives, Boston Consulting Group found that only 7% ranked energy costs as being among the most important factors in deciding whether to locate production in the U.S., behind factors like access to skilled labor.

THE OPTIMISTS' CASE, PART 2: Companies are more eager to produce near their customers
These days, companies are increasingly focused on reacting quickly to changes in demand—such as, say, a sudden fad for orange sunglasses instead of pink ones. Being nimble reduces the risk that companies will be stuck with excess stocks of unsalable items or a shortage of items they could sell.It's a lot easier for companies to act quickly when they're making their products close to the customer. Manufacturing in the U.S. can reduce the time needed to obtain goods to days or weeks from the two months or so needed to ship goods across the Pacific and get them through customs. Whirlpool Corp. cited such advantages when it moved assembly of hand mixers from China to Ohio three years ago.Manufacturers also got a lesson from nature in 2011, when an earthquake in Japan and flooding in Thailand temporarily halted production of vital parts for cars, electronic goods and other products. That shock reinforced the desire to reduce dependence on supply chains stretching across the Pacific.
THE REBUTTAL: China and India have more consumers
Most companies still see their greatest long-term growth opportunities in Asia, Latin America and Africa, as hundreds of millions of poor people move up to the middle class. Emerging markets are likely to remain a higher investment priority than the slower-growing markets of North America and Europe.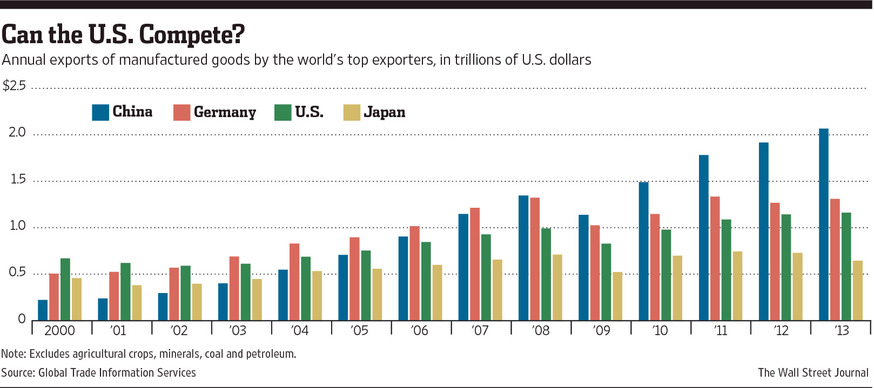 Just look at where corporations are increasing their investments. In 2011, according to the latest data, U.S. multinational manufacturers did $116 billion in capital spending overseas—up 68% from a decade before, according to the federal government. During the same period, their capital spending in the U.S. declined 2% to $189 billion.
THE OPTIMISTS' CASE, PART 3: The political climate for manufacturing in the U.S. has improved
American manufacturers have often grumbled that government subsidies and incentives are more generous overseas. But state and local governments in the U.S. now are competing fiercely for investments and offering some rich packages. Electrolux AB of Sweden received more than $180 million of incentives, including tax breaks, to build a $190 million cooking-appliance plant in Memphis, Tenn., that opened last year. Politicians are so eager to talk about jobs that they will show up to celebrate even minor expansions: In April, Missouri Gov. Jay Nixon attended a ceremony to hail the creation of 22 jobs in an expansion of a 3M Co. plant that makes graphic films.The declining power of U.S. unions also encourages some manufacturers to set up in the U.S. rather than Europe or elsewhere. Caterpillar Inc. closed a railroad-locomotive plant in Lon
don, Ontario, in 2012 after union members there refused to accept pay cuts of about 50%. Production moved to a new nonunion plant in Muncie, Ind.
THE REBUTTAL: The political climate still isn't that great
The top federal income-tax rate for U.S. corporations, 35%, is the highest among major industrial countries. U.S. tax rules also give American firms an incentive to keep large amounts of cash invested overseas rather than at home.
Meanwhile, political gridlock in Washington leaves companies highly uncertain about future taxes, health-care costs and repairs to the nations' crumbling roads, bridges and ports. Caterpillar says capacity constraints and outdated technology at U.S. ports have prompted it to use Canadian ports for about 40% of the company's imports and exports.
THE OPTIMISTS' CASE, PART 4: Foreign companies are betting on U.S. manufacturing
Germany's BMW AG in March announced a $1 billion expansion of its car plant in Spartanburg, S.C., aimed at increasing production capacity 50%. Michelin of France last year opened a plant in South Carolina to make giant tires for earth-moving equipment. China's Lenovo Group is making personal computers in North Carolina.
Even the U.S. footwear industry, after decades of decline, is showing signs of life. Merchant House International Ltd., headed by Hong Kong entrepreneur Loretta B.H. Lee, has been making work boots in China and selling them in the U.S. since the early 1980s. In May, the company started producing some of its boots at a new plant in Jefferson City, Tenn.
China remained the No. 1 destination for foreign direct investment in 2013, according to estimates from the Organization for Economic Cooperation and Development. But China's total last year rose just 2% from a year earlier to $258.2 billion. The U.S. attracted $193.4 billion, up 16%, to rank No. 2.
THE REBUTTAL: The flow of jobs goes both ways
Harry Moser, president of the Reshoring Initiative, a nonprofit that encourages companies to consider bringing production back to the U.S., estimates that such moves are creating at least 40,000 U.S. jobs a year. But he says the number of jobs moving from the U.S. to other countries is probably around the same level.
Briggs & Stratton Corp. moved all its production of horizontal-shaft motors for portable generators from the U.S. to China last year. Todd Teske, the Milwaukee-based company's chief executive officer, says production costs for that type of motor were lower in China. (Briggs still makes more than 85% of its motors in the U.S., a spokeswoman says.)
Critics also point to some other numbers that aren't so rosy. Trade figures, for instance, don't back up the idea that the U.S. has become much more competitive. U.S. manufacturing exports—excluding agricultural items, petroleum and coal—rose just 1.6% last year to $1.16 trillion, according to data from Global Trade Information Services Inc., a Geneva-based data provider. China's manufacturing exports increased 7.7% to $2.06 trillion. Meanwhile, U.S. imports of manufactured goods also grew 1.6% last year, reaching $1.63 trillion.
Nor is there any sign of a U.S. factory-building boom. Daniel Meckstroth, chief economist at the Manufacturers Alliance for Productivity and Innovation, a research organization in Arlington, Va., says his analysis of government data shows that there are about 304,000 manufacturing plants in the U.S., down from 375,000 in 1998. The good news is that the number appears to be leveling off after a long fall.
Experts who are more sanguine about manufacturing say the statistics need to be put in context.
Boston Consulting Group's Mr. Sirkin says the U.S. manufacturing recovery he sees is "just in the beginning stages" and should start improving the trade performance in 2015 and beyond.
As for factories, one reason the number isn't rising is that the U.S. still has plenty of spare capacity at underused or vacant plants, says Mr. Moser of the Reshoring Initiative.
All in all, says Mr. Meckstroth of the Manufacturers Alliance, it is too early to say whether the U.S. will have a major recovery in manufacturing. "The potential is there," he says, but the U.S. needs to do a lot more—including a more competitive tax code and better vocational training. He also thinks the U.S. needs to try to get other countries to reduce trade barriers and let their currencies float freely instead of keeping them artificially weak.
Mr. Hagerty is a Wall Street Journal news editor in Pittsburgh. He can be reached at bob.hagerty@wsj.com.
---
SOURCE: Wall Street Journal
0
0
MAM Team
https://www.themadeinamericamovement.com/wp-content/uploads/2017/08/Made-in-America-Movement-Logo_340x156.png
MAM Team
2014-06-07 11:44:13
2019-06-06 16:07:50
Why U.S. Manufacturing Is Poised for a Comeback (Maybe)