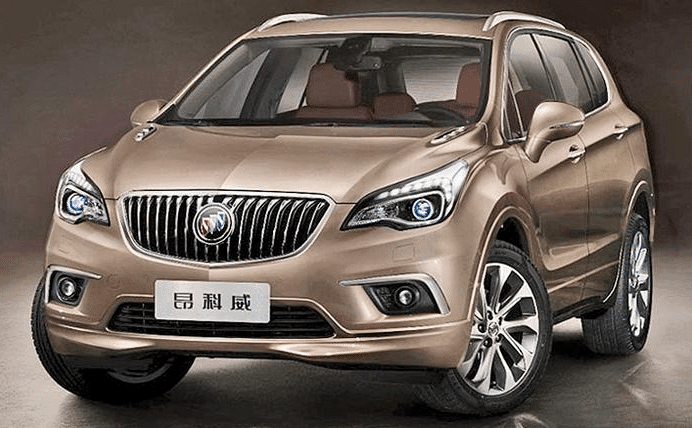 Is the U.S. Ready for a Buick Made in China?
In 2013, General Motors polled some U.S. Buick dealers about their volume and model-mix expectations for a new vehicle: a compact crossover that has since been launched in China as the Buick Envision.
It's two years later and there's no U.S. Envision, leaving industry watchers and dealers scratching their heads.
"It would fit perfectly in the Buick lineup at a time when crossover sales are growing fast," says Jack Nerad, executive market analyst at Kelley Blue Book. "I'm sure a lot of Buick dealers wish they had it today."
GM still is expected to launch the five-seat Envision in the U.S., probably sometime in the second half of next year, industry forecasters say.
And if that happens, it would almost certainly be imported here from China.
Chinese-owned Volvo will become the first automaker to export China-built vehicles to the U.S. with its S60 Inscription sedan, which should arrive in showrooms soon. Other vehicles are likely to follow as global automakers look to soak up some of their fast-expanding Chinese manufacturing capacity to fill relatively low-volume entries in other markets.
But for GM, importing the Envision from China is complicated.
For one, the company is in the middle of contract negotiations with the UAW, whose leaders likely would blanch at the prospect of Chinese imports. A UAW spokeswoman declined to comment.
Meanwhile, Buick is busy trying to quench booming demand for crossovers in China, where the brand sells four times its U.S. volume. The Envision went on sale there last fall. GM says 57,413 were sold in the first half of this year.
A U.S. rollout would require GM eventually to boost Envision production by more than 20 percent, based on third-party sales forecasts for China and the U.S.
Gap waiting to be filled
Both IHS and LMC Automotive forecast a U.S. launch of the Envision sometime in the second half of 2016, with annual volume forecasts from the mid-20,000s to the high 30,000s. Their forecasts for annual Envision sales in China range from 140,000 to 170,000 through 2018.
Shanghai GM, a joint venture between GM and SAIC Motor Corp., builds the Envision at a three-year-old assembly plant in northeastern Shandong province. An engineering team at GM's technical center near Detroit led the vehicle's development. It's the first crossover built on a new global compact platform that also will underpin the next-generation Chevrolet Equinox.
Buick spokesman Nick Richards says the Envision has been "extremely well-received" in China but GM has not disclosed production plans for any other country. He says Buick will "continue to explore further market opportunities," but he declined to comment on the prospect of a U.S. launch.
Global Buick chief Duncan Aldred has hinted he would like to see the Envision in U.S. showrooms, stopping short of confirming any plans. The vehicle could be slotted into the sizable gap between the subcompact Encore, which is about 15 inches shorter than the Envision, and the full-size Enclave, about 18 inches longer.
"Clearly, it is a very nicely designed and executed product that is very much a Buick," Aldred told Edmunds.com last year. He added that it would fit well into "a big segment in the U.S." of premium compact crossovers, which includes the Acura RDX and Lincoln MKC.
'Little difference'
In 2013, then-GM China President Bob Socia acknowledged the company could someday export China-built vehicles to the U.S.
"That could very well happen," he told reporters.
A decade ago, the idea of China-made vehicles in U.S. showrooms might have turned off American buyers. But that's far less likely today, IHS analyst Stephanie Brinley says. In recent years, GM and other global automakers have built modern assembly plants in China. And Americans are accustomed to their iPhones and other high-end consumer goods being made there.
"For the U.S. consumer experience, there is likely to be little difference between a Buick built at GM's Orion Assembly plant [near Detroit] or in Shanghai," Brinley says.
Exporting the vehicle makes sense for GM because it allows the company to "use its global resources most effectively" by sourcing parts and tooling up at one plant instead of two.
A China-sourced Envision would underscore Buick's status as the GM brand with the most varied DNA. The Encore was engineered in Korea and is built there. The Regal midsize sedan is a close cousin of Opel's flagship sedan, the Insignia, engineered in Germany. Industry watchers expect production of the next-generation Regal to move to Europe from Canada.
"A lot of people look at Buick as the quintessential American brand," KBB's Nerad says. "What GM is really doing is drawing on product resources from all over the world to build a much more compelling lineup than Buick had a few years ago."
https://www.themadeinamericamovement.com/wp-content/uploads/2015/08/08-19-15-Buick-Made-in-China.png
428
692
The Made in America Movement Team
https://www.themadeinamericamovement.com/wp-content/uploads/2017/08/Made-in-America-Movement-Logo_340x156.png
The Made in America Movement Team
2015-08-20 12:17:32
2015-08-20 12:17:32
Is the U.S. Ready for a Buick Made in China?