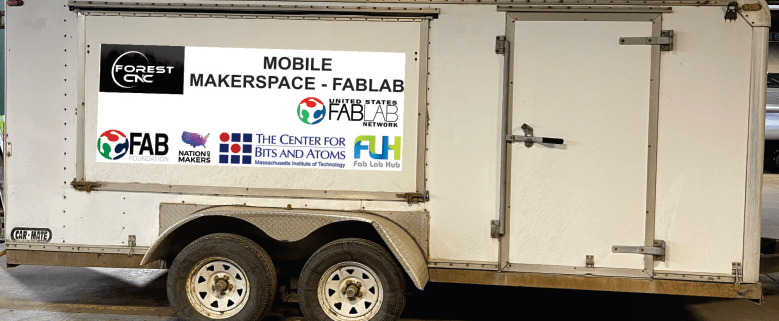 Mobile Maker Spaces Help Entrepreneurs Grow New Manufacturing Businesses
Makerspaces are a good idea for any community that wants to accelerate the development of manufacturing businesses in their region. According to Makerspaces.com, a Makerspace "is a collaborative work space inside a school, library or separate public/private facility for making, learning, exploring and sharing that uses high tech to no tech tools.  These spaces are open to kids, adults, and entrepreneurs and have a variety of maker equipment including 3D printers, laser cutters, CNC machines, soldering irons and even sewing machines."
Many Makerspaces have been set up in renovated industrial buildings with City Chambers of Commerce or Economic Development agencies or departments as sponsors. However, many community colleges and universities have established Makerspaces on their campuses in recent years. "In 2016, the California Community College Chancellor's Office, Workforce and Economic Division funded the $17 million CCC Maker Initiative for three years under the Doing What Matters for Jobs and the Economy framework. From January to June, 2017, 35 colleges participated in the Makerspace Startup process. Of those, 28 colleges competed for two-year grants that were awarded to 24 colleges in July 2017."
Makerspaces are helping to prepare young people with the critical 21st century skills in the fields of science, technology, engineering and math (STEM). They provide hands on learning and help with critical thinking skills for students. Some of the skills that are learned pertain to electronics, 3d printing, 3D modeling, coding, robotics, woodworking, and metal fabrication. Makerspaces are also fostering entrepreneurship and are being utilized as incubators and accelerators for business startups.
I recently connected with Joel Leonard of SkillsTV.net and John Martinsic of Forest Scientific Corporation, and they told me about their collaboration in establishing a Mobile Makerspace program for cities, towns, and even rural areas.
They said, "The purpose of a Mobile Makerspace is "to empower under-served communities whether they be inner city or very rural is the education of youth. Students receiving technology education that includes manufacturing are equipped with problem-solving skills and will learn that what they dream can become reality. They need exposure to possibilities to open their minds to new paradigms and
relieve them of limitations that only exist in their mind. In the new economy, entrepreneurs will have an increasing role in the overall job market and these young minds will fuel the economies of their communities where big multinationals are not interested in having a presence. It is great for regional economic development."
They explained that by sharing a mobile Makerspace, schools, libraries, Small Business Development Corporations, incubators, and economic and industrial development organizations can serve more people and develop an interest in using the facilities of a Makerspace before building a permanent site. This can provide more utilization and less downtime. Community interest will help with funding and the potential of obtaining corporate and foundation grants. Local manufacturers may realize that a Makerspace may be a good source of acquiring future talent, and entrepreneurs using a Makerspace may grow to the point that they will need their own industrial space, creating more manufacturers in the community, which provide higher-paying jobs than retail or service jobs.
John said, "A Mobile Makerspace can also be used for job training and retraining by existing manufacturers in a community. It is also a cost-effective method to find potential employees and retrain displaced workers. It could also be used to promote your permanent space by placing it out in the community, such as in front of a Walmart, flea market, or special event to educate your community about opportunities at your Makerspace."
The electronic brochure that John emailed me provides more details about the Mobile Makerspace. It comes in a heavy-duty trailer rated at 9,990 lbs., and doesn't require a special driver's license. The trailer has a lower beavertail and a long ramp for easy loading. It comes with an Etrack system and Ratchet straps for flexibility in securing the equipment. There are custom power options depending on your intended use. It can be configured with 12V DC lighting if being mainly used as a transport vehicle, and 120V AC or 220V AC Shore lines if you will be able to plug it in at your destination. Built -in or portable generators to operate anywhere are also available. The machines are equipped with tie-down hooks and retractable extension cords.
There are many machine options to choose from for inside the Mobile Makerspace:
Mobile Tool Cart equipped with the tools
to make or fix nearly anything
Mitey Router, Mitey Mill, or Mitey Lathe
FabBotATC Router
3D Printer Options
Laser Engrave/Cutter for cutting woods
Plastics CRP for cutting steel & aluminum
And many more in the Forest Scientific catalog
Mobile Makerspace can be utilized in two primary ways:
As a transport vehicle, where the equipment is moved into a building at each destination

Beneficial to share equipment when the climate, especially in cold northern climates is not conducive to having participants outside (especially at schools).
If wired for electricity, it can also be used as a mobile lab.
Usually not finished with a finished ceiling and may have a portable generator or just a shore line to keep the cost down.

As a mobile lab to work in.

Ideal to promote a fixed lab within a community.
Ideal for sharing between Makerspaces and schools because there is little set up work upon arrival.
Depending on the size of the trailer, you may be able to back it into a "shop" space and have little set up while isolating from adverse weather.
The brochure provided several options for configuring a Mobile Makerspace. Below are examples of three packages:
Explorer Package – Ideal for promotion and working with students
Turnkey package including all equipment, computers, and software.
Custom 16 ft. trailer with custom graphics
Fabbot 2X2 CNC router with full enclosure on maker cart
24X12 Universal Laser on Maker Cart with fume extraction
3D Printer on Maker Cart
Three-year warranty
initial three-day training for success from day one
on-going tech support only a phone call away
Furniture/Housing Package – Wood and Plastic Sheet Production
Turnkey package including all equipment, computers, and software.
Custom 30' Trailer with custom graphics
Makerfab 4X8 CNC Router
Dust collection
Maker hand and power tool power tool Cart with inverted router
Three-year warranty
initial three-day training for success from day one
on-going tech support only a phone call away
Manufacturing Entrepreneur Package – Make or Repair Nearly Anything
Turnkey package including all equipment, computers, and software.
Custom 34' Trailer with custom graphics
FabbotATC 3X2 CNC router with full enclosure on Maker cart
CRP Metal cutting up to 1/2" Thick Pierce (Cut steel & aluminum)
24 X 12 Universal Laser on Maker Cart with fume extraction (cuts woods & plastics)
3D Printer on Maker Cart
Three-year warranty
initial five-day training for success from day one
on-going tech support only a phone call away
All Mobile Makerspace trailer packages are available for purchase or lease with a minimum of a one-year lease. Funding sources for establishing a Mobile Makerspace can be sought through federal Economic Development grants, charitable foundation grants, corporate grants, and CARES Act grants before funds are exhausted.
If your community wants to grow your manufacturing industry to create higher-paying jobs, you should consider establishing a Makerspace. To ascertain the type of manufacturing your community could grow, it may be beneficial to start off with a Mobile Makerspace. If your community has a well-established manufacturing industry, and the biggest problem is lack of skilled workers to fill jobs available, then you could focus on a Makerspace that would provide job training to students or retrain manufacturing employees in new skills. If you are interested in either option, you can reach Joel Leonard at Joelskilltv@gmail.com and John Martinsic at johnm@forestcnc.com.
https://www.themadeinamericamovement.com/wp-content/uploads/Mobilel-Maker-Space.png
380
779
Michele Nash-Hoff
https://www.themadeinamericamovement.com/wp-content/uploads/2017/08/Made-in-America-Movement-Logo_340x156.png
Michele Nash-Hoff
2021-05-24 18:53:45
2021-06-25 21:54:31
Mobile Maker Spaces Help Entrepreneurs Grow New Manufacturing Businesses