Adidas and Nike Supplier Goes on Strike in China, Halting Output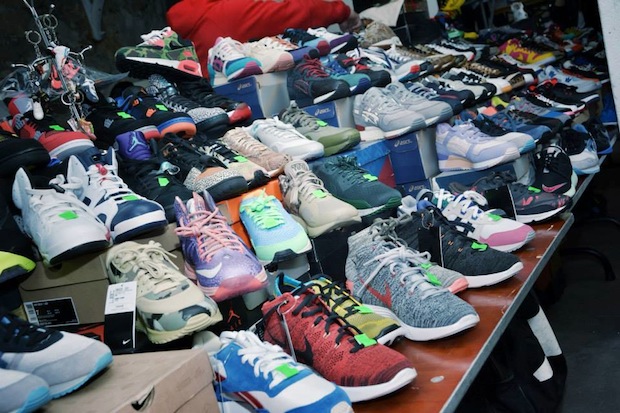 Yue Yuen Industrial Holdings Ltd., the world's largest branded shoemaker, fell the most in nine months in Hong Kong trading after the company said it plans to increase factory workers' compensation in a bid to end a strike.
Yue Yuen fell 5 percent, the most since July 2013, to close at HK$24.80, extending the stock's decline this year to 4.3 percent. The Hang Seng Index has lost 2.5 percent in 2014.
Workers at the shoemaker, a supplier to companies including Adidas AG and Nike Inc. continued to strike for a seventh day, disrupting output, spokesman George Liu said today. Yue Yuen, based in Hong Kong, offered to add a monthly living allowance of 230 yuan ($37) at its factories in southern China starting May 1, Liu said yesterday. It also agreed to bring forward to next month a social-security benefit plan originally scheduled for 2015, he said.
Workers have disrupted production in Yue Yuen's Dongguan factory complex, which employs more than 40,000 people, since April 14 in a dispute over pay, benefits and the right to pick their own union. More than 50 percent of the workers were on strike today, Liu said. China Labour Watch, which estimated the striking workers at about 30,000, said a small number had returned to work, without quantifying it.
Employees were seen coming to the plant, clocking in and then leaving yesterday. Some workers, who asked not to be identified because they or their family members could lose their jobs, said yesterday that they were still on strike.
Rising CostsThe labor dispute adds challenges to Chinese manufacturers faced with disruptions as wages climb and workers demand better compensation. Rising costs have also prompted some employers to move production abroad.
Employees interviewed at the factory yesterday and on April 19 said the company had failed to agree on demands for more pay, a change in contract status and reimbursement for unpaid benefits contributions. Some demanded no punishment for strikers and the right to elect their own union leaders.
At least 80 percent of the workers won't take the offer, said Xiang Feng, 28, a worker in the factory's finance department. The company's plan to raise monthly contributions for social security would make it compulsory for employees to boost their own share of payments, she said.
"Workers may end up with a take-home salary almost unchanged or maybe even lower than before," Xiang said.
More DemandsThe strikers expanded demands after an initial dispute over contributions to government-mandated social security and housing benefits for workers. The local government is fully aware and supportive of Yue Yuen's proposed plan, Liu said.
Monitoring group China Labour Bulletin said on its website strikers at the Dongguan facility numbered at least 10,000, while Yue Yuen said April 16 that more than 1,000 were striking. Wal-Mart Stores Inc. and International Business Machines Corp. faced strikes earlier this year in China by workers demanding better compensation.
China's wages are set to increase by 10 percent or more in 2014, driving more low-cost manufacturers out of the country and boosting consumption, according to analysts at firms including Bank of America Corp.
Nike has produced more shoes in Vietnam than in China since 2010. Adidas said in 2012 it would close the last factory it owned in China.
Riot PolicePolice with riot gear and dogs were present outside Yue Yuen's 1.4 million-square-meter (15 million square-foot) Dongguan complex yesterday. Dozens of workers were taken away by police last week, the official Xinhua News Agency reported April 17, without saying why the workers were taken. No one was injured and there were no clashes, Xinhua reported.
Police have told workers not to congregate around the factory, said three workers who asked not be identified because they or their family members could lose their jobs.
Taiwan-based Pou Chen Group, the shoemaker's parent company, is in discussions with the local government to resolve the striking workers' concerns and an investigation will be conducted as soon as the strike ends, Adidas China said in an e-mailed statement April 18.
Nike is aware of and concerned by the events and is "continuing to monitor the dialog between factory management and the workers, as well as production at the factory," the Beaverton, Oregon-based company said by e-mail on April 18.
Operations at a Yue Yuen factory in Jiangxi province in eastern China have returned to normal today after a production disruption, Liu said. Workers began a strike April 18 because they didn't want to pay social security insurance, he said.
Yue Yuen, which had 423,000 employees as of 2012, was founded in 1988 by Taiwanese owners and has factories in China, Vietnam and Indonesia, according to its website.
---
SOURCE:  Bloomberg News
0
0
MAM Team
https://www.themadeinamericamovement.com/wp-content/uploads/2017/08/Made-in-America-Movement-Logo_340x156.png
MAM Team
2014-04-24 11:50:03
2014-04-24 11:50:03
Adidas and Nike Supplier Goes on Strike in China, Halting Output