American Made Makes a Comeback at Wal-Mart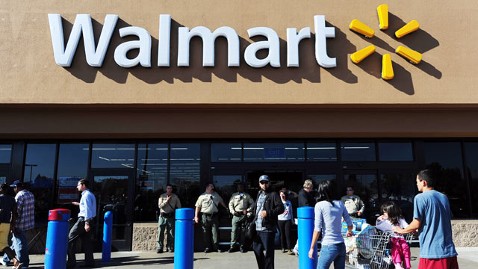 Jon Springer
---
Three months can be an awfully long wait.

Yet that's typical of the time it takes to move manufactured goods from a factory in China to a store shelf in the United States, according to Hal Sirkin, senior partner with Boston Consulting Group, speaking at Wal-Mart Stores' annual shareholders meeting events this month in Arkansas.
"Most of the time is spent on a boat, or waiting for a boat," Sirkin explained. "If I'm selling a good that's hot in the marketplace, I have to wait three months to get the next order. Now maybe you can air freight it but everyone knows that's incredibly expensive."
One solution, Sirkin suggests, is not to wait for boats but to buy products made closer to home. Wal-Mart is supporting such efforts with a goal announced earlier this year to increase its purchase of goods manufactured in the United States by $50 billion over the next 10 years.

The commitment to buying more U.S.-made products tests — but ultimately supports — Wal-Mart's famous devotion to everyday low costs, according to Michelle Gloeckler, senior vice president of Walmart home goods who is heading the manufacturing project for Walmart U.S.

"It's important to know that while this is a U.S. manufacturing commitment it is also doing good for our business," Gloeckler explained. "Some of the things that have come out from this are terrific technology and collaboration."

According to Sirkin, several factors have contributed to make manufacturing efficient enough again to move to the U.S. — chiefly, steep labor inflation in China and cheaper energy in the U.S. Combined with costs for transportation, duties, and the impact of a long supply chain, Sirkin predicts costs to manufacture goods by 2015 will be less in the U.S. than in China — and gaining as more retailers and manufacturers take on a similar challenge.

"Three years ago people thought it was impossible. But today we see people moving manufacturing back to the United States," Sirkin said. "Not because they are patriots, but because it's good business."

Gloeckler said Wal-Mart would endeavor to meet its commitment by growing business from its existing U.S.-based suppliers; adding new U.S. suppliers; and by buying from existing manufacturers who shift production from current facilities to the U.S.

Hanna's Candle Co., a candle maker based in Fayetteville, Ark., did $4 million in sales at Wal-Mart stores in 2012. The partners are targeting $30 million this year, Gloeckler said.

Elsewhere in the home category, Wal-Mart added a new supplier, Georgia-based Authentic Comfort, to replace a foreign supplier of the 1.5-inch memory foam mattress pads at its stores. The change represents around 20% of the category.

"We had to prove ourselves and our product," Michael Rothbard, president and chief executive officer of Authentic Comfort, said. "We had to show the product was unique, had meaningful benefits and could offer great value. We also had to show we were capable of meeting Wal-Mart's needs."

This meant improving the efficiency of its processes and changing the product to reduce costs, Rothbard said. For example, the company removed a cloth covering on its pads that translated to a $20 to $30 extra charge at retail.

Products made in the U.S. are marked with special tags at Wal-Mart and have benefited from a warm shopper reception, Gloeckler said.

"We have research that says, yes, this is an attractive proposition," she said. "Customers will buy more because of 'Made in the U.S.' We even have research that says customers will pay more for 'Made in the U.S.' but we don't believe they should have to."

Other benefits of using U.S.-based suppliers include the ability to respond faster to changes in the marketplace and manage inventories and store shelves with more precision by buying in appropriate quantities.

"From an economic standpoint, [proximity to suppliers] can mean I'm able to put the product on the shelf faster when it's moving faster, or conversely, if it's not selling at the rate we expected, I'm not sitting on a whole warehouse of inventory because I had to fill up a [shipping] container."

Rothbard said business with Wal-Mart has created a ripple effect, with its suppliers of materials and packaging also realizing benefits.

Gloeckler said Wal-Mart has invited state governors, economic development professionals, suppliers and other retailers to a summit later this summer to discuss opportunities to expand relationships with domestic suppliers. For now, the company is looking for U.S.-based suppliers in particular categories of goods best suited for domestic manufacturing, saying highly automated, mass-produced products are most appropriate given labor cost disparity overseas.
---
https://www.themadeinamericamovement.com/wp-content/uploads/2017/08/Made-in-America-Movement-Logo_340x156.png
0
0
MAM Team
https://www.themadeinamericamovement.com/wp-content/uploads/2017/08/Made-in-America-Movement-Logo_340x156.png
MAM Team
2013-07-01 11:57:40
2013-07-01 11:57:40
American Made Makes a Comeback at Wal-Mart