Chinese Manufacturing Is Crashing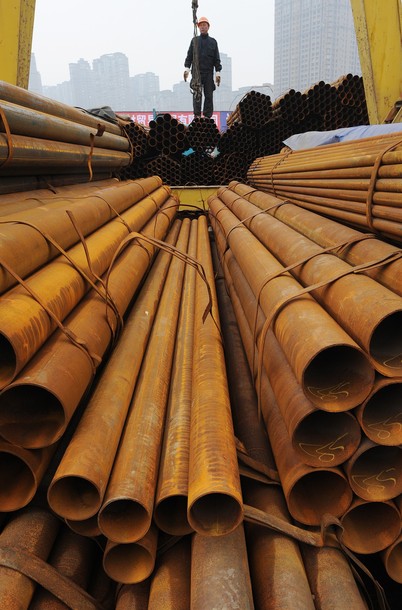 Beijing reported that China produced a record amount of steel in July, but prices are plunging and steelmakers have been defaulting on agreements to purchase iron ore. (Image credit: AFP/Getty Images via @daylife)

---
The HSBC Flash Purchasing Managers' Index for August crashed, falling to 47
.
8, well under the final July reading of 49.3.  The dismal result, the first indication of China's economy for this month, was far below 50, which divides expansion from contraction.  The final PMI will be released September 3, but it is now clear that August will be the 10th-straight month of decline for the vitally important manufacturing sector in China. 
Thursday's release of the Flash PMI stunned analysts.  Earlier, most of them had confidently predicted China would show signs of growth in July because of Premier Wen Jiabao's late-spring stimulus program.  There was, however, no uptick last month.  In fact, July's indicators were extremely disappointing.  China watchers then thought August would be a time of recovery.  The Flash PMI, however, suggests this month will be even worse.
It's hard to see how manufacturing will recover soon.  Manufactured goods are stockpiled at record highs across China.  "My supplier's inventory is huge because he cannot cut production—he doesn't want to miss out on sales when the demand comes back," said Wu Weiqing to the 
New York Times
.
Perhaps that explanation makes sense, but it's far more likely that Wu's supplier, which makes sinks and faucets, had been told by the local government to keep production lines going no matter what.  And why would city and municipal officials do that?  For one thing, local officials don't want to deal with unrest that idle workers cause.  Moreover, lower-level cadres are judged by growth in their districts.  The value of a sink sitting in a factory's inventory, even if never sold, is counted as gross domestic product.  Mr. Wu's employer, a wholesaler, has seen its sales fall 30% over the course of the last year.
Sinks are going down the drain, and steel is now heading in the same direction.  Beijing reported that China produced a record amount of steel in July, but it was a title by a whisker.  Steel production was mostly flat last month compared to a robust June—up in some measures and down in others.  Daily output, according to one source, was 2.0 million tons in June and 1.99 million tons in July.
The past for Chinese steel is unclear, but the future is certain.  The signs for the remainder of the year are, unfortunately, uniformly bad.  The price of benchmark hot rolled steel has fallen 19% since April.  In the first half of this year, the profits of steel companies dropped 96% from the corresponding period in 2011.  Steelmakers have been defaulting on their obligations to purchase iron ore, a sure sign production will tumble soon.  Daily output this month, according to the analysts at Mirae Assets Securities, could be as low as 1.85 million tons.  Record production in the face of weak demand suggests inventories must be rising.
Carmakers have solved their inventory problems by forcing dealers to take autos they cannot sell.  Inventories at the dealers in the first six months of the year increased 900,000 units.  These retailers are now carrying 2.2 million cars in their showrooms.  Even with dealers taking unneeded cars, the manufacturers are operating at around 65% of capacity when 80% is thought to be the breakeven point.  Eventually, the automakers will have to slam on the brakes: retail sales of cars are probably declining at this moment.
And why do we not know for sure?  Censors have stopped the release of statistics on car registrations, and fictitious reporting has hidden the size of the inventory buildup across China's manufacturing sector.  Yet government statisticians were unmasked by the HSBC Flash PMI.  The inventory buildup this month was the fastest ever recorded by the survey, which began in April 2004.
In free-market economies, the sustained rise of inventories is a prelude to recession.  In China, on the other hand, inventory accumulation can go on for years before it negatively affects growth.
So what does the current buildup of inventory say about the state of the Chinese economy?  At this moment, factories no longer want to finance inventory, even though interest rates are coming down.  Across the country, manufacturers are beginning to cut back on production so they can clear out the warehouses, where stored products are literally collecting dust.  Said Anne Stevenson-Yang of J Capital Research to the 
Times
, "Things are kind of crawling to a halt."
Manufacturers are resorting to price wars, which will eventually make room at warehouses from one end of China to another.  Moreover, they can start to export what they cannot sell at home.  Yet exports may not be the solution this time.  If July's disappointing year-on-year export growth of 1.0% is any indication of what will happen this month, China's manufacturers will be in for a rough ride.  The Flash Index had gloomy news on this front as well: the new export sub-index came in at 44.7.  That was the lowest result since March 2009.
Also at a March 2009 low was the HSBC sub-index for factory input prices.  This mirrors the stunning 2.9% year-on-year fall in producer prices in July.  The Flash Index for this month indicates there will be no pickup in manufacturing this quarter, and it's hard to see a reversal of downward trends before the end of the year.
In every economic crisis there is a moment when observers say "Oh my gosh, this can't be happening."  The Flash PMI for August, which triggered a tide of negative assessments of the economy, looks like it was that moment for China.  Stevenson-Yang, in her latest e-mail note, summarizes the change of mood as "The Erosion of Belief."  Believe it: manufacturing in China is leading the way down.

---
https://www.themadeinamericamovement.com/wp-content/uploads/2017/08/Made-in-America-Movement-Logo_340x156.png
0
0
MAM Team
https://www.themadeinamericamovement.com/wp-content/uploads/2017/08/Made-in-America-Movement-Logo_340x156.png
MAM Team
2012-08-29 12:06:53
2012-08-29 12:06:53
Chinese Manufacturing Is Crashing