Entrepreneur Clears Hurdles to a "Made in USA" Label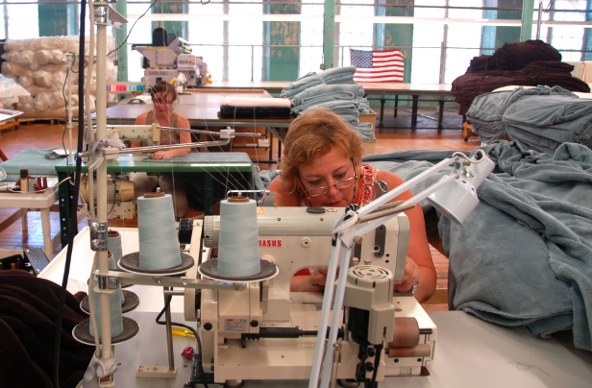 Rick Lotuff is a third-generation manufacturer whose first claim to fame was starting the Berkshire Blanket Company in 1993 when he was 21 years old. He has high hopes that his second claim to fame will be reawakening an industry that once thrived in an historic New England town.
In September 2012, Lotuff launched 
American Blanket Company
 in Fall River, Mass., and has so far hired five of the town's talented textile cutters and sewers. "Our goal is to build the best product we can, incorporating an American workforce and getting people back to work in a city that has seen a lot of difficulty," Lotuff says.
The labels on every kind of fabric-based product in your home offer evidence that running a textile business in the U.S. in 2013 is not common. Lotuff says market forces ultimately pushed manufacturing for his first company offshore (he sold Berkshire in 2006), and it wasn't easy to establish a new business offering an American-made product.
But he was determined to offer consumers a way "to buy American again" when it comes to baby blankets, bedding, and throws. So he invested his own capital and found a few workarounds.
Read more by Adrienne Burke at: 
http://smallbusiness.yahoo.com/advisor/blogs/profit-minded/entrepreneur-clears-hurdles-made-usa-label-215106786.html
https://www.themadeinamericamovement.com/wp-content/uploads/2017/08/Made-in-America-Movement-Logo_340x156.png
0
0
MAM Team
https://www.themadeinamericamovement.com/wp-content/uploads/2017/08/Made-in-America-Movement-Logo_340x156.png
MAM Team
2013-07-24 11:56:09
2013-07-24 11:56:09
Entrepreneur Clears Hurdles to a "Made in USA" Label