'Entrepreneurial Nation': How Made in America is Returning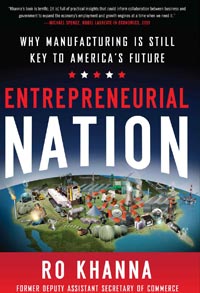 ---
New York: Ro Khanna, a former deputy assistant secretary of commerce in the White House and Congressional aspirant, thinks "Made in America" is making a comeback. In the 1970s, America's manufacturing jobs in the steel, textile, electronics and car industries relocated first to Latin America and then to Asia. But the tide is turning, says Khanna's new book Entrepreneurial Nation published by McGraw-Hill. 
Khanna, 36, practices technology law at Wilson Sonsini, a Silicon Valley law firm, and teaches economics at Stanford. His book is like a tour of the best of American manufacturing and lingers on the Silicon Valley model of entrepreneurism that he praises as a kind of recombinant DNA of talent.
Khanna argues that innovation of the kind found in Silicon Valley can continue to bolster US manufacturing and give it several advantages over countries like China, India, Korea and Brazil.
Khanna drills down one fact: Some of the world's best products and biggest innovations are still being developed by Apple, Google and countless other US aerospace, defense and medical companies. High labour and productivity costs that gutted US manufacturing over the past decade have begun to alter. America's advantage in productivity and technology is starting to weigh in its favour once again. As a result, new factories are coming up all over the country.
The book is on trend as manufacturing jobs are coming back to the US. Dow Chemical, Sauder Woodworking and GF AgieCharmilles have all brought overseas production back to the US in the past three years. Caterpillar is building a $120 million plant to make giant earthmovers in Texas, including some models that were previously built in Japan. French airliner, Airbus, has committed to building its first factory on US soil.

Master Lock, in Milwaukee, landed a visit from President Barack Obama after bringing manufacturing jobs back from China. Whirlpool is now building a new $200 million plant in Tennessee rather than sending the 1,500 jobs overseas.

"Against all odds, our nation held the global lead over China in manufacturing output until 2009. What's extraordinary is that our aggregate output remains competitive with China's, even though the sector constitutes only 10 percent of our economy compared to nearly 40 percent of theirs," says the book.

"We are a global leader, in part, because our labour productivity (the value that a worker produces annually) is more than six times as large as China's or India's and significantly larger than Japan's or Germany's. Strong productivity has enabled the United States to increase its manufacturing output over the past 30 years to a greater extent than any other developed nation, more than doubling in size," adds the book.
Khanna cites the story of Keith Busse, the CEO of a Midwestern company, Steel Dynamics, which makes rails, an occupation people thought was dead in America. He points out that due to labour efficiency and innovation Busse's company thrives although he pays his people well: $30 an hour plus medical and other benefits.

Entrepreneurial Nation points out that manufactures in America get the job done by "really listening" to their clients. Khanna talks about how a fourth-generation business, the Globe Manufacturing Company, customised its firefighting suits to beat foreign competitors. Similarly, Vitamix worked with clients like Starbucks to produce a superior coffee blender. In the Bay Area, Khanna says, electric car firm Tesla, in Fremont, is "an example of how we can be innovative and creative."

Khanna also lays out an agenda for keeping the "Made in America" label strong by suggesting tax reform. He says Congress should offer tax credits or five-year tax holidays for manufacturers to set up or expand factories in the US, with revenue exempt from corporate taxes "for a limited period."

"Maybe Ro Khanna is not yet the Democrats' answer to Paul Ryan. But you cannot read this book without concluding he has claimed a spot on the national stage as a man of ideas," saidMercury News while reviewing Khanna's book.

---
ABOUT RO KHANNA
Ro Khanna was born in Philadelphia, Pennsylvania in 1976, America'sbicentennial year.  He now lives in Fremont, California and has been involved in his local community for years. He developed a passion for public service from his family. His parents immigrated to this country to pursue the American dream. His father came to the University of Michigan to study engineering and still spends his Saturdays cheering for the Wolverines. His mother, a former substitute school teacher, raised him to believe that anything is possible in America. Ro's commitment to service is rooted in his belief that the American dream that inspired his family should also inspire future generations. 
Check out his Economic Growth Agenda.  Stay connect and follow his efforts on Facebook.
https://www.themadeinamericamovement.com/wp-content/uploads/2017/08/Made-in-America-Movement-Logo_340x156.png
0
0
MAM Team
https://www.themadeinamericamovement.com/wp-content/uploads/2017/08/Made-in-America-Movement-Logo_340x156.png
MAM Team
2012-09-14 12:06:28
2012-09-14 12:06:28
'Entrepreneurial Nation': How Made in America is Returning