Foxconn Begins Manufacturing Amazon Smartphone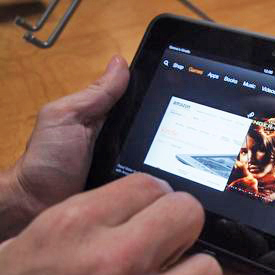 Adario Strange
December 18, 2012
---
Earlier this year, rumors surfaced that Amazon might be working on its own smartphone, a move seen by some as an ambitious follow-up to the company's successful Kindle Fire line. Now another report originating from Taiwan claims that manufacturing of the device has already begun, handled by a familiar name: Foxconn.
According to a report in the Taiwan Economic News, Foxconn—the company best known as the production factory behind the iPhone and the iPad—has begun manufacturing a new smartphone handset for Amazon. The report claims that Foxconn is working to produce around 5 million units, a relatively small run for such a major undertaking, which may indicate caution on the part of Amazon as it enters a new and highly competitive market.
Perhaps the most surprising part of the report relates to the price of the supposed device. The report claims that Amazon's smartphone will be offered for a price somewhere in the range of $100 to $200. If true, such a low price point would be consistent with the company's strategy of bringing customers into its e-commerce ecosystem over profit margins on its hardware. Despite the success of the Kindle line of devices, the company barely breaks even on every Kindle Fire $159.00 at Amazon device produced.
But, contrary to the high profit margin strategy of Apple, Amazon CEO Jeff Bezos apparently believes in a different approach. In October, in a statement accompanying Amazon's third quarter results, Bezos said, "Our approach is to work hard to charge less. Sell devices near breakeven and you can pack a lot of sophisticated hardware into a very low price point."
The Asia-based news source also claims the device is scheduled to be launched some time in the second or third quarter of 2013, which might allow the handset to compete, give or take a few months, with the release of an updated iPhone, assuming Apple hews to its usual release schedule.
Last month, Digitimes reported that Foxconn was 
producing phones
 for Amazon and Microsoft.
---
https://www.themadeinamericamovement.com/wp-content/uploads/2017/08/Made-in-America-Movement-Logo_340x156.png
0
0
MAM Team
https://www.themadeinamericamovement.com/wp-content/uploads/2017/08/Made-in-America-Movement-Logo_340x156.png
MAM Team
2012-12-20 11:57:54
2012-12-20 11:57:54
Foxconn Begins Manufacturing Amazon Smartphone