Foxconn Chairman Hopes to Step Back from Role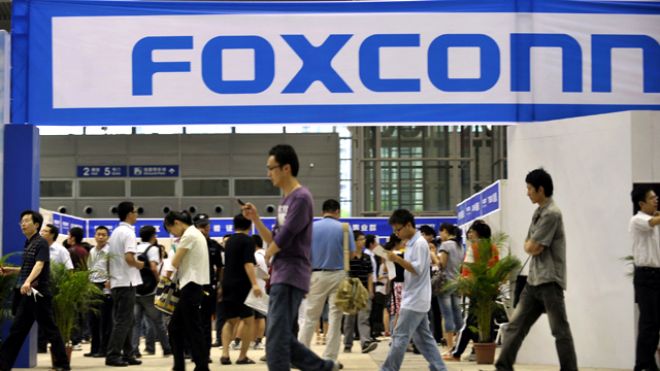 Foxconn Chairman Terry Gou spent the last morning of the Lunar New Year festival praying for a year of good business, holding incense sticks aloft in front of a spread of fruit and other offerings.
It was partly why the boss of the world's largest electronics manufacturer was particularly contemplative on Friday, talking for three hours about his company's future after whisking reporters to an impromptu press conference in a warehouse.

He outlined imminent plans for expanding manufacturing in the U.S. and producing 120-inch television sets. He also spoke about his hopes of passing on the baton to younger leaders by spinning off parts of his sprawling electronics empire. Gou said his aspirations have expanded beyond making gadgets to broader goals, such as assisting young entrepreneurs in Taiwan and creating higher-value jobs.

"I believe I can work for another decade, but even if I do, I want to change the type of work I am doing," said the 63-year-old executive, adding that he wants to spend more time on medical research and public service, but has no plans to retire.

"I am trying to decrease the influence of Terry Gou at Foxconn."

As proof, Gou asked different department heads — all clad like Gou in dark blue, Foxconn jackets — to speak in turn, although he frequently chimed in.

It was an unusual press event by any standards — held in an unheated warehouse with corrugated metal walls that housed the company's annual internal science fair of sorts, where different departments showcased their best gadgets. These included a smart motorcycle that sends driving data to the cloud, and a wireless smartphone charger, both of which will be launched in Taiwan within months by Foxconn's clients, executives of those departments said.

The display of cutting-edge technology hidden in a shabby warehouse is fitting for Foxconn — a company still largely known as a low-margin factory, but which harbors far greater ambitions.

While still dependent on its business of making iPhones and other gadgets for other companies, Foxconn has been expanding aggressively into businesses ranging from telecom services to software.

The company is also increasingly focused on building highly automated factories based not in China, but in the backyard of Foxconn's customers.

"We are building factories in the U.S., in Indonesia, because we want to cater to customers there," Gou said.

Gou said a two-hour conversation last November with a representative of U.S. investment promotion organization SelectUSA had spurred his interest in investing in the U.S. beyond the plant in Harrisburg, Pa., that has already been announced.

"We have many big projects in the U.S. coming up," said Gou. "For instance, is it possible to make our 120-inch TVs in Taiwan and ship them over? It's impossible. We have to make them on site."

Gou has previously said the company was studying the feasibility of building an advanced large-screen panel factory in the U.S. Foxconn will begin mass-producing 120-inch TVs for Vizio in the fourth quarter, Gou said, although he did not specify where they would be produced.

Gou also said that he believed a strong manufacturing sector was a crucial underpinning for a country's economy.

"Why is the U.S.'s middle class shrinking?" Gou asked. "It is because the manufacturing sector has left…I can't agree with any economists who say that a bigger share of the service sector is always better."

Gou also said the company is looking to hire 15,000 new engineers in Taiwan this year. "The problem is we can't find so many," he said.

---
https://www.themadeinamericamovement.com/wp-content/uploads/2017/08/Made-in-America-Movement-Logo_340x156.png
0
0
MAM Team
https://www.themadeinamericamovement.com/wp-content/uploads/2017/08/Made-in-America-Movement-Logo_340x156.png
MAM Team
2014-02-19 11:30:32
2014-02-19 11:30:32
Foxconn Chairman Hopes to Step Back from Role