If This Is a Good Jobs Report, Just Shoot Me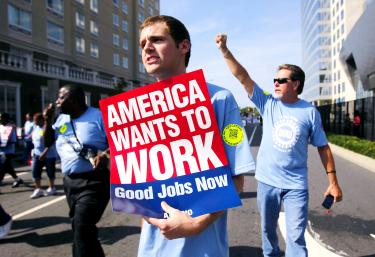 The
June jobs report shows
 we lost 6,000 jobs in manufacturing, but added 9,000 in garden supply stores and 19,000 at amusement parks and casinos.
Is this the picture of a healthy economic superpower?
While corporate media will focus on the big number — we added 195,000 jobs! — figures from the Bureau of Labor Statistics show the economy continues to produce low-skill, low-pay jobs while employment in the goods-producing sector lags.
The report shows summer is here: time to plant a garden, fix up the house and work on the car!
Retail trade employment increased by 37,000 in June. Within retail trade, employment increased by 9,000 in building material and garden supply stores and by 8,000 in motor vehicle and parts dealers.
But wait — there's more. It's time to hit the road and take the kids to the Fun Park!
Leisure and hospitality added 75,000 jobs in June. Monthly job growth in this industry has averaged 55,000 thus far in 2013, almost twice the average gain of 30,000 per month in 2012. Within leisure and hospitality, employment in food services and drinking places continued to expand, increasing by 52,000 in June. Employment in the amusements, gambling, and recreation industry also continued to trend up in June (+19,000).
Retail, bar and restaurant jobs may provide gainful employment for college students and struggling actors, but they do not sustain a strong middle class.
Debt collectors hired 6,000 and temp services added 10,000.
And the number of workers who want full-time jobs but are stuck in part-time jobs increased by 322,000.
The bright spots in the report are dim: 13,000 jobs added in construction (divide that by fifty and you see about 250 per state) and 5,000 in automotive manufacturing.
CNN says 'June jobs report: Hiring beats expectations.'
It's the bigotry of low expectations.
Read the BLS report here:
https://www.themadeinamericamovement.com/wp-content/uploads/2017/08/Made-in-America-Movement-Logo_340x156.png
0
0
MAM Team
https://www.themadeinamericamovement.com/wp-content/uploads/2017/08/Made-in-America-Movement-Logo_340x156.png
MAM Team
2013-07-11 11:56:38
2020-09-22 12:45:45
If This Is a Good Jobs Report, Just Shoot Me