Manufacturing is Sexy Again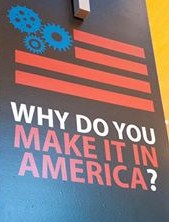 Reposted from Crains Cleveland Business
Irene Petrick thinks the next wave of manufacturers will come from unexpected sources — namely, from individuals and small businesses taking advantage of advances in technology.
Ms. Petrick, a Penn State University professor and managing director of Trendscape Innovation Group, was one of three participants in a panel discussion on manufacturing at The City Club of Cleveland on Friday. The forum featured some of the authors of
Alliance for American Manufacturing'
s "
ReMaking America
" book, and was moderated by the alliance's president, Scott Paul. The event was hosted in partnership with WIRE-Net, a local manufacturing advocacy group celebrating its 25th anniversary.
While much of the conversation focused on hopes for the U.S. government's future manufacturing policy and possible business incentives, Ms. Petrick focused on trends shaping manufacturing. 
She predicted that there are three major trends that would inspire innovation on a more individualized level in the future: the availability of cloud-based services, which would allow people to download just the programs they need, the spread of high-performance computing, which would make simulations more available to small businesses, and 3-D printing, which would allow individuals to make their own products. 
Sridhar Kota, a professor of mechanical engineering at the University of Michigan, echoed Ms. Petrick's statements and said reducing costs and barriers to these types of tools would increase competitiveness in manufacturing. 
Carl Pope, former executive director of the Sierra Club, said he thought the federal government needed to do more to encourage manufacturers to make their products in the United States. He called for policy certainty for the industry.
But the panelists thought there was cause for optimism in the U.S. manufacturing sector. Mr. Paul said there is a lot of support and interest in the sector from politicians, management consultants and academics. It's time now to take the "emergency care" manufacturing policy to a more sustainable one, he said.
Ms. Petrick noted that she sees lots of interest in entrepreneurship now, and that people are tinkering in her classes.
"Manufacturing is sexy again," she said.

---
https://www.themadeinamericamovement.com/wp-content/uploads/2017/08/Made-in-America-Movement-Logo_340x156.png
0
0
MAM Team
https://www.themadeinamericamovement.com/wp-content/uploads/2017/08/Made-in-America-Movement-Logo_340x156.png
MAM Team
2013-07-14 11:31:38
2013-07-14 11:31:38
Manufacturing is Sexy Again