Farming, Food Safety Groups Ask U.S. to Stop Smithfield Foods Sale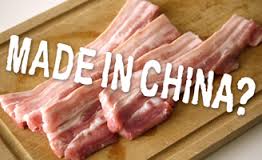 Reposted from Journal Star – 
Two Nebraska groups — The Center for Rural Affairs and the Nebraska Farmers Union — are among food safety and farm groups calling on federal regulators to halt the proposed sale of pork giant Smithfield Foods to a Chinese processor — a deal that would represent China's largest purchase of a U.S. company.
In a letter sent Tuesday (07/10/13), the groups asked the Committee on Foreign Investment in the United States to oppose the sale of Smithfield to Shuanghui International Holdings Ltd.  The interagency committee of cabinet secretaries is responsible for reviewing sales of American companies to foreign concerns.

"The White House should reject the sale of America's food supply," Tim Gibbons of the Missouri Rural Crisis Center, one of the groups involved, said in a statement released Tuesday. "The Smithfield purchase turns over American farms to a consolidated, globalized meatpacking industry that leaves rural communities to clean up the waste while China gets the meat."

Smithfield is the nation's biggest pork packer and also raises more hogs than any other company. 

China is the U.S.'s third-largest pork export customer, buying more than 500,000 metric tons of pork a year. In 2012 the U.S. exported nearly a quarter of its pork, about 12 percent of it to China, where a growing middle class has increased demand for proteins of all kinds.

Shuanghui and Smithfield announced in late May that Shuanghui would purchase Virginia-based Smithfield, the world's largest pork producer, for $4.7 billion. But since the announcement, some lawmakers and producers have cast a critical eye on the deal, and regulatory hurdles remain.

Smithfield's chief executive, C. Larry Pope, is scheduled to testify Wednesday before the Senate Agriculture Committee. The chairwoman of that committee, Sen. Debbie Stabenow, D-Mich., has been critical of the deal and has called for more government oversight from additional agencies, including the U.S. Food and Drug Administration and the U.S. Department of Agriculture.

Tuesday's letter echoes some lawmakers' objections, saying that the deal could pose threats to U.S. security interests, undermine food security here and threaten the safety of the U.S. food supply.

China's consumers have faced a number of food-related scares in recent years, including reports of adulterated and mislabeled meats. A Shuanghui subsidiary was recently accused of treating hogs with an illegal veterinary drug that's hazardous for humans.

"The deal has been promoted as a way to facilitate U.S. pork exports to China, but ultimately Shuanghui could export pork back to the United States," the letter says. "The adoption of Smithfield hog genetics and processing technologies could allow Shuanghui to reverse the global flow of pork."

Processed pork products, including ham, bacon and sausage, are exempt from mandatory country-of-origin labeling requirements, which could mean that American consumers might see familiar brands but remain unaware that they were imported from China, the letter said.

In Nebraska, Smithfield owns the Cook's Ham plant in Lincoln, which employs almost 500 people; the Farmland Foods pork plant at Crete, which employs almost 2,000; and an Armour-Eckridge sausage plant in Omaha that employs almost 200.

The letter was signed by Campaign for Contract Agriculture Reform, Coalition for a Prosperous America, Center for Rural Affairs, Contract Poultry Growers Association of the Virginias, Food & Water Watch, Iowa Citizens for Community Improvement, Land Stewardship Project, Missouri's Best Beef Co-Operative, Missouri Farmers Union, Missouri Rural Crisis Center, National Family Farm Coalition, National Farmers Union, Nebraska Farmers Union, Organization for Competitive Markets, Rural Advancement Foundation International—USA, R-CALF USA and Western Organization of Resource Councils.

---
https://www.themadeinamericamovement.com/wp-content/uploads/2017/08/Made-in-America-Movement-Logo_340x156.png
0
0
MAM Team
https://www.themadeinamericamovement.com/wp-content/uploads/2017/08/Made-in-America-Movement-Logo_340x156.png
MAM Team
2013-07-14 11:26:38
2013-07-14 11:26:38
Farming, Food Safety Groups Ask U.S. to Stop Smithfield Foods Sale