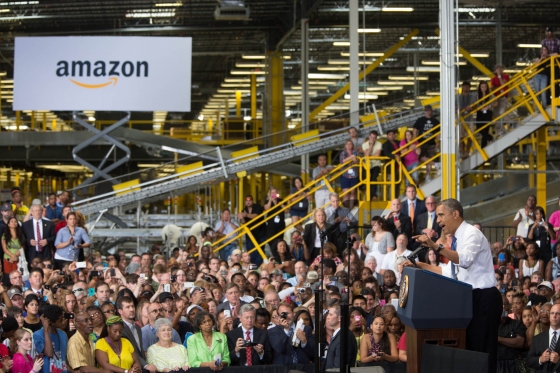 The President of the United States will be speaking about rebuilding America's middle class from the depths of an Amazon warehouse in Tennessee. His message and the site from which he'll deliver it are dissonant, given Amazon's prominence as a massive importer and employer of temporary workers, two truths that make it harder than ever to find a middle class job in this country.
But in many ways, this is an Amazon-driven economy. Want a new TV? Click here and it can arrive at your doorstep in a day. Just charge it to your card. But would you like a good job? Wait in line. Been 
unemployed
 for a while? Wait even longer.
Americans have fantastic, otherworldly tech gadgets to play with at home but 
70,000
 structurally deficient, real-world bridges over which we drive every day. Last year we could tweet news instantly about Hurricane Sandy's 
effects
 on New York City but we could not find any Made-in-America 
electrical transformers
 to supply power to those in need. As taxpayers we have financed breathtaking research that has led to extraordinary devices like MP3 players, but good luck finding one that's made in America today.
While the consumption slice of our economy is doing better, the productive sector is barely treading water. And it should be no surprise; this is exactly the way our economic policy is skewed today.
President Obama 
said
 he was going to change all that. But he hasn't.
In 2009, President Obama said that the world could no longer depend on American consumers as an engine of growth, and that we should bring our economy more into balance — exporting and saving more, while reducing our reliance on borrowing and imports.
During the 2012 election, President Obama 
pledged
 to add one million new manufacturing jobs and get tough on China's trade cheating. So far in his second term, though, we've added only 
13,000
 new factory jobs and our 
trade deficit
 with China, $315 billion last year, is breaking records.
What would be helpful is a 
real-world focus
 on the economy from Washington. We see lots of finger-pointing, but little action. And Obama's speeches thus far have reflected that: Lots of promises of action and exhortations that he gets it, but little in the way of policy. But there are 
steps
 right now that President Obama could be taking without Congress:
He could refocus our trade agenda with a goal of cutting our trade deficit in half by the end of his second term. That means demanding balance from China and Japan in an economy-wide way. Balance should be a pre-condition for any trade or investment deals the Administration is contemplating with these nations.
The President should designate China and Japan as currency manipulators. Both of these countries prop up our massive trade deficits with them by significantly undervaluing their currencies to subsidize their goods in the world's largest free market – America's – while essentially taxing U.S. goods entering their own.
The Administration could go slowly on approving natural gas exports, especially to state-capitalist economies with whom we are competing. How much sense does it make to extract Midwestern natural gas to export to Chinese manufacturers who ship their products, heavily subsidized, back to the Midwest, displacing American jobs?
The President could tighten up procurement regulations to ensure that fewer of our procurement dollars are spent overseas. That means more wind turbines manufactured in Iowa, more steel produced in Pennsylvania, and more vehicles made in Ohio.
And he could ditch the idea of a strong dollar that has made our exports more expensive overseas. Larry Summers was part of the "strong dollar" posse during the Clinton Administration. I'm not personally thrilled about an Act III for Summers at the Federal Reserve.

There's a lot that Congress could do… but that's another blog post.

Perhaps more than anything else, the President could rally Americans behind these ideas. Trade policy needs to be a dinner-table topic in this country, because trade policy puts manufacturing jobs at stake. These jobs are worth fighting for. And it's time that manufacturing workers felt so valued around the clock, not just at election time.

---
SOURCE:  Huffington Post
About Scott Paul:
Scott N. Paul is President of the Alliance for American Manufacturing (AAM), a partnership established in 2007 by some of America's leading manufacturers and the United Steelworkers union. Mr. Paul and AAM have worked to make American manufacturing a top-of-mind issue for voters and our national leaders through effective advocacy, innovative research, and a savvy public relations strategy.
https://www.themadeinamericamovement.com/wp-content/uploads/2017/08/Made-in-America-Movement-Logo_340x156.png
0
0
MAM Team
https://www.themadeinamericamovement.com/wp-content/uploads/2017/08/Made-in-America-Movement-Logo_340x156.png
MAM Team
2013-08-02 11:55:12
2013-08-02 11:55:12
Obama's Amazon Economy