Small Manufacturers Bet on Detroit Brand Despite Bankruptcy
DETROIT (Reuters) – For nearly six decades Detroit's story has been one of relentless erosion of its once mighty manufacturing base, but even as the Motor City faces a long bankruptcy a clutch of small producers has moved in to rekindle the "Made in Detroit" brand.
Reposted from Reuters:
Making products ranging from bicycles to luxury watches and "sleeping bag" coats designed for the homeless, these small firms have tapped into a surprising amount of demand for goods made in a city more commonly associated today with failure and decline.
"Our customers come from all walks of life and are looking for a little bit of soul and something that is authentically Detroit," said Eric Yelsma, founder of Detroit Denim Co., which produces hand-made jeans. "We can't make them fast enough."
Unlike deep-pocketed Dan Gilbert, co-founder of online mortgage provider Quicken Loans who has helped spur a downtown boom here by moving in 9,000 employees and spending $1 billion in the process, Detroit's new entrepreneurs are winging it.
"None of us have ever done this before," said Zak Pashak, who has invested $2 million in Detroit Bikes, which will start production of its "urban bike" model in August and aims to build 40,000 bicycles a year.
"We just jumped in with both feet," said Pashak, who started out as a bar owner in his native Calgary and wound up in Detroit, a city he had admired since childhood for its Motown music. "America needs jobs, which is a good reason to start making stuff here again."
Detroit's manufacturing startups have yet to have much impact on a city unemployment rate that stood at 11.7 percent in June. As a whole, they have created only a few hundred jobs, just a fraction of the 7,700 manufacturing jobs created in the sector from March 2012 to March 2013 in the Detroit metropolitan area, according government data.
Small as they are, Detroit's manufacturing startups offer faint signs of economic diversification after decades of reliance on the automakers or grand schemes to revitalize Detroit such as casinos. They are also making relatively expensive niche goods in a city where consumer spending power has been battered for years.
"I think these small firms offer better hope for Detroit than any big answer," said Margaret Dewar, an urban planning professor at the University of Michigan. "The city has always looked for a big solution to its problems, which hasn't worked."
The auto industry built Detroit, drawing hundreds of thousands of jobs here. But as U.S. automakers shifted production elsewhere, the city's population fell from a peak of 1.8 million in 1950 to around 700,000, and only one large-volume auto plant still makes cars in the city. Detroit has long-term debt of more than $18 billion and on July 18 the state-appointed emergency manager, Kevyn Orr, filed for Chapter 9 bankruptcy protection, the largest ever U.S. municipal bankruptcy.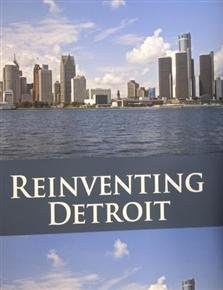 "LOOKING TO THE FUTURE"
Detroit's new entrepreneurs have come despite the city's strained finances, undaunted by the lack of street lights in many neighborhoods and patchy basic services like police and emergency services.
"Most of the people who have set up here are family and friends who have done so regardless of poor services," said David Egner, executive director of the New Economy Initiative, a $100 million fund to aid entrepreneurs in Detroit.
They are encouraged by Orr's plans to invest in services and infrastructure as part of the city's restructuring. "Once services improve, I think we'll see growth from companies outside that group of family and friends," Egner said.
The largest of the city's small newcomers is a watch maker called Shinola, a Depression-era brand name purchased in 2011 when the company set up shop. Dallas-based Bedrock Manufacturing, a venture capital firm backed by Tom Kartsotis, founder of accessory firm Fossil Inc., decided to take advantage of Detroit's underutilized workforce and resonant Made-in-America mystique.
"When we came here we found a lot of dynamic young people who were not focused on Detroit's past, but were looking to the future," said Bedrock CEO Heath Carr. "There is a movement in the United States for Made in America goods, but our question was would they support it with their wallets, because most things made here are more expensive."
Recent consumer research, including a November 2012 Boston Consulting Group survey, indicates around 80 percent of U.S. respondents are willing to pay a premium for American-made goods.
Bedrock spent an undisclosed sum on equipment and on months of training for workers to assemble Shinola watches in a clean environment not far from downtown Detroit. The parts mostly come from Switzerland or China, but the company has two certified watchmakers on staff who can modify designs.
"It means a lot to me to be able to make these watches here in Detroit," said Jalil Kizy, a Detroit native and one of Shinola's two watchmakers. Until Shinola came along, Kizy was like many Michigan natives who have felt they would need to leave the state to find work. 
Shinola's 75-person workforce has the capacity to produce 500,000 watches a year. The first batch of 2,500 watches, priced from $475 to $800 each, sold out in days early this year to buyers across the United States. The company has had teething problems delivering products, Carr said, in part because Shinola underestimated demand.
"It's a good problem to have," Carr said. "But we are working to manage customer expectations."
Shinola also assembles Shinola bikes here, competing with at least two other small-scale bike makers: Detroit Bicycle Company and custom bike builder Slingshot Bikes, which is relocating from Grand Rapids in western Michigan. Pashak's Detroit Bikes will employ 30 people when production begins in August.
"CRAZY OLD"
The city's new manufacturers face challenges common to many new businesses: managing consumer expectations while struggling to meet demand, finding qualified workers to ramp up production, or bearing the cost of training new ones.
Eric Yelsma formed Detroit Denim after losing his job selling specialty printing chemicals once oil hit $100 a barrel in 2008. Yelsma wants to expand Detroit Denim's four-person payroll, but few Americans know how to make jeans anymore.
"The labor pool for this business is pretty much minimal," he said. "So far, we've come up dry."
A local veterans' group is considering a plan to fund a six-month training course for three veterans to become "jean smiths" on what Yelsma describes as "crazy old" sewing machines, one more than a century old. Detroit Denim's jeans sell for $250.
Detroit Denim shares space with the non-profit Empowerment Plan, which makes sleeping bag coats for the homeless. Backed by Quicken Loans' Gilbert and Spanx founder Sara Blakely, Empowerment Plan makes coats from donated materials – insulation from General Motors and material from workwear brand Carhartt.
Veronika Scott, a 24-year-old graduate of Detroit's College for Creative Studies who founded Empowerment Plan, said most of the nine formerly homeless women she employs have found places to live since getting a job. Demand for the coats is strong enough that Scott is planning a "buy one, give one" program this fall: for $200, customers will get a coat and have one donated to a homeless person.
Andrew Pierce, U.S. president of marketing consultancy Prophet, said Detroit's new manufacturers are tapping into Detroit's reputation much as U.S. automake
r Chry
sler has with its "Imported from Detroit" commercials.
"The Detroit brand is very authentic and a little bit gritty in a good way," Pierce said. Beyond a growing desire for American-made goods, the attraction of Detroit "is that part of the American dream is all about the rebuild out of a crisis."
(Reporting By Nick Carey; Editing by David Greising and Claudia Parsons)
---
---
https://www.themadeinamericamovement.com/wp-content/uploads/2017/08/Made-in-America-Movement-Logo_340x156.png
0
0
MAM Team
https://www.themadeinamericamovement.com/wp-content/uploads/2017/08/Made-in-America-Movement-Logo_340x156.png
MAM Team
2013-08-03 11:55:06
2013-08-03 11:55:06
Small Manufacturers Bet on Detroit Brand Despite Bankruptcy