U.S. Textile Plants Return, With Floors Largely Empty of People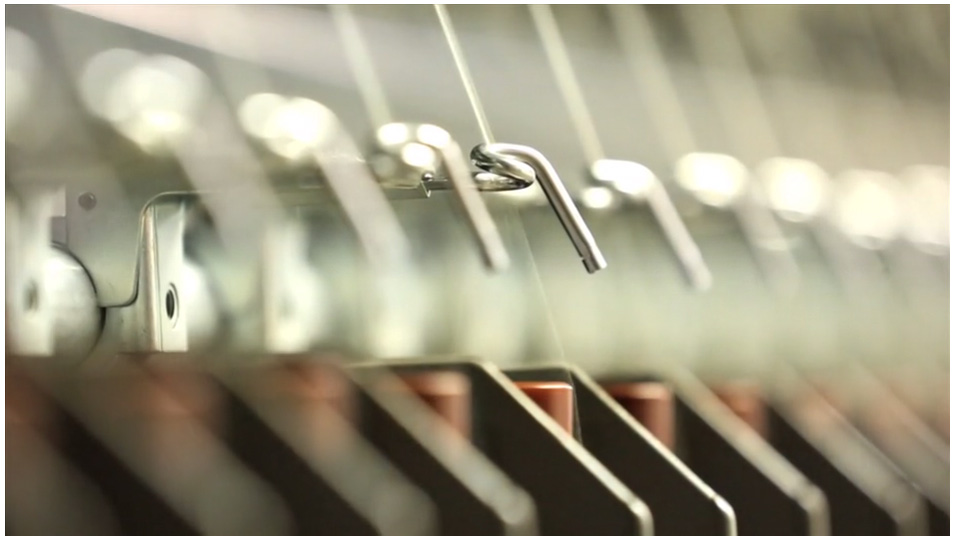 Cotton being spun at a Parkdale Mills facility in Hillsville, Virginia. | Poh Si Teng/The New York Times
GAFFNEY, S.C. — The old textile mills here are mostly gone now. Gaffney Manufacturing, National Textiles, Cherokee — clangorous, dusty, productive engines of the Carolinas fabric trade — fell one by one to the forces of globalization.
Just as the Carolinas benefited when manufacturing migrated first from the Cottonopolises of England to the mill towns of New England and then to here, where labor was even cheaper, they suffered in the 1990s when the textile industry mostly left the United States.

It headed to China, India, Mexico — wherever people would spool, spin and sew for a few dollars or less a day. Which is why what is happening at the old Wellstone spinning plant is so remarkable.

Drive out to the interstate, with the big peach-shaped water tower just down the highway, and you'll find the mill up and running again. Parkdale Mills, the country's largest buyer of raw cotton, reopened it in 2010.

Bayard Winthrop, the founder of the sweatshirt and clothing company American Giant, was at the mill one morning earlier this year to meet with his Parkdale sales representative. Just last year, Mr. Winthrop was buying fabric from a factory in India. Now, he says, it is cheaper to shop in the United States. Mr. Winthrop uses Parkdale yarn from one of its 25 American factories, and has that yarn spun into fabric about four miles from Parkdale's Gaffney plant, at Carolina Cotton Works.

Mr. Winthrop says American manufacturing has several advantages over outsourcing. Transportation costs are a fraction of what they are overseas. Turnaround time is quicker. Most striking, labor costs — the reason all these companies fled in the first place — aren't that much higher than overseas because the factories that survived the outsourcing wave have largely turned to automation and are employing far fewer workers.
And while Mr. Winthrop did not run into such problems, monitoring worker safety in places like Bangladesh, where hundreds of textile workers have died in recent years in fires and other disasters, has become a huge challenge. "When I framed the business, I wasn't saying, 'From the cotton in the ground to the finished product, this is going to be all American-made,' " he said. "It wasn't some patriotic quest."

Instead, he said, the road to Gaffney was all about protecting his bottom line.

That simple, if counterintuitive, example is changing both Gaffney and the American textile and apparel industries.

In 2012, textile and apparel exports were $22.7 billion, up 37 percent from just three years earlier. While the size of operations remain behind those of overseas powers like China, the fact that these industries are thriving again after almost being left for dead is indicative of a broader reassessment by American companies about manufacturing in the United States.

In 2012, the M.I.T. Forum for Supply Chain Innovation and the publication Supply Chain Digest conducted a joint survey of 340 of their members. The survey found that one-third of American companies with manufacturing overseas said they were considering moving some production to the United States, and about 15 percent of the respondents said they had already decided to do so.


"This is a completely different manufacturing paradigm than what we saw 10 years ago," said David Simchi-Levi, a professor at M.I.T. who conducted the survey.

Beyond the cost and time benefits, companies often get a boost with consumers by promoting American-made products, according to a survey conducted in January by The New York Times.

The survey found that 68 percent of respondents preferred products made in the United States, even if they cost more, and 63 percent believed they were of higher quality. Retailers from Walmart to Abercrombie & Fitch are starting to respond to those sentiments, creating sections for American-made items and sourcing goods domestically.
But as manufacturers find that American-made products are not only appealing but affordable, they are also finding the business landscape has changed. Two decades of overseas production has decimated factories here. Between 2000 and 2011, on average, 17 manufacturers closed up shop every day across the country, according to research from the Information Technology and Innovation Foundation.

Now, companies that want to make things here often have trouble finding qualified workers for specialized jobs and American-made components for their products. And politicians' promises that American manufacturing means an abundance of new jobs is complicated — yes, it means jobs, but on nowhere near the scale there was before, because machines have replaced humans at almost every point in the production process.

Take Parkdale: The mill here produces 2.5 million pounds of yarn a week with about 140 workers. In 1980, that production level would have required more than 2,000 people.

Curse of Long Distance

When Bayard Winthrop founded American Giant, he knew precisely what he wanted to make: thick sweatshirts like the one from the Navy that his father used to wear.

They required a dry "hand feel," so the fabric would not seem greasy to the touch, and a soft, heavily plucked underside. Mr. Winthrop had already produced sportswear overseas, so he looked there for the advanced techniques and affordable pricing he needed.

He wanted to sell his hooded sweatshirt for around $80, between the $10 Walmart version, made in China, and the $125 Polo Ralph Lauren version, made in Peru. He was insistent on cutting and sewing the sweatshirts in the United States — a company called American Giant couldn't do that part overseas, he felt — but wasn't picky about where the fabric came from.

With the help of a consultant, he settled on a mill in Haryana, India, that could make the desired fabric. After several months of back-and-forth, Mr. Winthrop was ready to ship his first sweatshirts in February 2012.


But he was frustrated with the quality, and the lengthy process. By October of last year, Mr. Winthrop had moved production to South Carolina. Now it takes just a month or so, start to finish, to get a sweatshirt to a customer.

"We just avoid so many big and small stumbles that invariably happen when you try to do things from far away," he said. "We would never be where we are today if we were overseas. Nowhere close."

The pro
blems in India were cultural, bureaucratic and practical.
Time was foremost among them. The Indian mill needed too much time — three to five months – to perfect its designs, send samples, schedule production, ship the fabric to the United States and get it through customs. Mr. Winthrop was hesitant to predict demand that far in advance.
There were also communication issues. Mr. Winthrop would send the Indian factory so-called tech packs that detailed exactly what kind of fabric he wanted and what variations he would allow. But even with photos and drawings, the roll-to-roll variance was big. And he couldn't afford to fly to India regularly, or hire someone to monitor production there.
He also found that suppliers deferred to his wishes, rather than being frank about some of his choices, which weren't, he conceded, always good ones.
"I'm a supporter of outsourcing when it makes sense," he said. But it had stopped making sense.
Now that production has shifted to the United States, Mr. Winthrop says those problems have disappeared. Mr. Winthrop and his team visit Carolina Cotton Works and Parkdale whenever they want, check on quality and toss ideas around with the managers. And, he says, the cost is less than in India.

Outside air is filtered through cold water and cycled through the Parkdale textile plant in Gaffney, S.C., 30 times an hour, regulating temperature and humidity and removing contaminants. Mike Belleme for The New York Times
Seeing that other plants in the area were streamlining their businesses and ceasing to make their own yarn, Parkdale supplied yarn to nearby manufacturers like Hanesbrands. Business flourished, and Parkdale acquired competitors and soared until the 1990s.
That's when its clients started fleeing the United States.
The North American Free Trade Agreement in 1994 was the first blow, erasing import duties on much of the apparel produced in Mexico. The Asian financial crisis in the late 1990s, when currencies collapsed, added a 30 to 40 percent discount to already cheaper overseas products, textile executives said. China joined the World Trade Organization in 2001 and quickly became an apparel powerhouse, and as of 2005, the W.T.O. eliminated textile quotas.
In 1991, American-made apparel accounted for 56.2 percent of all the clothing bought domestically, according to the American Apparel and Footwear Association. By 2012, it accounted for 2.5 percent. Over all, the American manufacturing sector lost 32 percent of its jobs, 5.8 million of them, between 1990 and 2012, according to Bureau of Labor Statistics data. The textile and apparel subsectors were hit even harder, losing 76.5 percent of their jobs, or 1.2 million.
"With all the challenges that we've had with cheap imports, we knew in order to survive we'd have to take technology as far as we could," said Anderson Warlick, Parkdale's chief executive.
The company began meeting with machine manufacturers, doing trial runs of equipment and offering feedback and debugging, so it got dibs on the newest technology. It looked for business opportunities in the countries where its customers were heading, those in Central America in particular, and now 75 percent of its business is in exports.
Over all, the company employs 4,000 people, its biggest work force ever, but it is technology that has made it competitive.
"We've been able to be effective here because we invested in our manufacturing to the point that labor is not as big of an issue as far as total cost as it once was," Mr. Warlick said. "It's allowed us to be able to compete more effectively with foreign countries that pay, you know, a fraction of what we pay in wages. We compete with them on technology and productivity."
Back From the Dead

All that automation has made working in the mill — which once meant mostly dead-end jobs for people with no other options — desirable for many people.

Howard Taggert, 86, got his first mill job in 1948 after high school. "By being a color, yeah, you've got the worst jobs there was in textile," said Mr. Taggert, who is African-American. "It was rough, but it was a living. We made a living."

He started by opening cotton bales, which involved striking an ax onto a metal tie around the bales — a dangerous job, given that a spark from metal striking metal could ignite a room full of cotton. The dust was so thick that he couldn't see to the next aisle, he said. He was paid 87 cents an hour.

"I had to. I didn't have no other choice," he said of working in the mills.

The work was so bad that Mr. Taggert refused to let his children go into mill work. He might be surprised to hear about Donna McKoy, who went back to work in a mill even after earning an associate degree in criminal justice.

Ms. McKoy, 47, lost her job at Continental Fabrics in North Carolina in the early 2000s, "when everything was downsizing and going over to China." In 2001 alone, textile plants in the Carolinas eliminated 15,000 jobs. The sense of desperation was palpable, Ms. McKoy said.

"Now what?" she remembers asking herself before she decided to go to college.

After a headhunter contacted her in 2007, she became a supervisor at Parkdale, overseeing a night shift of 11 workers. The work — and the workplace — are barely recognizable compared with her job a decade ago. A couple of things struck her right away. First, the mill was clean. "Most open-end spinning plants that have the older model spinning frames in them are really dirty and dusty and not fun to be around," she said. Thanks to the new technology, "my plant is always clean."

Second, Ms. McKoy got training. For her first eight months, Parkdale paid for hotels, food, dry-cleaning and gas for trips home as she rotated around different factories and learned all of the jobs. And there were fewer people. Ms. McKoy now works at a plant in Walnut Cove, N.C., which she described as a smaller version of the Gaffney plant. On a typical 12-hour shift, Ms. McKoy said, two of the 11 people on her team fix the spinning machines about 4,000 times, with robots' help.

She earns $47,000 a year and says the perks are good, like health care, an in-house nurse and monthly management classes for supervisors. She recently bought a three-bedroom house and owns a car.

"I have a comfortable life," she said. "With this recession that we just had, I didn't feel it."


Back to "Made in America"After years of decline, one of the hardest hit industries in the United States might be making a comeback. But while textile manufacturing might return to the Carolinas, the jobs probably will not.Poh Si Teng/The New York Times
Still, some Parkdale employees worry about the future. They've seen too much hardship in the textile industry to be overly hopeful about a real turnaround.
Scott Symmonds, 40, of Galax, Va., works as a technician for two plants in the area. He never planned on manufacturing work, but after time in the National Guard in Iraq, his home went into foreclosure and he had trouble getting work because of his low credit score and lack of a college degree. As a teenager in rural Iowa, he knew people who worked in manufacturing and watched two plants go out of business.
"I saw how they would come home dirty, smelly and often injured," he said. "I didn't want that."
But he needed a job, and Parkdale was hiring. Mr. Symmonds started as a spinner, then got a job on the packing line, and then snagged a technician's job after a technical-aptitude test. He earns $15 an hour, which he says is better than what competitors pay. He fears, though, that his higher pay could become a liability.
"We are making far more money than our counterparts in China or other nations," he said. "We can't afford to take a big enough cut in pay to be on an even level with those places."

---
https://www.themadeinamericamovement.com/wp-content/uploads/2017/08/Made-in-America-Movement-Logo_340x156.png
0
0
MAM Team
https://www.themadeinamericamovement.com/wp-content/uploads/2017/08/Made-in-America-Movement-Logo_340x156.png
MAM Team
2013-09-23 11:53:55
2013-09-23 11:53:55
U.S. Textile Plants Return, With Floors Largely Empty of People