US Manufacturers 'Reshoring' From China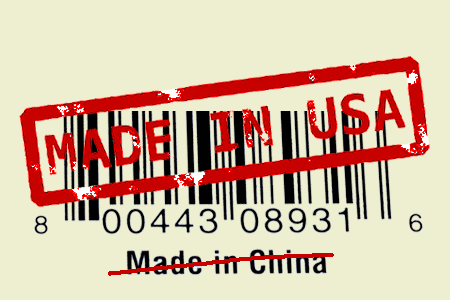 American companies are increasingly "reshoring" manufacturing operations from China to the US, according to a survey of executives.
The shift reflects China's ebbing competitive advantage as a low-cost manufacturing centre after years of rapid wage inflation and points to rising employment in US manufacturing, even though official data have shown little growth over the past year.
Recent examples of companies announcing plans to shift production from China to the US include K'Nex, the toy manufacturer, Trellis Earth Products, which makes bioplastic goods such as bags and utensils, and Handful, the bra manufacturer.

The Boston Consulting Group survey found 21 per cent of a sample of 200 executives of large manufacturers were either already relocating production to the US, or planning to do so within the next two years. A further 33 per cent said they were considering it, or would consider it in the near future.

Those figures are sharply increased from a similar BCG survey early last year, which found 10 per cent of respondents moving production to the US, and a further 27 per cent considering or close to considering it.

Labour costs were the factor most commonly cited by executives as determining location decisions, and China's advantage has been slipping. Wage inflation has been running at about 15-20 per cent per year. Average hourly earnings in US manufacturing have risen just 1.6 per cent per year since 2011.

So far there has been little sign in the employment data of the improvement in the competitive position of US manufacturing. After bouncing back strongly from the trough of the recession, US manufacturing employment has stagnated for the past year at just under 12m.

However, Hal Sirkin of BCG said he expected the effect of reshoring would begin to show in the data over the next few years.

"These are leading indicators," he said. "If you are going to have a plant up and running in 2015, you have to start planning in 2011, or 2012 at the latest."

BCG is predicting that, by the end of the decade, reshoring and rising exports will have created 0.6m-1.2m new manufacturing jobs in the US.

The effect will vary across industries, BCG says. Prime candidates for reshoring are industries that have relatively lower labour costs, and relatively higher transport costs or other reasons to be close to their customers.

The US shale boom is also stimulating investment in industries that have high energy costs, particularly petrochemical production.
---
https://www.themadeinamericamovement.com/wp-content/uploads/2017/08/Made-in-America-Movement-Logo_340x156.png
0
0
MAM Team
https://www.themadeinamericamovement.com/wp-content/uploads/2017/08/Made-in-America-Movement-Logo_340x156.png
MAM Team
2013-09-25 11:23:55
2013-09-25 11:23:55
US Manufacturers 'Reshoring' From China