Why Social Sustainability Should Be Part Of Every Business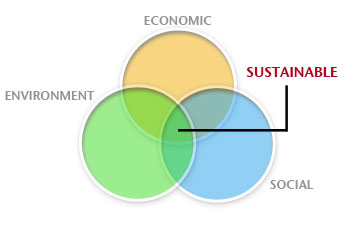 Being a good business is easier than ever, makes your products sell more, and makes life a lot less risky for you–and the people who work for you.
Reposted from Fast Company:
I can't think of anything that illustrates the human cost of doing business more than the tragedy this past April in Bangladesh. More than 1,100 men, women, and children died when the Rana Plaza building, which housed a number of garment factories, collapsed. Most were garment workers who were ordered by supervisors to report to work, even after inspectors deemed the building unsafe.

Millions of people around the world work in dangerous and unhealthy conditions, earning a nominal income to deliver the products we consume. While the factory collapse in Bangladesh is a terrible tragedy, it's another wake-up call that business leaders need. We can no longer ignore the human side of our global supply chains. Now is the time for all of us to recognize and embrace social sustainability–much in the same way we've focused on environmental sustainability for the past 20 years–as a mission-critical way of doing business. By social sustainability, I mean investing in the livelihoods of farm and factory laborers, ending worker exploitation, and ensuring that there is ethical sourcing behind the things we buy.


"Social sustainability is a mission-critical way of doing business."
Some of you might be thinking that social sustainability is a phrase made up of feel-good buzz words. But social sustainability is good business.
Here are three key points that every business leader should keep top-of-mind:
SOCIAL SUSTAINABILITY MITIGATES RISK
Simply put, ignoring social sustainability is a liability–to both your brand and product quality–that businesses can no longer afford.
Case in point: apparel companies, especially those that had previously outsourced their manufacturing to Bangladesh, began scrambling for PR cover within days of the Rana Plaza collapse. Earlier factory tragedies involving global corporations resurfaced as well, demonstrating the prominence of these issues in the eyes of the media and consumers.
Similarly, businesses risk product quality by ignoring the social side of sustainability. In the last month alone, the FDA issued recalls or safety alerts regarding food products tainted by salmonella, listeria and hepatitis A–contaminations that typically start in the fields where farm workers could be more vigilant if they were trained and empowered to do so. Not only do these outbreaks create a serious threat to public health, they can also cost food manufacturers millions of dollars to remedy each incidence of food-borne illness.
"When you provide safer working conditions, living wages, and job security, you create a more secure supply chain."
Investing in social sustainability allows companies to flip these types of liabilities into assets. When you provide safer working conditions, living wages, and job security, you create a more secure supply chain. When you give farm workers a reason to care about food safety and pest contamination by giving them special training and higher pay, you go a long way in ensuring the integrity of your product.
CONSUMERS WANT SOCIALLY SUSTAINABLE PRODUCTS
We're seeing the rise of the conscious consumer–people who are informed and engaged, and who care about the environmental and social impact of the products they buy.
Businesses are responding. West Elm, for example, is partnering with Craftmark, an organization that is part of the All India Artisans and Craftworkers Welfare Association, to bring locally sourced and handmade products to consumer markets around the world. Many rug importers and exporters are looking for products free of child labor, and they work with organizations like 
GoodWeave
 for quality control. And with some companies, like 
prAna
, customers show support by looking for the Fair Trade Certified label on their clothing offerings.
"Social sustainability has never been easier to practice."
Does all this transparency pay off? Absolutely. Conscious consumers are willing to spend a little bit more to know that the items they purchase are sweatshop-free, help the lives of the workers who made them, and build stronger communities.
SOCIAL SUSTAINABILITY HAS NEVER BEEN EASIER
The good news is that social sustainability has never been easier to practice. There is no lack of information, and no shortage of partners who can help you develop, implement and audit a business model that gets it right:

The Fair Labor Association conducted an in-depth investigation of factories in China operated by Foxconn, Apple's biggest supplier. Both Apple and Foxconn have agreed to follow FLA guidelines to reduce working hours, protect pay, and improve working conditions.

United Farm Workers, Oxfam America, and Costco, in collaboration with many other organizations, have lent considerable muscle to develop and support the Equitable Food Initiative. One of the initial projects had California strawberry growers commit to training their workers and paying them higher wages as an incentive to practice a higher standard of food safety.

Green Mountain Coffee Roasters recently completed a two-year partnership with Fair Trade USA and USAID to educate small-scale coffee farmers in Brazil about environmental conservation and effective natural resource management.

By putting people back into business, we're choosing a world where farmers and workers are able to fight poverty through better trading practices, work in safe conditions, and have access to adequate schooling, health care, and housing. When this happens on a large scale, social sustainability will no longer just be "good business," it'll be business as usual.

---
https://www.themadeinamericamovement.com/wp-content/uploads/2017/08/Made-in-America-Movement-Logo_340x156.png
0
0
MAM Team
https://www.themadeinamericamovement.com/wp-content/uploads/2017/08/Made-in-America-Movement-Logo_340x156.png
MAM Team
2013-07-30 11:40:40
2013-07-30 11:40:40
Why Social Sustainability Should Be Part Of Every Business