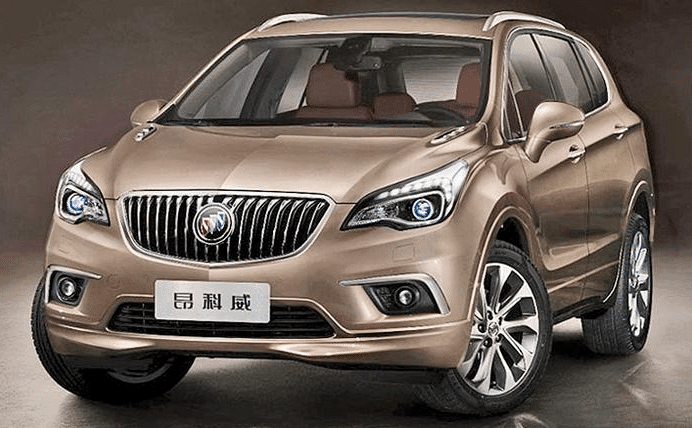 Chinese Made Cars Arrive in U.S. Showrooms
A PEEK under the hood of three new cars from Volvo, Buick and Cadillac will not reveal a Made in China label. But those cars are breaking new ground in the auto industry, becoming the first to be manufactured in the People's Republic and exported to the United States.
Sweden's Volvo, now owned by Geely Auto of China, has shipped more than 1,000 copies of its S60 Inscription.
Buick, desperate to fill the most glaring hole in its lineup, the compact crossover, will import the Envision.
And this month, Cadillac announced that it would export a plug-in hybrid version of its new CT6 flagship sedan from China, supplementing production of the standard version from its Detroit-Hamtramck plant.
The arrival of Chinese-made cars has surprised some people in the United States, particularly United Auto Workers leaders who objected to General Motors' decision to begin selling the Buick Envision starting this July.
But it is the culmination of a long-promised, never-fulfilled vision, and their introduction stands in stark contrast to 2007, when Chinese automakers stormed auto shows in America, making bold promises that they would soon open showrooms here.
But the mainly low-budget cars appeared dowdy, primitive, even potentially unsafe. Not one Chinese-branded car cracked the American market, though companies like Guangzhou Automobile continue to float the idea.
Since that time, much has changed. Global and Chinese automakers have teamed up to produce more sophisticated models, including Buicks and BMWs, that are familiar faces around the world. Geely's trophy purchase of Volvo has given it a trusted name that is synonymous with safety.
Chinese cars do remain an unknown quantity to consumers, who were also once leery of the first cars imported from Japan — and later, from Mexico and South Korea.
Michael Harley, editor in chief of AutoWeb, said that top automakers had solved those puzzles of global manufacturing, and they understood the stakes in American showrooms.
"When Hyundai first brought Korean cars here, they didn't realize the scrutiny Americans would put on them, and the poor quality almost destroyed the Hyundai brand," Mr. Harley said. "Today, companies like Volvo and G.M. know they have to build a world-class product to present to American consumers, and there's no getting around it."
In November, Aaron Ezrilov became one of the first Americans to drive a Chinese-built car, though he didn't realize it until a salesman told him while signing the Volvo S60 Inscription lease. Mr. Ezrilov, a longtime Volvo loyalist and a federal solutions director for Resolute Partners, felt the briefest flash of anxiety. But he has been closely going over the car ever since and fell in love on a fast canyon run to San Juan Capistrano from his home in Canyon Lake, Calif.
"The doors 'thud' when you close them, and I'm not finding any corners cut or cosmetic flaws at all," Mr. Ezrilov said, adding that he was impressed enough to pick up a second Inscription for his mother.
Katarina Fjording, Volvo's vice president for purchasing and manufacturing in the Americas, helped create Volvo's Chinese factory in Chengdu.
"When I went to China, I had doubts about what it would be like, especially in a remote area," she said. "But I've been proven wrong many times."
The biggest cultural challenge, Ms. Fjording said, was to encourage Chinese workers to suggest improvements without fear of repercussions.
"It's not natural to speak up like that, but now they're very good at it. You see the joy, how they appreciate that you listen."
Some Chengdu workers had automotive factory experience and were willing to move thousands of miles for a better job and life.
"It takes a long time to build a good reputation, and only a day to ruin it, so it wouldn't make any sense for us to produce something that's not good," Ms. Fjording said.
For General Motors' Buick brand, China is driving the best sales in its 112-year history, with America the outlier: Buick built and sold more than one million cars in China last year, compared with 223,000 here. So exporting the Envision, a Chinese award-winning sport utility vehicle, is a natural, considering America's growing appetite for small crossovers, said Duncan Aldred, Buick's vice president for sales.
"It's the biggest sales segment, and we need to be in there," he said.
Mr. Aldred said that, ultimately, American consumers were more interested in a product's design and performance than where it's assembled.
"It's the same model used by iPhone," Mr. Aldred said of the Chinese-built product. "Most people have one in their pocket and pay a premium for that device."
Mr. Harley said that American consumers were buying a brand, not a country of manufacture.
"Germans are building cars in South Carolina, but no one says you're driving a South Carolina BMW," Mr. Harley said. "It's still a German car, and as long as quality is equal or better, consumers aren't going to care."
Mr. Ezrilov agreed, saying that he wasn't concerned about the Volvo's provenance but about its performance and a back seat that could fit his six-foot-plus teenage son. "I believe in fair trade," Mr. Ezrilov said.
Such globalization arguments haven't swayed Cindy Estrada, vice president of the United Auto Workers. She said G.M. was welcome to build cars in China to serve the world's largest car market. But Ms. Estrada, who led negotiations that resulted in a four-year G.M. labor deal last fall, minutes before a strike deadline, said the company was breaking its oft-stated pledge to "build where you sell."
"If you're looking to rebuild the company and invest in workers, you don't go and bring in something from China," Ms. Estrada said. "We have to hold them accountable to build vehicles here."
Mr. Aldred replied that Buick continued to invest in American manufacturing, including an all-new LaCrosse sedan at Buick's Detroit-Hamtramck plant. Buick headquarters, including its global design and engineering, will always remain in suburban Detroit, he said.
"We're a proudly American brand, the oldest in the U.S. industry, and also a great international success story," he said.
As for Volvo, the next challenge for the globe-hopping Ms. Fjording takes her to South Carolina. She is coaxing Volvo's first American factory into existence, scheduled to build a next-generation S60 by 2018.
One target is already affirmed: If the South Carolina plant can match the quality of its Chinese models, she said, the company would "absolutely" be satisfied.
SOURCE: New York Times
https://www.themadeinamericamovement.com/wp-content/uploads/2015/08/08-19-15-Buick-Made-in-China.png
428
692
The Made in America Movement Team
https://www.themadeinamericamovement.com/wp-content/uploads/2017/08/Made-in-America-Movement-Logo_340x156.png
The Made in America Movement Team
2016-01-30 18:53:19
2016-01-30 18:53:19
Chinese Made Cars Arrive in U.S. Showrooms