PR Ploy Or Not, Walmart's 'Made In America' Push Means Something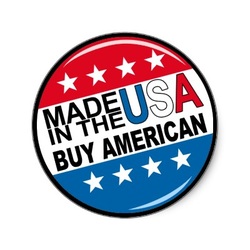 Last week, Walmart expanded on the $50 billion Buy American pledge it made last January with a full-fledged Made-in-America summit.
That's right. Import-fueled retail giant Walmart filled a Florida convention center to discuss how best to stoke an American manufacturing revival, and it recruited an impressive list of speakers to do so. Among the panels were governors, industrialists, half of the country duo Brooks & Dunn, and even a cabinet secretary. Their message was uniform: Increasingly, it makes economic sense to manufacture in the States again, and Walmart's shelves are waiting.
There are a lot of remarkable things about the company, not least of which is its ability to put together a panel of movers and shakers. It boasts unrivaled scale, a remarkably green supply chain, and its distribution network is a marvel of modern business. It sits atop the Fortune 500, and as the country's largest private employer its political and economic footprint is huge.
Still, the company's laser-like focus on low prices contributed significantly to manufacturing's offshoring exodus over the last two decades. By relentlessly squeezing its supply chain – and finding those savings in basement-level labor costs and lax regulatory standards overseas – it has earned the cynicism that greeted its decision to align itself with The Made In America Movement. Walmart's sudden economic patriotism strains credulity.
Or does it?[p][/p]
Let's rewind to the 1980s. This isn't the first time Bentonville has painted itself red, white, and blue. Thirty years ago it draped its stores in Buy America banners to show off the domestically sourced goods on its shelves – but this campaign ended abruptly after a Dateline investigation revealed much of the American-made merchandise actually came from low-cost Asian suppliers.
It's hardly incredulous, either, that the company would tout a Buy American plan, because its merchandising wizards know good PR when they see it: Domestic sourcing is popular, as shown in a national 2012 opinion poll. And an analysis of the 2012 elections confirms as much – the American factory floor was the trendiest advertising image of the campaign cycle.
And note the company's ten-year, $50 billion commitment to American-made products is less lofty when put in context – the increase alone it made to its 2012 procurement budget was roughly $21 billion. With global sales close to $480 billion, Walmart is fond of saying that the majority of its procurement is already spent on American products; yet most of that comes in the form of low-cost grocery and paper products. A study by the Economic Policy Institute, in fact, found that Walmart procurement accounted for 11 percent of the growth of America's trade deficit with China between 2001 and 2006.
All told, dedicating an extra $5 billion per year toward American-made goods, especially when the vast majority of what it sells still comes from overseas, is a relatively minor accounting move for a company the size of Walmart.
But it isn't fair to simply criticize a company for operating in such large numbers. $5 billion, however you slice it, means a lot out in the economy. And no one sets trends in the retail sector like Walmart. There is legitimate hope that where Walmart goes – or simply feints toward going – its competitors will follow. And in this case, that's a good thing for American manufacturing and American workers.
What's more, does it really matter if Walmart's move isn't benevolent? I think not. Just because plenty of holes can be poked in its patriotic PR campaign, its very existence demonstrates a recognizable, market-based demand for American-made products. With manufacturing employment in the States stagnant and little action coming from Washington to promote the sector, maybe the retail giant's calculated response to its customers' desires will spur a domestic manufacturing rebound.
Or maybe it won't. But if Walmart's Made In America promotion is even half as successful for the company as the outsourcing trend its business model has bankrolled, American manufacturing may be in for a rebound indeed.
---
https://www.themadeinamericamovement.com/wp-content/uploads/2017/08/Made-in-America-Movement-Logo_340x156.png
0
0
MAM Team
https://www.themadeinamericamovement.com/wp-content/uploads/2017/08/Made-in-America-Movement-Logo_340x156.png
MAM Team
2013-08-30 11:39:38
2015-02-27 07:49:41
PR Ploy Or Not, Walmart's 'Made In America' Push Means Something