POTUS announces Manufacturing Innovation Institute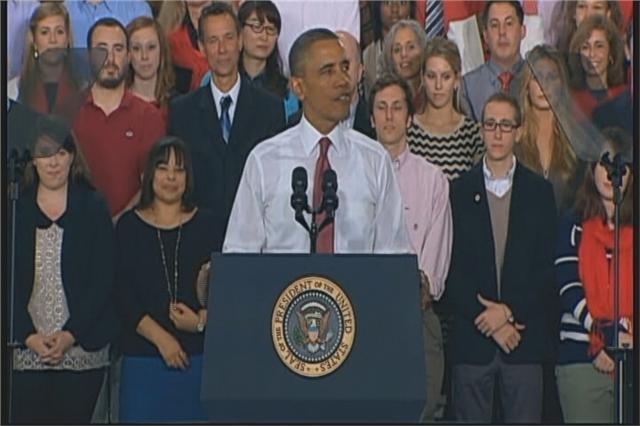 RALEIGH– Air Force One landed at RDU Wednesday afternoon, kicking off President Barack Obama's visit to the Triangle.
His visit began with a stop in RTP to tour Vacon, a company that designs drives used to power everything from elevators to exhaust fans. President announced the Manufacturing Innovation Institute, a new manufacturing venture for the country. The announcement is being made at NC State University, which is the school he has picked to lead his initiative.
(Entire speech, 21 minutes long, is linked at the end of this article) "I'm here to act, to help make Raleigh-Durham, and America, a magnet for the good, high-tech manufacturing jobs that a growing middle class requires and that are going to continue to keep this country on the cutting edge," he said. The President said the institute's goal will be to create new energy solutions using wide bandgap semiconductors to improve efficiency, reduce size and improve reliability. He also said two more "innovation hubs" will be launched in the coming weeks. Wednesday's speech centered around strengthening advanced manufacturing and attracting good paying jobs. The idea is to do this through a public private partnership that will include 18 companies and 6 universities. NCSU will be the lead university in this venture, known as the "next generation power electronics innovation institute." It will focus on energy efficient, high power electronic chips. "NC State couldn't be more proud to have been selected to lead this new institute, which truly embodies everything that our university stands for – from our think and do mentality, to our collaborative spirit and unending commitment to solve to the grand challenges of society," NC State Chancellor Randy Woodson said in a statement released Wednesday. Chancellor Woodson will travel back to Washington with President Obama on Air Force One. Woodson, along with UNC Chapel Hill Chancellor Carol Folt will attend an event hosted by the president and first lady Thursday on making college more accessible. They are part of a group of university leaders from across the country selected to attend. President Barack Obama is traveling the country over the next few weeks highlighting some of the ideas we will hear in his State of the Union Address at the end of the month. Watch the entire 21 minute speech.
---
https://www.themadeinamericamovement.com/wp-content/uploads/2017/08/Made-in-America-Movement-Logo_340x156.png
0
0
MAM Team
https://www.themadeinamericamovement.com/wp-content/uploads/2017/08/Made-in-America-Movement-Logo_340x156.png
MAM Team
2014-01-17 11:26:28
2014-01-17 11:26:28
POTUS announces Manufacturing Innovation Institute