Steel for America's Military Will Once Again be 'Made in USA'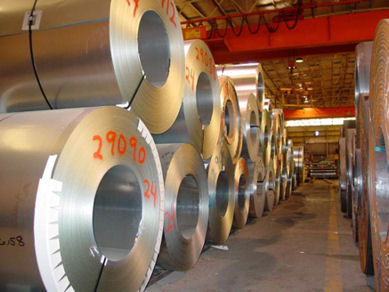 Brown is the Author of Legislation That Would Protect Domestic Jobs and America's National Security by Restoring Requirement that Military Steel be 100 Percent Made in America; Cleveland's ArcelorMittal and Cliffs Natural Resources, Marion's Nucor All Involved in Production of Armor Plate
---
WASHINGTON, D.C. – U.S. Sen. Sherrod Brown (D-OH), the author of legislation to ensure that armor plate for America's military is truly "made in America," today applauded a move from the U.S. Department of Defense (DoD) that restores a 35-year rule requiring that steel purchased by the U.S. military be 100 percent domestically produced. The rule, originally overturned by DoD in 2009, requires armor plate steel to be both melted and finished in the United States. Several Ohio companies, including Cleveland's ArcelorMittal and Cliffs Natural Resources and Marion's Nucor, are involved in the production of Armor plate.
"This is a win for our military and for
American companies
like ArcelorMittal, Cliffs, and Nucor, that make steel for our military right here in the United States," Brown said. "We know how to make steel armor plate here in America, and there's no reason why countries like China and Russia should be making our military's vehicles and equipment. By proposing a rule consistent with my legislation, the Defense Department has stood up for the American steel industry. Importing steel armor plate puts both our manufacturing jobs and our national security at risk, and that's why steel armor plate should be both melted and finished in the United States."
"ArcelorMittal is pleased with the Department of Defense's decision to reinstate the longstanding requirement that steel armor plate procured for defense purposes be melted domestically. We are grateful for the support of leaders like Senator Brown who have fought tirelessly for this policy to be reinstated. This is an important decision for our hardworking employees in Ohio and nationwide. ArcelorMittal is proud to support the defense efforts of the United States through our production of steel armor plate, and we commend the Department of Defense for its decision to help ensure a vibrant industrial base in the years to come," said John Mengel, Chief Operating Officer, ArcelorMittal USA Plate.
"As a major supplier of raw materials to the domestic steel industry, Cliffs is encouraged by the Department of Defense's proposal to again require that all stages of steel armor plate manufacturing occur domestically. This proposed rule reflects the importance of producing strategically significant steel products in the United States from a domestic supply chain," said Kelly Tompkins, Executive Vice President – Legal, Government Affairs and Sustainability and Chief Legal Officer at Cliffs Natural Resources Inc.
Steel armor plate is used for military vehicles, tanks, and equipment. Under DoD regulations, specialty metals procured for defense purposes—including steel armor plate—must be produced in the United States.  Despite more than 35 years of legal interpretation and administrative practice requiring that specialty metals be melted in the United States, DoD in 2009—in the midst of the wars in Iraq and Afghanistan and during a time when the demand for steel was high—published a final rule defining the word "produced," as it applies to armor plate under the Special Metals Amendment, to include simple finishing processes. This means that armor plate melted in foreign countries, including Russia and China, could be imported and subjected to simple finishing processes in the United States and then deemed to have been "produced" domestically.
After numerous Congressional inquiries and report language questioning DoD's interpretation of "produced," the FY11 National Defense Authorization Act included a provision requiring a review and, if necessary, revision of the existing regulation to ensure the definition is consistent with Congressional intent (the review was required to be completed within 270 of enactment of the law, i.e., early October 2011).  On July 25, 2011, DoD published its request for comment, and the deadline for public comment was September 8, 2011. Earlier this year, Brown introduced the United States Steel and Security Act, which would have required steel armor plate to be both melted and finished in the United States, not only protecting American steel jobs, but our country's national security. Cleveland's ArcelorMittal manufactures steel armor plate, as does Nucor.
In September 2011, Brown—along with Sens. Richard Burr (R-NC), Robert P. Casey, Jr. (D-PA), Kay Hagan (D-NC), Daniel Coats (R-IN), Jay Rockefeller (D-WV), Al Franken (D-MN), and Amy Klobuchar (D-MN)—sent a letter to Defense Undersecretary Ashton Carter urging him to revise the Department's requirements on steel plate. A copy of that letter can be seen here. During consideration of the National Defense Authorization Act in December 2011, Brown and Senate Armed Services Committee Chairman Carl Levin (D-MI) called for the DOD to expedite its review of this issue.
Yesterday, the DoD published in the Federal Register a proposed amendment to the Defense Federal Acquisition Regulations revising the definition of "produce" as it relates to the Specialty Metals Amendment.  The proposed amendment is the result of section 823 of the FY 2011 National Defense Authorization Act, in which Congress directed DoD to review the current the definition of produced to ensure its consistency with congressional intent.  There will be a 60-day comment period on the proposed rule.
---
https://www.themadeinamericamovement.com/wp-content/uploads/2017/08/Made-in-America-Movement-Logo_340x156.png
0
0
MAM Team
https://www.themadeinamericamovement.com/wp-content/uploads/2017/08/Made-in-America-Movement-Logo_340x156.png
MAM Team
2012-07-26 12:03:06
2017-09-03 22:10:21
Steel for America's Military Will Once Again be 'Made in USA'