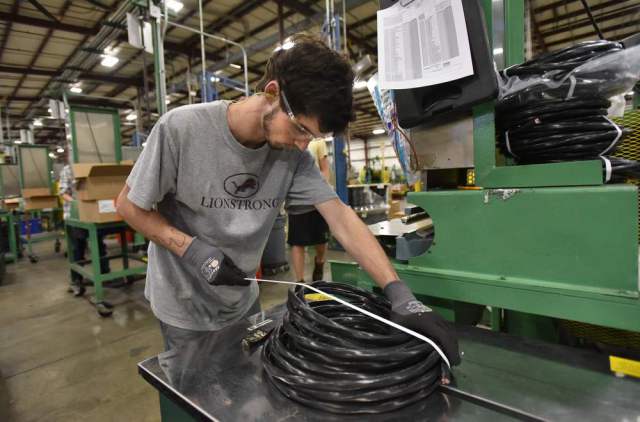 Georgia Launches Apprenticeship Program to Tackle Skills Gap
Georgia launched an apprenticeship program as a new tactic to combat a persistent problem. Even as the state struggles with a stubborn jobless rate, there's a growing demand for highly skilled workers that remains unmet.The Georgia WorkSmart initiative would develop customized apprenticeship and internship programs at firms across the state. Some 30 companies have already signed up to participate in the program, which is underwritten by a roughly $3 million federal grant from the U.S. Department of Labor.
"The power of this program comes from creating a pipeline between the private sector and our workforce developers," said Chris Carr, the state's economic development commissioner.
State officials have long struggled with the paradox of relatively high unemployment – the 5.8 percent rate for September was among the nation's highest – amid appeals from industry executives who say they can't fill jobs fast enough in certain fields.
Georgia recently expanded a program that pays full technical school tuition through the HOPE scholarship for students in high-demand fields. But an aging workforce that's preparing to retire – and a lack of skilled workers ready to replace them – highlights the pressure the state faces to narrow the so-called skills gap.
That chasm is wide. A recent Atlanta Regional Commission study showed that 60 percent of jobs in Georgia will require some sort of post-secondary education, either a degree or a certificate, within five years. But only 38 percent of Georgia high school sophomores made it that far, the study showed.
The WorkSmart initiative aims to help companies draft and then carry out their own on-the-job training program, including assistance with classroom coursework and apprenticeship curriculum.
The program was announced at a food processing plant for King's Hawaiian, which has agreed to hire 25 apprentices. Gov. Nathan Deal said European firms that set up operations in Georgia have been among the loudest proponents of the need for the program.
"This is going to fill a big void," Deal said in an interview. "And it gives us a jump start and an opportunity to do things that maybe we otherwise wouldn't have been able to afford to do."
https://www.themadeinamericamovement.com/wp-content/uploads/2015/11/11-8-15-Georgia-Skills-Gap.jpg
422
640
The Made in America Movement Team
https://www.themadeinamericamovement.com/wp-content/uploads/2017/08/Made-in-America-Movement-Logo_340x156.png
The Made in America Movement Team
2015-11-08 11:48:41
2015-11-08 11:48:41
Georgia Launches Apprenticeship Program to Tackle Skills Gap