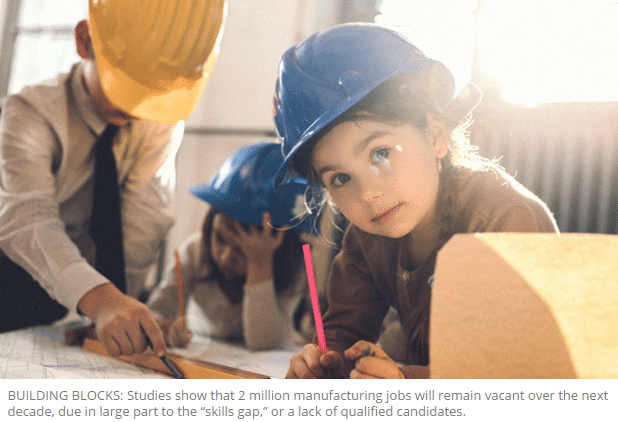 Education: 5 Ways to Inspire the Next Generation of Manufacturers
HIGHER EDUCATION The importance of manufacturing to our economic well-being is not a mystery to the manufacturing industry. But how can we get today's youth to see the value of a manufacturing career?
There is a surprising yet nevertheless prevailing mindset—and misconception—that manufacturing careers entail only low-skilled workers, jobs in dirty factories and low-wage salaries.
For those who have been immersed in manufacturing for many years, we know that is not the actual landscape. Technological advancements are changing the industry at an increasingly rapid pace. Manufacturing environments are often more like clean rooms, and they yield well-paid careers that require degrees, certifications, hands-on experience and extensive skills development with an expectation for continuous improvement.
Rewiring perspectives
Unfortunately, this outdated perception has impaired manufacturing's reputation resulting in a sharp decline in the number of students pursuing degrees and careers in science, technology, engineering and mathematics (STEM). In the U.S. alone, there are over 12 million people employed in manufacturing.
"Manufacturing is vital. It's the key to economic growth and prosperity."
By 2025, however, it's predicted that there'll be two million manufacturing jobs that may go unfilled because we won't have a skilled workforce in place as baby boomers retire and as applied advanced technologies require higher capabilities. A shortfall of talent to fill critical manufacturing roles would be devastating to the industry and our overall economy.
To help fill this skilled workforce pipeline, we have to attract youth to pursue advanced manufacturing careers, and also meaningfully respond to the inadequacy of training and development opportunities for our current manufacturing workforce. Some disturbing facts are that 40 percent of manufacturing companies have no training budget, and 54 percent don't have a plan in place to train their current workforce.
Building blueprints
A well-trained workforce drives innovation, quality, customer satisfaction, productivity and growth. It leads to engaged and loyal employees, satisfied stakeholders and economic growth for the company and region itself.
It's essential that manufacturers have a proactive plan in place to address the workforce from both a community and company perspective. How a company, community or region addresses this challenge differs greatly. If done correctly, that difference makes for a strong, competitive advantage.
So what can we do to ensure there's a talented, skilled manufacturing workforce?[p][/p]
Start early
The earlier we start with the today's youth, the more successful we can be in influencing their education and career paths. One way to do so is by becoming a mentor and judge for a local state and national student competition. This is a great opportunity to engage with younger students in a fun-filled atmosphere that creates excitement and creativity. If time is an issue, monetary support is always welcome.
Demonstrate the possibilities
Take a cutting-edge technology, like additive manufacturing, or 3-D printing, and provide hands-on demonstrations on how fun and interesting creating and designing something real and tangible can be. Open the doors of your manufacturing facilities to local communities and schools so that parents, teachers and counselors can see high-tech manufacturing live and in-person. Manufacturing Day, the first Friday in October, is an optimal time to do so.
Share the numbers
According to the Bureau of Labor Statistics, the median salary for an industrial production manager in manufacturing is $92,470, while a mechanical engineer in manufacturing earns a median salary of $83,060. We need to put those numbers in front of our high school and career counselors to encourage youth and displaced workers to pursue advanced manufacturing degrees and professions.
Evaluate your workforce
Assess the skills gap of your employees and plan accordingly. Don't wait until your employees have retired to train their replacements; utilize their skills and knowledge while they're still with your organization. Look to the future for skills your employees will need and proactively train them for the jobs of tomorrow. Doing so will ensure the long-term success and competitiveness of your company. Competency models are tools that organizations can leverage to align their business goals to the knowledge and skills of their workforce. They can also enhance employee satisfaction and create high performance.
Collaborate
Work with other manufacturers, organizations, and most importantly, your local schools and community colleges to promote the importance of manufacturing and the worthwhile careers it has to offer. Go one step further by helping build a pipeline of highly-skilled, knowledgeable employees. This pipeline includes sharing your insight into the manufacturing workforce of the future. What skills are going to be needed in 10, 15, 20 years for your manufacturing company to remain competitive and profitable? Being engaged at all levels creates the best model for success.
The bottom line is, manufacturing is vital. It's the key to economic growth and prosperity. As an industry, it contributes more to the economy than any other economic sector. But, the workforce has to keep up with the rapid advancements in technology, and the workforce of tomorrow needs to be inspired today. Get involved. Be proactive. Be advocates for manufacturing.
SOURCE: Media Planet
https://www.themadeinamericamovement.com/wp-content/uploads/2016/04/04-12-16-media-planet.png
422
618
The Made in America Movement Team
https://www.themadeinamericamovement.com/wp-content/uploads/2017/08/Made-in-America-Movement-Logo_340x156.png
The Made in America Movement Team
2016-04-12 07:36:09
2016-04-12 07:36:09
Education: 5 Ways to Inspire the Next Generation of Manufacturers