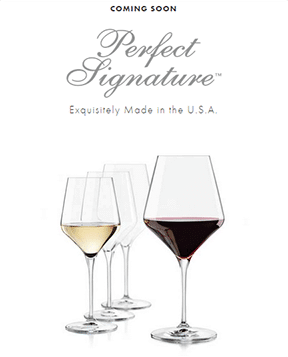 Libbey Introduces Finest Quality Glassware Made in USA
Libbey Inc., the number one glassware tableware company in the Americas, introduced today the finest quality glassware manufactured in the U.S. The nearly 200-year old company invented a state-of-the-art process from furnace to forming to finishing that enables the most brilliant and strongest soda lime glassware to be produced in the U.S. The new stemware and tumbler collection, called Perfect Signature™, will be available to retail markets later this year.
The introduction of this collection represents the culmination of nearly two years of research and development, planning, installation and testing of new production equipment. At the heart of the innovation is the Company's unique ClearFire™ glass formula, developed by Libbey's professional glass makers.
"This is a truly defining moment in our Company's history, and one that calls for celebration," said Stephanie Streeter, chief executive officer of Libbey Inc. "These innovations and capabilities and this collection complements our existing full tabletop product portfolio with truly exceptional, high-end stemware and tumblers with characteristics typical of traditional handmade crystal. We are especially proud to be manufacturing this product line in the U.S." Streeter added, "This is a shining example of our Own the Moment strategy."
In 2013, Libbey announced an investment into its Shreveport, La. manufacturing facility to develop and install new production equipment and furnace to produce superior glass. To date, approximately $30MM has been invested in the state-of-the-art process that allows Libbey to produce high brilliance soda lime glassware with the Company's new ClearFire™ formula. The glassware has superior clarity, is more durable, more brilliant and the cleanest glass produced by Libbey with less production emissions and 30 percent less iron. The innovative process and unique formula will allow Libbey to produce a full line of new glassware tableware designs and shapes.
"We have made a significant investment in our Company to be able to produce the highest quality glassware manufactured in the U.S.," said Tony Gardner, chief commercial officer, Libbey Inc. "We are proud to be leveraging our innovation, producing the most brilliant and durable glass in the U.S. and assuring supply chain efficiencies to our domestic customers. This Made in the USA Perfect Signature™ collection of stemware and tumblers will allow expansion of Libbey products into higher-end glassware tableware markets. Consumers will see the new collection first in Bed Bath & Beyond® retail stores this Fall."
Driven by consumer preference for elegant and durable stemware, the new high brilliance glass collection will feature thin rims, tall stems, a flat foot and unique shapes and will be backed by Libbey's 25-year consumer warranty, which guarantees against chipping.
The manufacturing of the new glassware is anticipated to reach full production by the third quarter of this year and is expected to launch in select retail and foodservice markets later this year, with a broader roll out planned for 2016. To learn more about Libbey Inc. and its new glassware, visit RETAIL LIBBEY
About Libbey Inc.
Based in Toledo, Ohio, Libbey Inc. is one of the largest glass tableware manufacturers in the world. Libbey Inc. operates manufacturing plants in the U.S., Mexico, China, Portugal and the Netherlands. In existence since 1818, the Company supplies tabletop products to retail, foodservice and B2B customers in over 100 countries.  Libbey's global brand portfolio, in addition to its namesake brand, includes Crisa®, Royal Leerdam®, World® Tableware, Syracuse® China, and Crisal Glass®. In 2014, Libbey Inc.'s net sales totaled$852.5 million. Additional information is available at www.libbey.com.
https://www.themadeinamericamovement.com/wp-content/uploads/2015/07/07-06-15-Libbey-Made-in-USA-glasses-2.png
357
288
The Made in America Movement Team
https://www.themadeinamericamovement.com/wp-content/uploads/2017/08/Made-in-America-Movement-Logo_340x156.png
The Made in America Movement Team
2015-07-06 18:54:59
2015-07-06 18:54:59
Libbey Introduces Finest Quality Glassware Made in USA