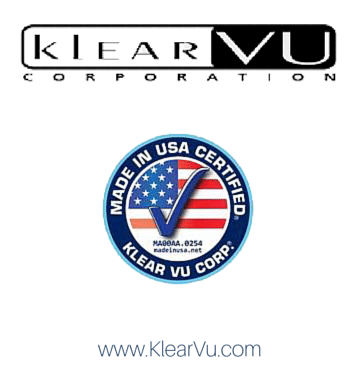 Chair Pad Manufacturer Earns Made in USA CERTIFIED® Seal
CERTIFIED, Inc. (madeinusa.net), the nation's leading independent, non-governmental organization (NGO) certification company Made in USA claims, reported today that KLEAR VU CORPORATION of Fall River, Massachusetts has earned a Made in USA CERTIFIED® Seal for its quality Delightfill® chair pad and chair pad gripper line, fully documenting these products comply with the qualification and quantification that all or virtually all of the product components originate in the United States.
By submitting to an independent professional supply chain audit, KLEAR VU has opened its manufacturing process to consumers as an assurance of quality, first and foremost, but also in support of consumer demands for USA goods and services, also the support of the US economy.
"We have proudly been the leading manufacturer of chair pad and rocker sets since the 1960's," stated KLEAR VU President Bob Cooper, "with our 200,000 square foot facility in Fall River, Massachusetts and 120 skilled craftspeople, we have always been known for consistent quality, on-trend fashion, technical innovation and on-time delivery… all traits that are synonymous with 'Made in USA', so independently earning this professional distinction was very important. Consumers need to know that we are listening, and buying USA products is both smart and important."
The certification process investigated all facets of the development of each product line starting with base components , materials, distributions, suppliers, labor and assembly so as to compile a qualified and quantified accounting of the Made in USA CERTIFIED® Seal distinction.
"There has never been a more important time for truth in advertising and labeling and consumers want more than a USA flag on their labels," stated Robert Lowry, Managing Director of CERTIFIED. "What KLEAR VU has established is a distinction that theirs truly are a USA made product line upon which consumers can have confidence, and just as importantly, our company maintains ongoing relationships with their complete supply chain so as to insure a dynamic Seal and ongoing compliance. That in and by itself should tell consumers that KLEAR VU is a truly quality company."
Since the 1960s, KLEAR VU CORPORATION (www.klearvu.com) has been the leading manufacturer of chair pads and rocker sets in the US. Providing function and fashion in all areas of the home, our assortment also includes bar stools, bench pads, and reversible chair pad with ties, high chair cushions, bed rests, decorative pillows, placemats, napkins, runners, tablecloths and kitchen rugs. Products are offered in a variety of styles, constructions, shapes, sizes, colors and patterns to fit every need, in and outside the home.
ABOUT CERTIFIED, INC.
CERTIFIED Inc. is the United States' Non-Governmental Organization (NGO) and independent 3rd party Certification Source for "Made in USA, Product of USA – Country of Origin Claims". The CERTIFIED Technology team are experienced professionals with extensive, pioneering backgrounds in systems integration, software development, encryption, load balancing, electronic signatures, data collections and national analysis… all on a worldwide scale who have developed a proprietary system of certification authentication, big data recovery and analysis. For more information, please contact Ms. Margarita Mendoza at +1 (570) 871-0288 or Margarita@usa-c.com
For a free quote, fill out the form below. A rep will be in touch with you within 48hrs.
https://www.themadeinamericamovement.com/wp-content/uploads/2015/07/PR-Graphic1.png
386
355
The Made in America Movement Team
https://www.themadeinamericamovement.com/wp-content/uploads/2017/08/Made-in-America-Movement-Logo_340x156.png
The Made in America Movement Team
2015-07-08 10:39:12
2015-07-08 10:39:12
Chair Pad Manufacturer Earns Made in USA CERTIFIED® Seal