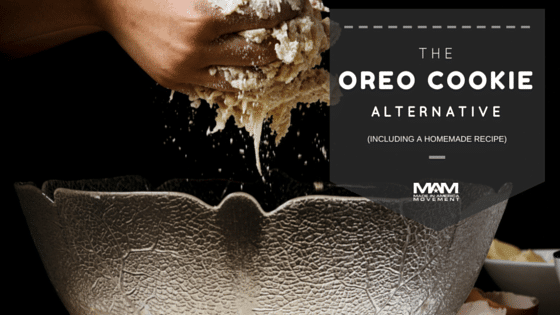 An Alternative to the Nabisco Oreo Cookie including a Homemade Recipe
Last year, the Nabisco company decided not to make a $130 million upgrade to the Chicago facilities in which America's iconic cookie, the Oreo, is made. The final Chicago-made Oreo cookies rolled off the line last week on Friday. This work will be transferred to four state-of-the-art production lines in Salinas, Mexico. This move has generated some buzz within the MAM community, and consumers are looking for an alternative.
Luckily, there are a couple of alternatives to choose from! First up is Hydrox, America's original creme-filled chocolate sandwich cookie
.
Hydrox was first created by Sunshine back in 1908. The Oreo cookie, which was inspired by Hydrox,  hit markets in 1912. With the Oreo's popularity, Hydrox was perceived as a knockoff, and was discontinued in 1999 after a Keebler acquisition. Keebler then replaced the Hydrox cookie with a similar product under the name Droxies. Keebler was then acquired by Kellogg's in 2001. Kellogg's removed Droxies from the markets in 2003.
Hydrox made a limited time debut for it's 100th anniversary in August 2008.
In 2013, Leaf Brands acquired the trademark to Hydrox Cookies, and began production out of California in September 2015; just in time to replace the Oreo. "Some loyal Hydrox fans have commented that Oreos may be too sweet and that Hydrox cookies may be crunchier" says Ellia Kassoff, CEO of Leaf Brands, which makes Hydrox.
We've tried Hydrox and we love them! They are a bit crunchier than the Oreos and definitely not as sweet. We are excited to see them coming back.
Next on the list is Newman's Own Newman O's cookies. Newman's Own was founded by Paul Newman in 1982, and Newman's Own Organics was founded by Paul's daughter, Nell Newman in 1993, as a division of Newman's Own. It became a separate company in 2001. These cookies are much healthier than the Oreo. Most of the ingredients are organic (if that's something you look for).  One big reason we love Newman's Own Organics is all profits are donated to educational and charitable causes. Another reason we love Newman O's cookies is the variety of cookies they offer! Here is a list for you to choose from:
Our favorite Newman O's Cookies are the original flavor and the mint chocolate flavor. Have you tried them? Which is your favorite?
And finally, a recipe that received an A++ from our resident cookie monster. Ernie used to go through at least one box of chocolate chip cookies and/or oreo's a week. So, we decided to try out some recipes to balance it out. He preferred this version over the store bought Oreo's. Now, keep in mind, we are no bakers by any means! But this recipe was actually a hit. We used all Made in USA ingredients. We added links to help you find these ingredients online. Happy Baking!!
Ernie's Oreo Cookies
(This recipe yields approximately 30 cookies)
INGREDIENTS:
Chocolate Cookie:
1 1/2 cup Organic All Purpose Flour (Made in USA)
1/2 cup unsweetened dark cocoa powder (Made in USA) 
3/4 tsp salt
1/2 tsp Baking Powder (Made in USA)
1/2 tsp Baking Soda (Made in USA)
3/4 cup sugar
1/2 cup Organic Unrefined Coconut Oil (Made in USA)
2 tbsp whole milk
1 large egg
2 tsp pure vanilla extract (Made in Colorado)
Vanilla Cream Filling:
1/2 cup (1 stick) softened, unsalted butter, room temperature
3 tbsp refined coconut oil
1 1/2 cup powdered sugar (confectioners sugar)
2 tsp vanilla extract
1/4 tsp Fine Sea Salt (Made in Hawaii, USA)
DIRECTIONS:
Chocolate Cookie:
Preheat oven to 350 degrees. Line baking sheets with parchment paper. Set aside.
Whisk together flour, cocoa powder, salt, baking powder, and baking soda in a medium glass mixing bowl. Set aside.
Beat sugar and coconut oil together on medium-high speed, until mixture if fluffy. Reduce speed to low. Add milk, egg and vanilla extract.
Slowly add the prepared flour mixture while still mixing. Combine well. Divide dough into two equal parts. Flatten both halves and wrap tightly in plastic wrap. Chill in the refrigerator for 30-45 minutes until dough is cold and firm.
Take one dough out of fridge (work with one at a time). Lightly flour work surface and roll dough to 1/4". Punch out cookies using a 1 3/4" round cutter. Transfer cookies to prepared baking sheet, spaced about 1/2″ apart.
Bake for 15 minutes. Rotate sheets halfway through baking.
Allow to cool in pan before transferring to a wire rack.
Vanilla Cream Filling:
Cream together butter and coconut oil until homogenous.
Add powdered sugar. Beat until well combined. Add vanilla extract and salt. Beat until smooth.  Use a small spatula to spread cream filling onto (cooled) cookies (or use pipping bag). Assemble cookies to make homemade version of Oreo cookies!
*Keep refrigerated until ready to eat. May last on counter top for about 2 days if in a sealed container.
Will you try this version? Do you have your own? Let us know in the comments below!
https://www.themadeinamericamovement.com/wp-content/uploads/2016/07/Blog-OREO-COOKIE-ALTERNATIVE.png
315
560
The Made in America Movement Team
https://www.themadeinamericamovement.com/wp-content/uploads/2017/08/Made-in-America-Movement-Logo_340x156.png
The Made in America Movement Team
2016-07-11 18:12:18
2020-09-22 13:38:45
An Alternative to the Nabisco Oreo Cookie including a Homemade Recipe