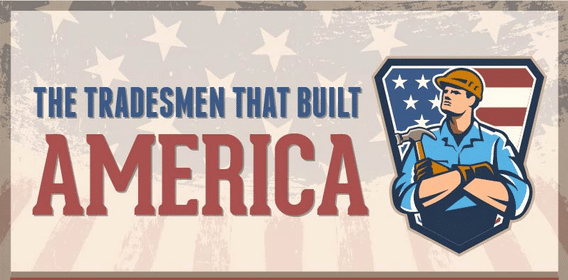 Innovation and Hard Work Made America Great
Guest post by Monica Gomez
America has always been known as the "land of opportunity." But opportunity doesn't knock unless you work hard for it. While tycoons and businessmen may have shaped the oil, steel, and auto industries, the reality is many of them came from humble beginnings, and worked alongside the skilled tradesmen they later employed before amassing their own wealth—a true testament to the power of the American dream.
Household Names
In the infographic below, "The Tradesmen That Built America," created by Tulsa Welding School, you'll learn about some prominent businessmen, many who are household names. When we talk about somebody being wealthy, we often talk about them being as rich as the Vanderbilts, the Carnegies, or the Rockefellers. When we talk about innovators, we often think of Edison or Tesla. And if you drive a car, you may be driving a Ford product. These men provided the visions for the future of America's major industries—and skilled tradesmen brought them to life with every pipe, brick, and beam they set.
Places You Know
Many notable landmarks would have never been built without plumbers, electricians, bricklayers, welders, and a host of other skilled tradesmen. From landmark buildings to dams and bridges, skilled tradespeople pulled off amazing feats in relatively short periods of time. You may see their handiwork in a building nearby or even in the place where you live.
Supporting American Innovation
Today, skilled trades workers are still the backbone of innovation—only now the landscape has changed. While they're still constructing buildings and maintaining our country's infrastructure, they're also playing pivotal roles in technology and manufacturing, from modeling products with 3D visualization tools to overseeing welding robots in the auto industry. Unfortunately, some of these skilled workers are retiring faster than the industry is able to replace them, in part because students have increasingly opted for universities over vocational schools. Training for the skilled trades, however, still offers a promising career path. Hopefully, greater education about the important roles of skilled tradespeople in America, both in the past and into the future, will encourage more support for them and their industries.

https://www.themadeinamericamovement.com/wp-content/uploads/2015/06/06-10-15-tradesmen-that-built-america-cover.png
280
568
The Made in America Movement Team
https://www.themadeinamericamovement.com/wp-content/uploads/2017/08/Made-in-America-Movement-Logo_340x156.png
The Made in America Movement Team
2015-06-10 18:47:24
2015-06-10 18:47:24
Innovation and Hard Work Made America Great