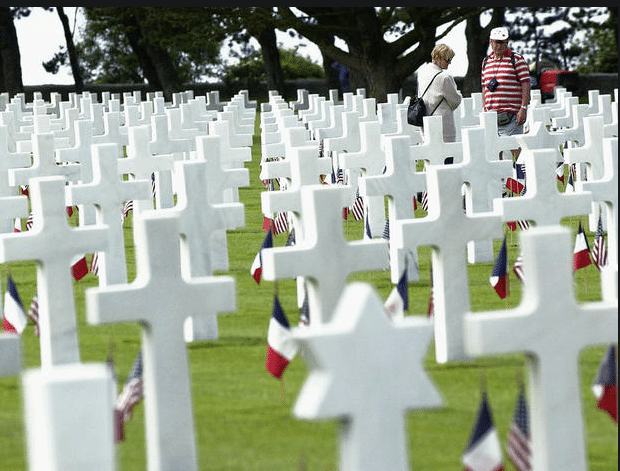 WWII D-Day invasion of Normandy remembered, 72 years later
COLLEVILLE-SUR-MER, France – Proud veterans in their 90s and families of fallen soldiers are commemorating the epochal D-Day invasion of Normandy 72 years ago that helped the Allies defeat Hitler.
They're holding small ceremonies and moments of remembrance along the wide beaches and cliffs where thousands of U.S., British, Canadian and French troops landed as dawn was breaking June 6, 1944. It was a pivotal moment in World War II.
Henry Breton of Augusta, Maine, was among the shrinking number of survivors of the landings to come for Monday's anniversary. Speaking from the American Cemetery at Colleville-sur-Mer, 91-year-old Breton recalled the fierce German counterattack and ensuing violence and valor he experienced at the Battle of the Bulge in Belgium.
"It's all worth it," he said. "It brings back so many memories."
In New York, a World War II veteran from Long Island who flew a bomber mission on D-Day is being honored with one of France's highest honors for helping defeat the Nazis.
New York Air National Guard Brig. Gen. Thomas Owens will be among those saluting 98-year-old Harold Smith during a ceremony Monday afternoon. The ceremony is being held at the Garden Care Center in Franklin Square in Nassau County.
The former B-24 navigator is among the American WWII veterans who have received the Legion of Honor from the French government in appreciation of their service in France during the war.
The Brooklyn-born Smith was a navigator who flew 30 missions over Europe, including a bombing run on June 6, 1944 as Allied forces landed at Normandy.
The National World War II Museum in New Orleans is planning a slate of events to commemorate the 72nd anniversary of the invasion of Normandy.
June 6 will also mark the 16th anniversary of the museum that is considered one of the city's top tourist attractions.
For the D-Day anniversary, the museum will host a special program and ceremony at 11 a.m.
Throughout the day, visitors can also tour a Higgins boat. The boats were named after New Orleans businessman Andrew Jackson Higgins who designed and produced boats able to transport men and equipment from the sea to shore without using a harbor.
The boats were used extensively during the June 6, 1944 D-Day landings in France.
The museum will also feature newsreels and film footage of the invasion.
SOURCE: CBS
https://www.themadeinamericamovement.com/wp-content/uploads/2016/06/06-06-16-DDay-the-fallen-cemetary-shot.png
471
620
The Made in America Movement Team
https://www.themadeinamericamovement.com/wp-content/uploads/2017/08/Made-in-America-Movement-Logo_340x156.png
The Made in America Movement Team
2016-06-06 13:29:26
2016-06-06 13:30:04
WWII D-Day invasion of Normandy remembered, 72 years later