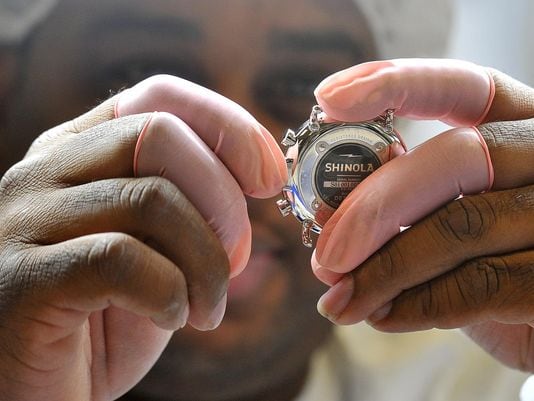 Shinola is not Made in The USA According to FTC
Shinola is dropping the company's "Where American is Made" slogan after a probe by federal regulators revealed the Detroit-based watch manufacturer relies heavily on overseas parts.
Shinola,  the watch and bicycle manufacturer, will still maintain its "Built in Detroit" stamp on the back of its watches. It will add "Swiss and Imported Parts."
In a letter sent to Bedrock Manufacturing Co. LLC, Shinola's parent company, the Federal Trade Commission said some marketing materials from Shinola and its sister company, Filson, a Seattle-based outfitter, "overstated the extent to which certain Shinola and Filson-branded products, including, but not limited to, watches and certain leather goods and bicycles, are 'made' or 'built' in the United States."
Claims that Shinola products are "Made in USA" or "Built in USA" suggest the items are made entirely in the United States, the FTC wrote.
The FTC investigation found 100 percent of materials used to make certain watches were imported. The probe also reported some belts contained 70 percent of imported materials, including some with "decorative buckles."
Shinola also uses steel from overseas to make "certain bicycle forks," according to the FTC.
Shinola has garnered national attention for laying down roots in Detroit and building on an American-made ad campaign, which some contested.
Tom Kartsotis, founder of Bedrock Manufacturing and Shinola, said in a statement the company is "happy to have this episode behind us."
He said Shinola wasn't trying to deceive anyone with "Made in America" branding.
"We believe that our mission is, and our marketing implies, that we are a job creation vehicle and not a 'Made in America' play," he said. "We have always believed that 'Built in Detroit' most accurately describes the watches (and jobs) that are being created in Detroit."
Kartsotis said the FTC investigation did show "flaws" in Shinola's marketing efforts.
"(Bedrock) genuinely tried to be completely transparent as to the origin (and mission) of our products from the outset," he wrote. "We are thankful to the FTC for helping us identify some areas of improvement within some of our communication, which we began adopting over the last year."
The FTC wrote Bedrock will add tags to watches, bikes and other products to alert customers to its use of imported materials. In addition to redesigning the backs of the watches, Shinola will change the embossing on leather goods, and update advertising materials and employee training materials.
The FTC has not fined Shinola because the company put forth a plan to change parts of its marketing efforts, according to the commission. However, it "will continue to monitor the company's advertising closely."
Kartsotis said regulations surrounding "Made in the USA" hinder a company's ability to tell consumers that products are manufactured in America.
"The truth is that Shinola is and has been a leader in bringing as much of the manufacturing process back to the U.S. as it can possibly achieve," Kartsotis said.
"But as you can imagine, many of the components and raw materials are simply not available in the U.S., and because of that we are unable to meet the almost unattainable 'Made In USA' standards created by the government. … We found it confusing that a car, for example, isn't held to the same standard as a watch."
Shinola customers Lindsay Patton, 35, and Annie Arnott, 33, said Friday at the flagship store in Detroit that they found the company's tags alerting customers to imported parts in some products strange.
"That caught my eye," Patton said. "Who cares?"
Arnott said Shinola creating jobs in Detroit is what she likes about the company.
"I don't think (the branding changes) would matter to me," she said. "It's still using jobs here."
In January, President Barack Obama visited Shinola's store in Midtown after having lunch with Kartsotis. Obama owns a Shinola watch, and he gave a watch to British Prime Minister David Cameron as a gift during his visit in April.
Obama has praised the company for bringing more manufacturing jobs to the U.S. Shinola employs around 530 people, 397 of whom are in Detroit.
Kartsotis assured customers that "our high quality products will continue to be as American as possible."
The FTC letter comes on the heels of Bedrock naming former Detroit Lions president Tom Lewand the new CEO of Shinola.
Lewand was not available for comment on the FTC letter.
SOURCE: The Detroit News
https://www.themadeinamericamovement.com/wp-content/uploads/2016/07/07-22-16-Shinoal-NOT-made-in-usa.jpg
401
534
The Made in America Movement Team
https://www.themadeinamericamovement.com/wp-content/uploads/2017/08/Made-in-America-Movement-Logo_340x156.png
The Made in America Movement Team
2016-07-22 08:58:35
2016-07-22 11:45:10
Shinola is not Made in The USA According to FTC