Honda Announces Third Large Recall of Week – 268,000 CR-Vs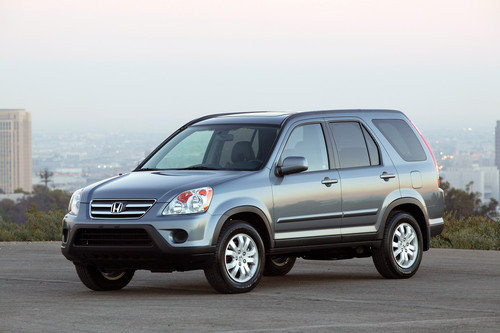 Honda will recall thousands of 2006 CR-Vs to fix a faulty window switch that can start a fire. (Honda Motor Co. / October 6, 2012)
By Jerry Hirsch
October 6, 2012


---
Honda announced its third big recall of the week Saturday, this time to correct a faulty automatic window switch in 268,000 model-year 2002-2006 CR-V sport-utility vehicles that can malfunction and start a fire. 
Earlier in the week Honda recalled about 1.4 million Civics, Accords and Pilots to fix a variety of safety issues.

In the CR-V recall, the automaker said rainwater or spilled liquids may enter an open driver's window and drip onto the master power window switch. Over time, exposure to liquids can cause electrical resistance in the switch, making it overheat, melt and cause a fire. No crashes or injuries have been reported related to the problem but Honda said it knows of four switch fires.

On Thursday, Honda expanded a March headlight recall to include 820,000 model-year 2002-2003 Civic sedans and model-year 2004-2005 Pilot sport-utility vehicles in the United States.

The automaker said a problem with the wiring of the headlight switch could cause the low-beam headlights to not work. The loss of headlights could limit a driver's ability to see the road and potential hazards and increases the risk of a crash. However, Honda said no crashes or injuries have been reported in connection with the problem.

In March, Honda recalled 550,000 CR-V small SUVs from the 2002 through 2004 model years and Pilots from 2003 because of the same problem.

On Monday, Honda said it would expand a recall of Acura TL sedans to include 572,000 model-year 2003-2007 Accord V6 vehicles in the United States.

But the automaker said the Accord recall, to fix leaking power steering hoses that could cause fires, will be delayed into next year because the automaker doesn't have enough parts to fix the problem. The updated power steering hoses won't be available until early 2013.

Honda is sending out a notice to Accord owners telling them of the problem and describing the symptoms. Drivers who think their cars are affected should take them into the dealership for an "interim" repair, the automaker said. The most commonly reported symptom is a smell from the seeping fluid. 

---
https://www.themadeinamericamovement.com/wp-content/uploads/2017/08/Made-in-America-Movement-Logo_340x156.png
0
0
MAM Team
https://www.themadeinamericamovement.com/wp-content/uploads/2017/08/Made-in-America-Movement-Logo_340x156.png
MAM Team
2012-10-07 12:00:47
2012-10-07 12:00:47
Honda Announces Third Large Recall of Week – 268,000 CR-Vs