Made in USA Steel To Be Used On New Tappan Zee Bridge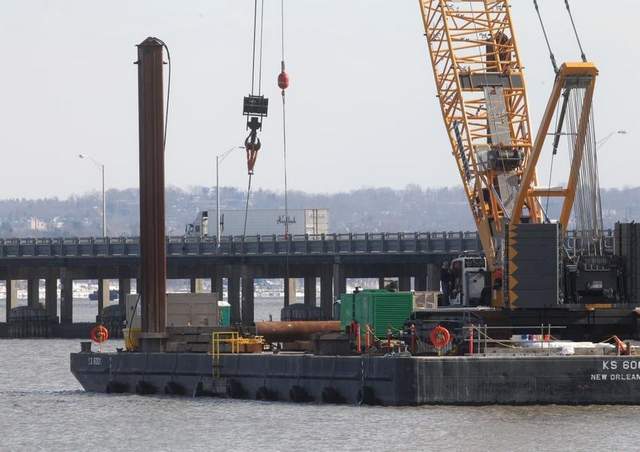 To build the new Tappan Zee Bridge, New York is bucking a trend and buying American, with steel made in Indiana.
Three of ArcelorMittal USA's plate mills are furnishing steel for the $3.9 billion bridge project, The Times in Munster, Ind., reported. ArcelorMittal expects to provide about 160,000 tons of plate for the twin-span crossing, which will require more than 1,000 piles.
The state Thruway Authority included a Buy America provision in its contract with Tappan Zee Constructors, the consortium designing and building the bridge, that requires it to use steel and iron manufactured in the United States.
Buy America provisions restrict the use of foreign steel, iron and items containing steel and/or iron on a contract to one-tenth of 1 percent of the total contract cost or $2,500, whichever is greater, according to the DOT.
The Thruway Authority is replacing the Tappan Zee Bridge with a 3.1-mile twin-span cable-stayed bridge with angled main span towers, making it the largest bridge construction project in the history of New York. It will also be the world's widest bridge.
It's also the biggest transportation design-build project in U.S. history, according to Infra Insight, a blog that tracks infrastructure projects.
The inclusion of American-made steel plate in the new bridge bucks a trend of steel made in China being used in major infrastructure projects. China-made steel was recently used in the Verrazano-Narrows Bridge and San Francisco-Oakland Bay Bridge.
ArcelorMittal's Burns Harbor facility supplied high-performance steel for the bridge pilings last year and will continue to provide steel to the steel fabricators High Industries and Hirschfeld Industries Bridge, who are two of the major contractors on the five-year project.
"We are very pleased to have been selected to provide our high-performance plate material for this major, historic infrastructure project," said ArcelorMittal USA Plate CEO John Battisti. "Our USA plate team has been keenly involved in weekly meetings with our customers on the planning, development and delivery of these plate products, to ensure they are pleased with our performance during all phases of the project."
American Institute of Steel Construction President Roger Ferch said the contract shows the U.S. steel industry remains competitive.
He said the award of the Tappan Zee structural steel contract to American companies "validates the fact that the United States steel construction industry has the capacity, capability and collaborative spirit to meet our nation's needs."
To date, 53 of the 121 subcontractors and suppliers working on the project — approximately 44 percent — are disadvantaged business enterprises, according to a press release from the state.
Disadvantaged business enterprises are small businesses which are at least 51 percent owned by socially and economically disadvantaged individuals. The federal certification includes "minority-owned business enterprises" and "women-owned business enterprises" that meet certain federal requirements.
Gov. Andrew Cuomo and the Federal Highway Administration made a commitment to ensure that at least 10 percent, or $314 million, in subcontracts associated with the New NY Bridge project will go to businesses that qualify as disadvantaged business enterprises, according to the state.
Among the subcontractors, 23 percent of the disadvantaged business enterprises are based in the Hudson Valley.
"Our team is committed to providing meaningful opportunities for disadvantaged businesses and the team members of Tappan Zee Constructors have a solid track record of meeting and exceeding participation goals," Carla Julian, TZC community outreach/diversity manager, said in a press release.
Tappan Zee Constructors is expected to finish the bridge, which is designed to last 100 years without any significant structural maintenance, in early 2018.
---
SOURCE:  Poughkeepsie Journal
0
0
MAM Team
https://www.themadeinamericamovement.com/wp-content/uploads/2017/08/Made-in-America-Movement-Logo_340x156.png
MAM Team
2014-03-27 11:50:07
2014-03-27 11:50:07
Made in USA Steel To Be Used On New Tappan Zee Bridge