Manufacture New York Provides Production Facilities to Independent Designers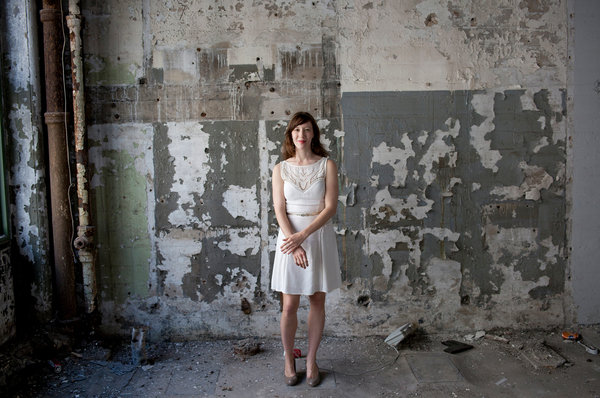 Ms. Bland in her space in the Industry City lot in Sunset Park, Brooklyn. | David B. Torch for The New York Times
Almost a year to the day since she began pitching the idea for
Manufacture New York
, a work hive for independent designers with outposts in Brooklyn and Manhattan, Bob Bland was on the verge of opening the doors to the first iteration of her vision. 
"We gut-renovated this space with our bare hands," she said one afternoon last month, casting her gaze over a 2,000-square-foot space at 23 West 36th Street that she is branding the Garment Center Pilot Program. "Although now I hear they're rebranding as the garment district, which means we'll have to redo all our branding."
This represents a minor hiccup for Ms. Bland, 30, who has been rallying support and financing for an idea she said, "came to me fully formed, almost as a dream." The garment district space will be dwarfed by the 160,000-square-foot clothing design and production center she is planning to open in 2014, in an industrial lot, Industry City, in Sunset Park, Brooklyn, that also houses artists' studios, a microbrewery and the fashion label Rag & Bone (one of whose investors, the Theory chief executive Andrew Rosen, has also been of late carrying out plans to encourage local manufacturing with the Council of Fashion Designers of America).
Ms. Bland pointed out that New York's garment manufacturing industry has seen a 90 percent decrease in jobs since the early 1990s and said the main motivation behind Manufacture New York "is to provide talented, hard-working designers with the resources they need to make a living doing what they love." She said both facilities were "a culmination of my entire career in fashion, both as a corporate and an independent designer."
"I was sick of hearing about small labels going bust," she said, "and also very aware of the difficulties in keeping an ethical global supply chain."
Jessica Lapidos of Tilly and William, a unisex label, was one of the first of some 40-odd designers who have already signed up, pleased by the promise of technology "typically accessible solely to big businesses," she said, like pattern-making software, photo-studio space and sales representation. "They're responding to the challenges of being a designer from every angle," she said.
Ms. Bland said she would be able to accommodate up to 70 designers, charging them a monthly membership fee of $275 for access to design space alongside high-quality production facilities. "We want to unite the two," she said, adding with a note of sarcasm, "How radical!"
Ms. Bland, who has worked on the design floor at labels including Tommy Hilfiger and Ralph Lauren, indeed sounds like a woman radicalized. "Outsourcing production overseas used to seem like a magic solution when it came to producing affordable product for a thrifty, trend-driven consumer," she said. "But what are the actual costs?"
She described a Chinese factory she visited while working for Triple Five Soul, a streetwear label. "It was by no means a sweatshop, and was compliant with all the regulations on working conditions," Ms. Bland said; still, teenage laborers lived in barrack-like dormitory accommodations and regularly worked 12-hour shifts.
The collapse of Rana Plaza in Bangladesh last April, causing more than 1,000 deaths, made addressing the issue seem even more urgent.
The daughter of two public schoolteachers, Ms. Bland was born in Washington. She attended the Savannah College of Art and Design and moved to Manhattan in 2003 to pursue a design career, before settling in Williamsburg two years later. She was quickly inspired by the flourishing creative entrepreneurialism there to set up her own label, Brooklyn Royalty, in 2006. "I had already grown tired of designing quality merchandise extolling the virtues of New York City, only to have it produced overseas," she said. "But the reality is, it's become almost impossible to produce a line here."
Still, in what was then her day job at Ralph Lauren, "it seemed crazy to me that the only way to see the end product of my designs was to go into the store and buy it," Ms. Bland said, adding that while there aren't enough corporate jobs available to design-school graduates, "the vast majority of what we're taught is geared toward us working for somebody else." (She conceded that she had drawn many of her ideas from powerful conglomerates like Jones Group and LVMH, "who share vast resources among many brands, from marketing to sales, sourcing and production.")
Business mentoring ("all the stuff you should have learned in fashion school and didn't," Ms. Bland said) will also be available to designers in the Manufacture New York stable, and she is planning to help arrange paid apprenticeships with designers like Nanette Lepore and Ralph Rucci who have expressed their support for the program.
Heather Blond, another designer who has joined Manufacture New York, said she had done so as much out of practicality as principle. "As an 'emerging designer,' my quantities are still very low, so I don't get to take advantage of the low overseas prices," she said. "Add on the freight and duty costs and producing in China isn't cost-saving anymore."

Ms. Bland said design talent was being vetted on experience over aesthetic. "They need to have at least established a brand, with some sales and a proven customer base," she said. "That way they'll have a strong enough foundation for us to build on and help them take it to the next level."

But unlike the CFDA's recently established incubator fund, which seems to be aimed at more established names, Manufacture New York is committed to providing support at a grass-roots level, she said, adding: "And if a more built-out designer comes to me wanting to reshore their product, I'm happy to help with that, too."

Her staff of eight includes a chief operating officer and chief financial officer, Nelis Parts, a former adviser on mergers and acquisitions in the investment banking division of Goldman Sachs; and a director of designer relations, Seth Friedermann, previously the managing editor of ModaCycle, an online fashion magazine.

Their first crowd-financing effort was put on hold when Ms. Bland downed tools on the project to focus on helping Restore Red Hook after Hurricane Sandy ("I raised $5,000 making T-shirts," she said), but an Indiegogo.com campaign has since netted more than $40,000.

A further $20,000 came from the fiscal sponsor Fractured Atlas, through which they are accepting tax-deductible donations, while the majority of these funds have been spent leasing and building out the space at Industry City. "We have been soliciting offers for donated production equipment since October last year," Ms. Bland said. "As beautiful as shiny new equipment is, we also want to show that with proper maintenance, good industrial equipment lasts for decades."

More recently, Ms. Bland has been soliciting grants from city officials. "We're working closely with people like Congresswoman Nydia Velázquez," she said. "Most of what we're pursuing right now is 2014 money, but there's a lot available for incubators and domestic manufacturing."

A newly forged partnership with Johnny's Fashion Studio on 38th Street, a sample development and apparel-manufacturing firm with a client list that includes He
lmu
t Lang, Theory and Alexander Wang, was another coup. "Johnny Kim has been in business in the garment center for 30 years, and shares our vision for educating independent designers and reshoring production in the United States," she said. (Johnny's currently outsources larger production runs to China, Vietnam and Korea.)

And two blocks south at the Pilot Program, business is bustling, if not yet exactly booming. "We staged a full runway show during Fashion Week, have been running classes and producing samples in-house," Ms. Bland said proudly. And where there may still be a way to go before the project is complete, she said, "we're used to working from the ground up, helping people as much as we can with the resources we've got."
ABOUT MANUFACTURE NY
Manufacture New York is an innovative, inclusive fashion incubator and vertically-integrated facility startup that has opened a Pilot Program in the Garment Center. They are dedicated to providing emerging designers with the resources + skills to streamline their production process and transform local manufacturing into the most affordable, innovative option for all.
They are also a diverse community of 50+ creatives who are already sharing resources + working together to make this project a reality.
Their headquarters will include a fully-equipped sampling room, manufacturing facilities, classroom space (open to the public), private studios for rent and a state-of-the art computer lab complete with the industry's latest software for design + production. They will also offer a dedicated area for experimentation with environmentally-friendly fabric washes, dyeing, finishes and special textile applications.
They cannot achieve this goal without community support, so please sign up for updates, donate to they cause.
Contact information:
23 WEST 36TH STREET
NEW YORK, NEW YORK 10018
Phone(917) 349-9155
Email: BOB@manufactureny.org
Website  http://www.manufactureny.org

Facebook:  https://www.facebook.com/manufactureny
Pinterest:  http://www.pinterest.com/manufactureny/
Tumblr:  http://manufactureny.tumblr.com/
Twitter:  https://twitter.com/ManufactureNY
---
https://www.themadeinamericamovement.com/wp-content/uploads/2017/08/Made-in-America-Movement-Logo_340x156.png
0
0
MAM Team
https://www.themadeinamericamovement.com/wp-content/uploads/2017/08/Made-in-America-Movement-Logo_340x156.png
MAM Team
2013-10-11 11:53:19
2013-10-11 11:53:19
Manufacture New York Provides Production Facilities to Independent Designers