NoNetz Defies Industry Experts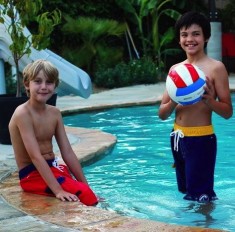 NoNetz
anti chafe swimwear for boys and men have been advised by top business and fashion experts to move production from the USA to China. They are committing to stay.
Mahopac, NY – February 13th, 2014
NoNetz announced today that they will do everything in their power to continue to have their swimsuits made in Brooklyn, NY. Expert fashion and business consultants have advised NoNetz to go offshore to China, stating it was the only way to get to profit.  After much internal debate, they have decided to stick to their original commitment, believe in the loyalty of their customers, and keep jobs and the money in this country for as long as they can. CEO, Kym Timpano: "NoNetz needs to sell at least 3000 bathing suits this year in order to remain made here." They are actively petitioning local and state politicians to incent and/or subsidize manufacturers and business owners who stay in this country. What they have currently found is although Made in the USA is popular rhetoric, there is little to no action plans behind it.  It is NoNetz's belief that being a good business person and being a good American should not be mutually exclusive concepts.

About NoNetz Anti-Chafe Swimwear

NoNetz has replaced the traditional mesh/net brief in boys and men's bathing suits with their unique, anti chafe, anti bacterial liner.  Their liner has  completely eliminated the chafing rash 9 out of 10 men and boys experience at the beach.

Wave Good-bye to Irritating Swimwear.

For more information, please visit http://www.NoNetz.com.

About NoNetz

We are sisters, wives and mothers who love beach vacations, but for years have seen our sons and husbands get uncomfortable, chafing rashes from the mesh in their bathing suits. Then our sister experienced what millions of other Americans are currently experiencing: Loss. She lost her health, her job, her marriage & her house. We decided to develop a better, more comfortable bathing suit for guys with the hope that one day, we can help our sister build a better, more comfortable life for her and her family.
For more information, please visit http://www.NoNetz.com.

Be Sociable, Follow us!
https://www.themadeinamericamovement.com/wp-content/uploads/2017/08/Made-in-America-Movement-Logo_340x156.png
0
0
MAM Team
https://www.themadeinamericamovement.com/wp-content/uploads/2017/08/Made-in-America-Movement-Logo_340x156.png
MAM Team
2014-02-20 11:50:31
2014-02-20 11:50:31
NoNetz Defies Industry Experts