Why 'Made in the U.S.A.' is still a viable model for some local manufacturers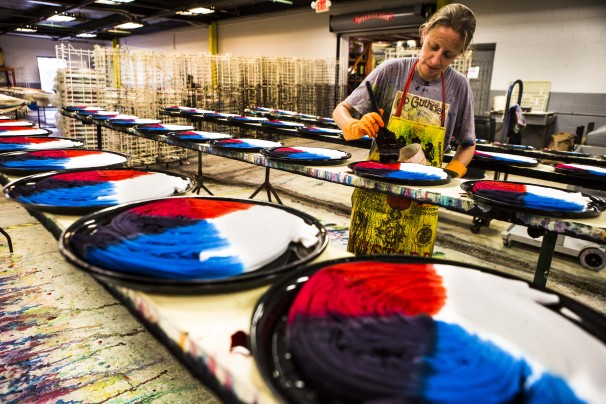 Reposted from The Washington Post
It's been one of the most consequential changes to the U.S. labor market over the last several decades: Manufacturing jobs have disappeared as assembly lines have become increasingly automated and as companies find it is cheaper to make their goods overseas.
In 2003, nearly 15 million Americans were employed in manufacturing jobs, but that number had dipped below 12 million by 2013.
The trend hasn't been as crushing in the Washington region as in Rust Belt cities such as Detroit and Youngstown, Ohio, because manufacturing is one of the smaller slices of this area's economy. Still, the trajectory for manufacturing jobs here hasn't been much different from national trends: The industry shed 20,000 jobs in this region between 2003 and 2013, a 27 percent decrease.
But despite the losses, there are still nearly 50,000 people employed locally in manufacturing jobs, a sign that some companies in this sector are still finding reasons to make their products stateside.
For these businesses, making things in America — in the Washington area, specifically — is still a viable model, even if it brings with it some tough challenges. Here's a look at three firms that are keeping their manufacturing jobs here and why they're finding that to be good business.
Fairfax-based manufacturer of T-shirts and other garments.  Cas Shiver started his T-shirt business in 1986 in his parents' garage.
Thanks in part to a big boost from a 1991 contract with Ralph Lauren to produce 80,000 T-shirts and other apparel, Sundog Productions grew from a small tie-dye shop to a bustling garment-making operation that includes cutting, sewing, dyeing, embroidering and printing.
As Sundog expanded, Shiver worked to keep in Virginia the kinds of jobs that many other manufacturers had outsourced. Unsurprisingly, he repeatedly missed out on business opportunities by sticking to that principle.
"I fell on my sword all throughout the '90s with 'made in America,' and nobody cared," Shiver said.
Prospective customers would tell him, "We want what you do, but it's too expensive." And so Shiver kept his operation in Fairfax, but in 2004 he opened a second facility in Amatitlan, Guatemala. Wages were lower there — his workers made the equivalent of $12 a day — and so he was able to slash prices on products made in that location. By contrast, his hourly workers in Virginia are paid anywhere from $7.50 to $18 per hour, and most employees in the dyeing area make between $15 to $25 an hour.
"In going down to Guatemala, we were able to accept orders from the big boys," Shiver said, including major global retailers such as Kohl's, Kmart and Wal-Mart.
He maintained the dual operations for several years, but eventually nature forced a reassessment of that strategy. A punishing tropical storm flooded the Guatemala factory in 2010, and Shiver opted not to rebuild it. He found it difficult to keep an eye on two facilities, and he said the business model for the Guatemala plant was thorny.
"The reality was it was feast or famine. You get an order from Kohl's, it'll keep you busy for a month," Shiver said. But then there might be lulls in between massive orders, a problem he didn't have stateside where he has smaller orders.
And business challenges aside, the Guatemala venture never quite jibed with Shiver's belief in the importance of "made in America" products.
Now, Shiver focuses on Sundog's Fairfax operations. The company relocated in June to a renovated 40,000 square-foot facility on Jermantown Road that is larger than its previous outpost and capable of greater output.
The factory ships 1.2 million units a year to customers such as Disney, Universal Studios, Crayola and Joe's Crab Shack. Sundog can no longer give mega-retailers the low prices they demand, though, so it doesn't contract with those companies.
Shiver said it can be difficult to find the workers he needs in this region.
"The middle classes are grooming their children to be somebody bigger and better … Nobody was groomed to say, 'I want to be a sewer on my production floor. And that's what I want to do.' But I need people to be able to do that," Shiver said.
Still, he sees advantages in his current set-up. Shiver said Fairfax city officials helped move his renovation along at a speedy pace. The project took about 14 months; he estimates in another jurisdiction, it might have taken several years. Virginia also gave Sundog a $53,000 grant for a solar heating system for its water, which has been helping the company conserve resources.
Shiver said he believes his business's unique capabilities give him a leg up on competition: Because Sundog does so many steps of the garment-making process under one roof, the company can offer its customers a way to reduce their shipping costs and carbon footprint.
In its vast new space, Sundog has room to grow.
"The factory you see here actually can come close to tripling in production," Shiver said. "The big issue is demand."
Gaithersburg-based manufacturer of wireless routers, ethernet extenders and other electronic products.
More than 70 percent of Patton Electronics' products are shipped to customers outside the United States. And yet the maker of wireless routers, ethernet extenders and voice-over-IP technology has not moved any of its manufacturing positions away from its headquarters in Gaithersburg.
Robert Patton, the firm's president and chief executive, said part of his strategy is the simple belief that it's the patriotic thing to do.
"We want to keep the jobs here because we believe it's the best thing for our country," Patton said.
But he has other reasons, too, for staying in Gaithersburg. For one, he doesn't think that the set-up of many overseas factories is a good fit for his business. That's because Patton products are often highly customized: Some go out under different brand names, and thus Patton needs to be able to easily change the product labeling and packaging. Patton said that level of customization is not something he believes can be easily managed at an overseas facility.
Patton also said he's found that many international manufacturing outposts want to be paid up front and prefer to receive orders for a large quantity of items.
"That inventory carrying cost can really be a killer on your balance sheet," Patton said.
These challenges have led Patton to conclude it makes more sense to keep production in Maryland. Plus, Gaithersburg has the advantage of being near the federal government, one of the company's key customers.
Patrick M. Dewar is taking on his newest challenge: growing the company's international business as U.S. government spending shrinks.
Still, Patton said there are some drawbacks to staying here. One is the lack of business partners that have exper
tis
e in the needs of the manufacturing industry.
"There are just not many accountants that understand manufacturing, there aren't many banks that understand manufacturing and exporting," Patton said. "All of the professional services that go along with a business like ours, they're just not as well entrenched in the space."
Manassas-based manufacturer of semiconductors.
Micron's sprawling semiconductor factory in Manassas is just one of the company's dozens of high-tech facilities across the globe. The plant produces the memory that is crucial to the functionality of many of our gadgets, from USB drives and smartphones to televisions and automobiles.
Micron has worked in the past decade to automate much of the activity in its clean room. Instead of having workers carry a product from one step to another of the assembly process, a robotic system now makes those transfers.
This transformation helped improve productivity by about 60 percent, and yet it has not led to a reduction in Micron's Manassas-based workforce. In fact, the plant has added employees.
"We actually ended up requiring different skill sets," said Raj Narasimhan, the site director.
Narasimhan said the changes have meant the company's entry-level workers need to have a higher level of analytical reasoning and deduction. In order to get employees up to speed, the company partnered with Northern Virginia Community College to offer classes that were scheduled around Micron's shifts. Some 350 workers went through the training.
Because many of Micron's jobs now demand strong technical skills, Narasimhan said their nearness to NVCC and other universities has provided a valuable pipeline of talented workers.
"In Virginia, it's pretty impressive the amount of talent that we have, engineering and technicians talent," Narasimhan said.
That Micron is the only semiconductor factory in the region has both upsides and downsides: It doesn't face direct competition for attracting and recruiting employees.
But, "when it comes to vendors that we buy equipment from, given that we're the only one, essentially, in an eight-hour drive up north that does this kind of work, the support from them is hard to get," Narasimhan said.
Micron also said it has remained in this region because of its relationship with the city of Manassas. Micron uses more than 50 percent of all the electricity in the city, an expenditure that costs the company close to $25 million per year. By simply keeping those rates competitive, Narasimhan said Manassas has been an important supporter of the business.
"Even if the rate is down by a cent, it makes a big difference," Narasimhan said.
---
https://www.themadeinamericamovement.com/wp-content/uploads/2017/08/Made-in-America-Movement-Logo_340x156.png
0
0
MAM Team
https://www.themadeinamericamovement.com/wp-content/uploads/2017/08/Made-in-America-Movement-Logo_340x156.png
MAM Team
2013-07-19 11:46:09
2014-11-10 12:40:28
Why 'Made in the U.S.A.' is still a viable model for some local manufacturers