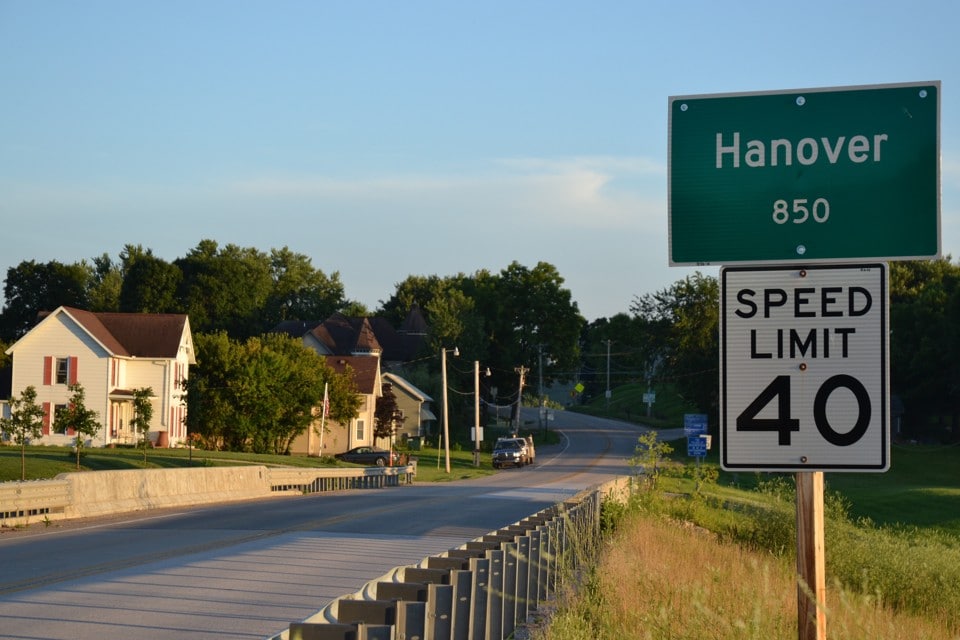 Hanover: Just Another Factory Closing
Inside every dishwasher, refrigerator, and washing machine is a little valve that directs the flow of water. For decades, most of these valves have come from a factory in the northwestern corner of Illinois, but not after today.
The solenoid valve is a largely unknown but ubiquitous gadget. Hidden away in the guts of an appliance, when activated, the electromechanical valve opens to allow water into a washing machine or dishwasher, while monitoring temperature and volume. It's the unseen traffic director for the water flowing through our soft drink fountains, cappuccino machines, and just about anything that dispenses water with the touch of a button.
For decades, the majority of the world's supply of solenoid valves came not from Chicago or China, but from a little factory in the northwestern corner of Illinois. Hanover, population 850, covers about a square mile, a postcard-picture town nestled among rolling hills between the nearby Upper Mississippi River and the Wisconsin border. The village is cut through by the Apple River, which is as pretty as it sounds, and a favorite of area fishermen. Hanover has produced food, fabric, and gadgets next to the river's 11-foot rock fall since 1828, when the rushing water powered a sawmill and a gristmill. Later, in the early 20th century, the site was home to a woolen mill, where until 1949 wool from the West was brought here to be washed, carded, spun, woven, and sent to clothing manufacturers in Chicago, New York, and Boston.
Since 1965, assemblers, most of them women, have finger-tinkered together all manner of valves out of tiny components molded and fabricated in that same factory building. During the 50 years of the plant's existence, even as it supplied most of the appliance world with these little widgets, rumors circulated that the plant was in trouble, said Bob Gable, a retired 37-year veteran manager at the plant. That, in part, was what drove the little factory to lower its defect rate to (what I'm told are) near-perfect levels, and earned it a sparkling reputation for price and quality among big appliance makers like General Electric, Whirlpool, and Maytag—something Kirk King, a former Maytag buyer, confirmed for me.
Despite the rumors, the little Illinois factory always survived, even as nearby appliance makers—appliance-making, until recently, was a predominantly Midwestern endeavor—shuttered operations, including Maytag's corporate demise after over a century in Newton, Iowa, in 2007.
Today, however, a handful of employees are assembling Hanover's last batch of solenoid valves at that spot next to the Apple River, while maintenance crews clean up around them and office personnel put things in order. Next week, the little-factory-that-could will fall silent, and production will shift to Matamoros, Mexico. The 100 jobs lost will hardly register among the 12.3 million manufacturing jobs nationwide, but it's worth considering how this happened to Hanover, and what it all means.
The events that led to the shuttering began in 2014, when Schneider Electric, a French multinational, bought Invensys, the company that owned the Hanover factory. Schneider then sold part of Invensys to Sun European Capital, a division of Sun Capital, a private-equity firm that specializes in, among other things, this kind of "corporate carve-out." Co-CEO of Sun, Marc J. Leder, said at the time, "As the broader economic environment improves, we expect to see greater potential in the global appliance market to emerge. We are looking forward to working hand in hand with the management team in the pursuit of these prospects." A few months later, in October 2014, Robertshaw—the renamed Invensys unit—announced two American factory closings, one of which was Hanover's. Rumor had finally become reality.
Some readers may recall Sun Capital from the last presidential election. Leder, Sun Capital's co-founder, had been inspired into private equity by Mitt Romney, who was, of course, a PE superstar, having established Bain Capital in 1984. In September 2012, just weeks before the election, Leder hosted Romney for a $50,000 a plate fundraiser at his Florida home. At the fundraiser, Romney made his now-infamous remarks about the 47 percent of Americans "who will vote for the president no matter what … who are dependent upon government, who believe that they are victims, who believe the government has a responsibility to care for them, who believe that they are entitled to health care, to food, to housing, to you-name-it." It didn't help Romney that his fundraising host had a hard-won reputation for Dionysian parties at his $400,000-a-month oceanfront mansion, earning him the nickname, "the Hugh Hefner of the Hamptons.
Leder, like Romney, defends the private-equity industry, arguing that it takes distressed companies and turns them around. At Sun Capital's website, I became downright inspired watching a promotional video, set to chunky guitar rock, about its "win-win" philosophy. In the video Leder says, "Our success should allow everyone to be successful." If you like your capitalism unadulterated, this narrative is appealing: The best and brightest swoop in, analyze, consult, and reallocate resources efficiently. They're not afraid to make decisions that are painful in the short-term for that "win-win" down the road.
And there have been plenty of successes. In Private Equity at Work, an authoritative analysis from the Russell Sage Foundation, Eileen Appelbaum and Rosemary Batt found as much. They cite the case of Aidells Sausage Company, an artisanal producer that, with private-equity investment and expertise, grew dramatically and was later sold to Sara Lee. Private equity also rescued Detroit Medical Center, in anticipation of changes under Obamacare, by taking the public hospital private, investing in facilities and IT, and promising 10 years of continued charity care to boot. This is the profit-seeking model, Appelbaum and Batt write, and it can indeed be win-win when you grow the pie.
Critics highlight private equity's vampiric aspect, the win-because-you-lose side that sucks from acquired companies, employees, taxpayers, and, sometimes, creditors. Some of it is zero-sum financial engineering, like loading a company with additional debt and then using the proceeds to pay themselves dividends (a strategy known as dividend recapitalization, or "getting your bait back," as it's called in the private-equity world). Frequently, the win comes from shedding jobs and lowering wages. Nearly always, it comes from tax arbitrage (that old Cayman Islands trick, for instance) and other top-flight tax maneuvers. Particularly depraved cases involve "bankruptcy for profit" and sloughing off pension obligations, as Sun Capital famously did at Friendly's.
So, surely, given all this ingenuity, private equity must being doing well for its investors. Appelbaum and Batt find in their review of the academic literature, however, that only the top quartile of private-equity firms outperforms the S&P 500. The median firm does not. Likewise, this in-depth analysis from Forbes shows, as an example, that Bain Capital is more myth than moneymaker for investors. A more recent study muddies the water, showing that private equity outperforms the S&P 500. What we do know for certain is that private equity does well enough for itself, though. Top executives often rake in more than the likes of Jamie Dimon and his ilk at the big banks, as this Wall Street Journal graphic shows.
"Truly and honestly, who is going to hire us?"
But what about Hanover? Did Sun Capital simply allow Schumpeter's gale to do its necessary destruction there? According to a source with access to financials, Hanover's factory was consistently an 18 percent profit business. So, in addition to an established industry-wide reputation and a skilled, relatively inexpensive non-union workforce, it was a profitable factory. Sun Capital did not return my request for comment, but when I asked about the factory's profitability, Robertshaw spokeswoman Kathy Maynard referred me to the company's press release, which said the plant closure was part of a plan "to optimize its manufacturing footprint, leverage its investments, and enhance its competitiveness."
The fact was, however, that it wasn't distressed and it wasn't in need of a turnaround. What it came down to, in all likelihood, was that some very smart analysts, far removed from the little factory next to the Apple River, having pored over spreadsheet after spreadsheet, decided that a move to Mexico could push up margins. And if it didn't, they could still do what they do: earn a management fee, load Robertshaw up with debt and milk it for dividends payments, and all that jazz. The Robertshaw gamble is a gamble private equity makes all the time. Often they win. Occasionally they lose.
The bad news is that Hanover is the more typical private-equity story. Much more often, Appelbaum and Batt found, private equity engages in rent-seeking, rather than "win-wins" for the economy. Taxpayers are pilfered, but we don't notice. Employees, however, do feel the economic punch, even if they're not always sure who's punching them: The research on net job effects, Appelbaum says here, "clearly shows that there's a huge loss of jobs compared to other companies that could have been taken over—similar companies that were not."
But enough of that. After all, this analysis misses a rather obvious point: that the most deeply felt consequences, ultimately, are not economic.
"Truly and honestly, who is going to hire us?" an older woman asked. It was July, and the layoffs had been coming piecemeal. She and 30 others gathered over pizza at the Veterans of Foreign Wars (VFW) Club adjacent to the factory. (Robertshaw had told employees not to speak to the media, which made many in Hanover worried that speaking out would jeopardize their severance payments. For that reason, I do not include the names of employees.)
In Bears jerseys and plaid shirts, women and men talked about their futures over Cokes and beers—and the electric buzz of a ceiling fan. Many of the soon-to-be-laid-off assemblers, the same woman noted, are now in their late 50s and early 60s. They'd worked at the factory for 30 or even 40 years, and expected to retire from there some day. Another Robertshaw employee told me that three older women at the factory have cancer, and are anxious about losing their health insurance while they try to recover.
"My dad stormed Normandy beach in WWII. We beat their butts because of the people in America's factories, and the people that fought." This guy was sitting next to a vase filled with plastic flowers and a small American flag. "With these CEOs, it's, 'I just gotta have a little bit more. I don't have enough. I gotta move it to Mexico or someplace.' And they're killing this country."
The fact that Invensys, or Robertshaw, or Sun Capital—whoever it is—is carving out Hanover to pad their investors' pockets doesn't sit well with locals here, to say the least. They remembered the 47 percent remark made by Romney and ask, who, exactly, is the parasite here? Who is feeding off of whom?
More than anything, it was bewilderment in the VFW Club that night. They know the factory is moving to Matamoros, and they've read the depressing plant shutdown stories about Newton, Galesburg, Rock Island, and so on. And they know labor in Mexico is cheap. (As I detail in my book, assemblers in the maquiladoras at the U.S.-Mexico border take home about $1.50 an hour.) Folks here are not naive about globalization. Still, it doesn't make sense; they want an explanation. People work hard here, they make exceptional products, it's a profitable factory. End of story.
"Why would they turn around and risk the quality of their product like that, sending it to Mexico?" Her voice quivered. She had worked on and off at the factory for nearly 40 years. "We're always doing their rework [fixing products made in Mexico]. That's the hardest thing to understand. Why would they close us?"
Clearly, it was hard not to take the closing personally.
But that's just the thing: It's not personal. It's the opposite of personal. It's a game played without malice, in a place far away, inside a spreadsheet. It was simply Hanover's turn to be knocked over on the chessboard. Sure, it's infuriating, but perhaps it's not Sun Capital that's the problem. After all, the ideal is for capitalists to be smart, bold, and at least a little bit greedy. And, while titillating, Marc Leder's herculean partying feats aren't going to bring down the American economy. The problem is how far we—and here I'm looking at you, Washington, D.C.—let it all go.
This is a policy perspective Eileen Appelbaum suggested to me in an email. "I don't see it as Black hats and White hats," Appelbaum said. "The focus on shareholder value as the reason for the existence of companies along with lax tax and regulatory systems and the weak protections of our employment laws are going to lead to the kind of behavior you describe." The United States "needs to make changes in the tax and regulatory environment in order to rein in the excesses of private equity (and not only private equity, but hedge funds that take money out of companies, too)." Because they are private, and the rules that apply to private equity are loose, transparency, legal oversight, and accountability are all low (see Table 1.1 here). Private-equity firms take from their portfolio companies, taxpayers, workers, and creditors because they can.
All this had me wondering how much Marc Leder, Mitt Romney, and the rest of the private-equity gang have contributed to hollowing out the middle class, and to the growing wealth and income gaps. According to Private Equity at Work, nearly 18,000 companies (about 5 percent of the total) are owned by private equity, and about 7.5 million workers were employed by PE-owned companies in the 2000s—about the same number of workers that belong to private-sector unions today. Private equity's reach is staggering in terms of assets under management, which was $3.5 trillion globally in 2013, and is predicted to reach $7 trillion by 2020. I'm no economist, but that sounds like a lot.
Toward the end of the evening at the VFW, a rather studious young woman asked what I knew about the psychological impact of factory closings. She seemed surprised by how miserable the slow death of the little solenoid factory had been, even despite the valiant efforts of the local plant manager. "This job, even though it's just a job, is really wrapped up in some people's self-identity and self-worth. There's such a sense of security that is just evaporating. And we haven't really been given resources for dealing with that. It happened so fast. It doesn't feel real."
The room offered a supportive round of applause.
"That young lady put it so well," former manager Gable said. "That's a nice job."
If that's how a short-time worker felt, I had to wonder about the retired woman who spoke next, whose entire family, practically, had worked there. She had added it up: Her family had put in a combined 185 years at that little factory by the waterfall. Everybody knew her name.
It was rather dismal in Hanover that night, but it may not be the end. When the sawmill and gristmill burned, a flourmill went up. Later, the woolen mill breathed new life into Hanover until it closed in 1949. That factory's shuttering, like this month's, was also mourned, including by local poet Elva H. Miller, who in 1975 wrote "The Woolen Mill," which I excerpt here:
The smash of shuttles sound above
The waterfall roar of
A hundred looms upon one floor.
Now, no whistle blows, no steam escapes,
No line of workers enters the gates.
The town below no longer hears
The "clickety-clack" of the changing gears.
The ghost-like feel of the windows stare
Back at those who once worked there;
And in my home, I sit alone,
My husband dead, my children grown,
Wondering how the years between
Got so far ahead of me and my dreams.
Perhaps this bust will encounter yet another boom in Hanover. The factory is in excellent condition, the workforce is ready, and Hanover is in a stunning spot. It could happen. In Newton, Iowa, in Maytag's old laundry factory, workers—many of them former Maytag workers—are making wind towers. Wind and solar energy support 30,000 jobs in Wisconsin, Illinois, and Iowa. There are still 12.3 million Americans making things.
In the meantime, there's fishing and antiquing. These are gloomy days, but that night at the VFW Club people laughed as much as they grumbled. At one point, to add a note of optimism, Kathy Gable, president of the Hanover Chamber of Commerce, said, "Well, I just opened up an antique store if anyone needs antiques!" People laughed.
Then a man replied, "I married one," followed by the distinct sound of a woman's fist on a man's shoulder.
More laughter, and then Kathy's response, "We could sell you, too, David."
I said I appreciated that they could still laugh, despite everything. Their solenoid valves, we all knew, would soon be in that antique shop.
"What else can you do?" someone replied.
https://www.themadeinamericamovement.com/wp-content/uploads/2015/09/09-24-15-The-Atlantic-Just-Another-Factory-Closing.jpg
640
960
The Made in America Movement Team
https://www.themadeinamericamovement.com/wp-content/uploads/2017/08/Made-in-America-Movement-Logo_340x156.png
The Made in America Movement Team
2015-09-25 14:34:06
2015-09-25 09:26:54
Hanover: Just Another Factory Closing