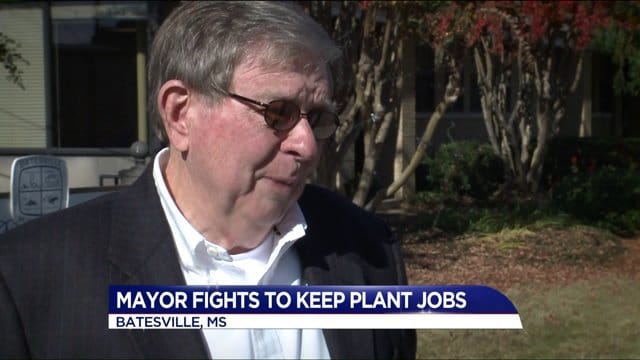 This Southern Town Made Wooden Coffins, Now A Mexican Town Will
In Batesville, Mississippi, a casket company is closing its factory and shifting production to Mexico.
Batesville Casket announced Nov. 3 that it would close the facility where it manufactures wooden caskets, which would be made instead at the company's existing plant in Chihuahua, Mexico. Two hundred people will lose their jobs this month in a town of 7,400 that is closely identified with a company that shares its name.
Local officials have tried to persuade the company to reverse its decision, arguing that keeping the plant open would be better for its workers, the county, and even the company.
"If they were to change their direction and make the move back to the U.S., they would be heroes," said Joe Azar, president of the Panola Partnership, a private-public economic development organization for Panola County, where Batesville is located.
Batesville Mayor Jerry Autrey, a Democrat, tried to get President Donald Trump's attention, reaching out to various Republican officials in Mississippi to plead his case. After all, Trump had won the presidency in part by bashing companies for shifting production to other countries, and the president-elect had just intervened to stop a similar plant closure in Indiana. Trump had even said he would personally call the CEOs of every company planning to replace U.S. workers with foreign ones.
But Trump has not chimed in on Batesville, and the town is yet another example of the limits of public pressure as industrial policy.
Batesville's parent company, the publicly traded Hillenbrand Inc., is so profitable that last month the firm announced it would buy back $100 million worth of stock, thereby inflating the value of shareholders' investment. But the company, an industrial conglomerate headquartered in Indiana, said in February that Batesville's earnings have declined slightly due to lower coffin sales.
The slumping sales owe largely to fewer Americans buying coffins when a loved one dies, opting for cremation instead. According to the Cremation Association of North America, the cremation rate reached 48.6 percent in 2015 and will probably exceed 54 percent by 2020.
"At the same time our population is rising and our mortality rate is rising, the total number of caskets being purchased each year is stagnant because of the rise in cremation," Dan Isard, an expert on the funeral services industry, said in an interview.
Batesville Casket President Chris Trainor cited the burial trends in a statement last year on why they were shuttering the Mississippi factory. "Closing our smaller wood assembly plant will allow us to align our manufacturing output with consumer demand," he said. He added that the vast majority of families still choosing a burial for their loved ones opt for metal coffins, which are cheaper than the wooden ones made in Mississippi. The company will still have three plants in the U.S. in addition to its one in Mexico, where manufacturing workers generally earn a fraction of what their U.S. counterparts do.
Azar said he had no luck pleading with Trainor at a meeting last Friday. "They were really concerned about me getting company people's hopes up," Azar said. "They're 100 percent committed to leaving, and there's nothing that could change that."
Mayor Autrey said he has been trying to get another company to occupy the coffin factory and replace some of the 200 lost jobs. But while several firms have shown an interest in the facility, Batesville Casket still hasn't officially listed it for sale. Both Autrey and Azar said they are concerned that Batesville Casket doesn't actually want to sell the facility. Autrey said he suspects they want might hang on to the plant in case Trump follows through on his campaign promise to punish companies that use foreign labor. If that did happen, the company can restart its namesake plant.
"They're gonna lay all my people off and then they're going to hold onto the plant and see what's going on with Trump," Autrey said. "I thought they would be anxious to sell that plant as quick as they could because it's going to be an albatross around their neck … They're going to still have to pay property taxes."
Batesville Casket spokeswoman Tory Flynn said there's no secret about the sale plans; the company told the Panola Partnership that it planned to sell the plant in March 2017 when they first announced the closure. That's still the plan, Flynn said. "We've been very clear with the community and the Panola Partnership ― or at least we thought we were ― that March was the time of our intent to sell," she said.
Isard, the funeral industry expert, said that even if President Trump managed to junk the North American Free Trade Agreement and slap tariffs on imported goods such as caskets, a U.S. factory that makes them would still be on shaky ground ― at least in terms of price competitiveness.
"You could import caskets from China with a 100 percent import tax and still they would be cheaper than manufacturing in the United States," Isard said.
But Batesville Casket's parent company, Hillenbrand, has estimated in its financial disclosures that cheaper imported caskets comprise only about 5 percent of the market. Isard said that's largely because customers still prefer to buy American-made caskets; the company thinks the percentage could easily grow.
Azar said the decision to move to Mexico could backfire on Batesville Casket for that very reason. "How many U.S. citizens want to be buried in a coffin that's stamped 'Made in Mexico'?" he said in an email.
As for Batesville's workers, economist Dean Baker said they are hapless victims of free trade. The 1994 North American Free Trade Agreement, or NAFTA, removed the trade barriers that could have made it unprofitable for a company to shift manufacturing abroad and sell the products back in the U.S. "It's long since the day when we might have expected a company to have loyalty to their workers," Baker said.
Batesville Casket has planned a job fair Friday for its soon-to-be-laid-off employees. Unlike the workers at Carrier Corp., the Indiana plant Trump pressured to stay open, the Batesville Casket employees aren't unionized. Part of the reason the Carrier case received so much coverage is that workers were able to complain to the media without fear of getting fired. The Batesville case is much more typical, as hundreds of American firms lay off workers and shift production abroad every year with hardly any attention in the national media.
Chris Wells owns a funeral home in Batesville and said his family helped Batesville Casket buy the land for its factory in the 1980s. Wells said losing an employer that is also a local icon will be sad: "Even though they're not headquartered here in Batesville, still, our town name is on their shirts, and we're very proud to be a part of that."
SOURCE: Huffington Post
https://www.themadeinamericamovement.com/wp-content/uploads/2017/03/03-07-17-Batesville-Caskets-Factory-Closing.jpg
360
640
The Made in America Movement Team
https://www.themadeinamericamovement.com/wp-content/uploads/2017/08/Made-in-America-Movement-Logo_340x156.png
The Made in America Movement Team
2017-03-07 09:02:03
2017-03-07 09:02:03
This Southern Town Made Wooden Coffins, Now A Mexican Town Will