2 Connecticut Shoreline Firms Collaborate on 'Buy American Act'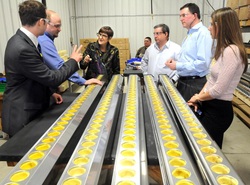 Congresswoman Rosa DeLauro visited Engineering Specialties, Inc. in North Branford to see the manufacture of evacuated tube solar thermal collectors for Apricus, also a North Branford company. Left to right: Apricus Vice President Nigel Ruddell, Apricus engineer Eric Skiba, Rosa, ESI's Vice President Carmen Ciardiello, ESI's President Ronald Delfini, and Apricus marketing person Shannon Horsley.
Mara Lavitt/New Haven Register 
---
NORTH BRANFORD — Two local companies have teamed up to meet and exceed the requirements of the Buy American Act and American Recovery and Reinvestment Act.
Apricus is a designer and manufacturer of solar hot water and hydronic heating products. Founded in 2003, Apricus is a global company with offices in the U.S., Australia and France and sales in more than 30 countries. Its North American headquarters is in Branford.
Engineering Specialties Inc. is a manufacturer of engineered metal stamping, mechanical assemblies, wire forms, springs, and other custom component parts. It is located in North Branford. It started in 1990 and now has 20 employees.
U.S. Rep. Rosa DeLauro, D-3, visited the factories Tuesday to learn more about their efforts to work together and meet the requirements of the American Recovery and Reinvestment Act and the Buy American Act.
Nigel Ruddell, vice president of Apricus, said when his company decided it wanted to form a partnership with an American company to produce the AP-30C Buy American Solar Collector, they contacted larger companies that either didn't respond to their request or told them their design couldn't be made.
The collector absorbs thermal energy from the sun and converts it into heat that can then be used for hot water, heating, cooling and industrial processes. Apricus also manufactures these units in China, which services Europe, Asia and Australia.
"This is how it should work," DeLauro said, adding she hopes there are more such business ventures.
"We wanted someone local so we could grow the product together," Ruddell said.
"We are a good fit and hope to bring more new products in the future," he added.
"We jumped at the opportunity," said Ronald Delfini, president of Engineering Specialties Inc.
"They had their blueprint but some things needed to change; being close was perfect," said Carmen Ciardillo, vice president Engineering Specialties Inc.
To qualify under the "Buy American" act, at least 50 percent of the product must be made in the U.S.
Ruddell and Delfini said 61 percent of the AP-30C is made in North Branford, including all the stainless steel parts.
DeLauro said she could see the "ripple effect" of this type of collaboration, including the need for installation and maintenance of the systems.
Additionally, DeLauro said she could see the benefits to federal buildings that were getting updated with new heating and air conditioning systems.
Ruddell said Apricus has already been awarded several government contracts.
Delfini said since January, they have shipped 250 units, averaging production of 15 a day. A complete installed system will cost the average homeowner $8,000 to $12,000 and it will save 50 to 80 percent on heating costs.
Solar collector owners can qualify for a 30 percent federal tax credit and $2,000 tax credit in Connecticut, Ruddell said.
Delfini said the product has a life expectancy of 25 to 30 years.
____________
Call Bridget Albert at 203-789-5702. Follow her on Twitter @nhrbalbert.
https://www.themadeinamericamovement.com/wp-content/uploads/2017/08/Made-in-America-Movement-Logo_340x156.png
0
0
MAM Team
https://www.themadeinamericamovement.com/wp-content/uploads/2017/08/Made-in-America-Movement-Logo_340x156.png
MAM Team
2012-04-06 12:10:25
2012-04-06 12:10:25
2 Connecticut Shoreline Firms Collaborate on 'Buy American Act'