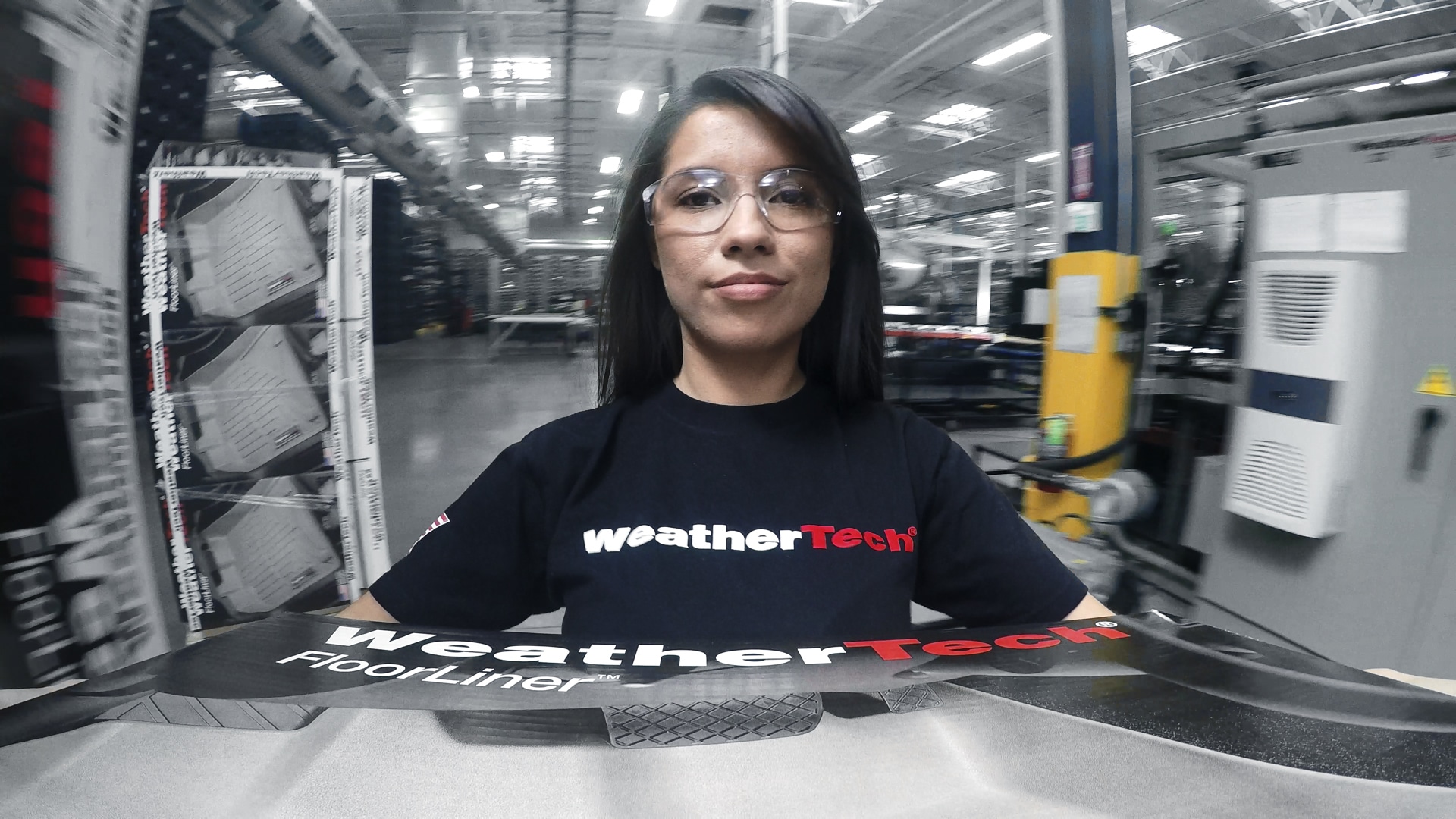 WeatherTech Fleshes Out Made-In-USA Message During Super Bowl
WeatherTech
 aired its second consecutive Super Bowl advertisement Sunday, picking up on the same made-in-America theme that the company hatched in its first Big Game ad a year ago.
"There's something happening right here in this country," the voiceover of the commercial said, accompanying scenes of manufacturing and workers in WeatherTech's factories in Bolingbrook, Illinois. "It's the sound of America … working with American materials in American factories."
Last year, WeatherTech surprised America with the Super Bowl ad that dramatized the story of Founder-CEO David MacNeil. The surprise last year was that this relatively small, mostly aftermarket supplier of premium customized floor mats would plunk down an estimated $4 million for 30 seconds of Super Bowl glory.
Now MacNeil has become a Super Bowl believer. "We experienced an 80 percent increase in traffic to our website and a 57 percent increase in calls to 1-800-CAR-MATS in the month following the ad compared with that same month the previous year," he told me. "I look at the Super Bowl ad as an investment. Of course, we want to sell floor mats now because we have salaries and machinery and buildings to pay for.
"But on the other hand, we see it as a long-term investment in the WeatherTech
brand as the market leader and the go-to place when someone wants floor mats. They might not buy a car for five years but we're planting seeds."
This year, MacNeil felt it was important to continue to underscore that the company's success is due to his stubborn insistence that absolutely everything has to be made in the United States—from the actual floor liners, to the factories' machine tools to the firm's marketing brochures.
And for this year's Super Bowl, WeatherTech produced the commercial in-house: Most of the video footage was shot by WeatherTech's own professionals in the company's suburban Chicago factories.
It's not that MacNeil was trying to keep WeatherTech
a secret before. The company has been a long-term advertiser in many other venues, including TV spots and print ads in publications like the Wall Street Journal.
But MacNeil's Super Bowl gambit last year was bold. "Last year," he said, "we talked about people saying you can't build factories in America or afford American workers or American raw materials or American machinery. But in those 30 seconds, we didn't get to really show what we do. We said it but we didn't show it. This year, we're actually showing our factories and workers and products being manufactured with American-made machinery. We talked the talk and now we're walking the walk, backing it up with real video of our factories."
No doubt WeatherTech's ad last year emboldened other first-time and relatively small brands to advertise in this year's Super Bowl. "I also hope it emboldens a lot of companies and people and buyers to think about making products in America and bucking the trend of sending stuff overseas—reshoring it and investing here in our country and our industrial infrastructure and our American workers," MacNeil said. "We need to think about where things are manufactured when we buy them."
SOURCE:  Forbes
https://www.themadeinamericamovement.com/wp-content/uploads/2015/02/02-06-15-Forbes-WeatherTec.jpg
1080
1920
The Made in America Movement Team
https://www.themadeinamericamovement.com/wp-content/uploads/2017/08/Made-in-America-Movement-Logo_340x156.png
The Made in America Movement Team
2015-02-06 10:59:16
2019-02-20 16:30:43
WeatherTech Fleshes Out Made-In-USA Message During Super Bowl