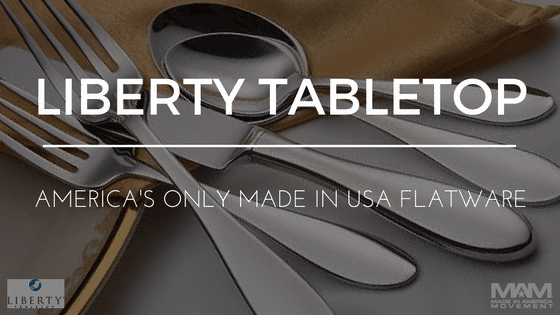 Last Flatware Maker in America is Alive and Growing
Thanks to Sherrill Manufacturing Inc. and their brand Liberty Tabletop, silverware manufacturing is alive and well in the United States. Founded in 2005, the company took over the sprawling one-million-square-foot facilities from Oneida Ltd. and is now the only flatware maker left in the USA.
Liberty Tabletop manufactures high quality, 18-10, stainless steel silverware in set configurations that range in cost from $49.95 to $1,189.95. Creating American jobs is at the top of the priority list for owners Matt Roberts and Greg Owens. Quality conscious consumers can purchase the 100 percent Made-in-USA Silverware online. "Pricing is competitive with department stores and high-end retailers because you are buying directly from that factory," Owens explains. "By cutting out the middleman we can afford to give our customers quality made in America product at a price that is comparable to imported flatware made using cheap labor. The B2C, or business to customer model is working."
Fair trade is a growing concern for the American consumer who has seen the sometimes deplorable conditions in factories overseas.
"We are a family run business and treat our employees like family members," said Roberts, adding, "In fact, my children and Greg's children have all worked in various jobs in both production and the office."
Owens and Roberts have seen firsthand the conditions in flatware factories in Asia and want to offer consumers an alternative. People are often shocked when they hear about the unsafe conditions, use of child and prison labor and subsistence wages that exist in factories throughout the world. "There is certainly none of this involved in the process of making Liberty Tabletop Flatware and we are very proud of that," said Owens.
Liberty Tabletop contributes to the Upstate New York job market by providing local jobs.
Sherrill Manufacturing currently employs 38 in Upstate New York and is expanding production and adding personnel as online sales increase. In addition to flatware, the company also offers other American-made tabletop and kitchen items such as cookware, flatware chests, baskets, cutting boards, Coffee Joulies, and silverware art. "Liberty will be adding dinnerware, drinkware, and other Made-in-USA tabletop and kitchen items to the website this summer," Owens said. "We will soon have a complete lineup of Made-in-America goods to outfit your kitchen and table."
LIBERTY TABLETOP FLATWARE FOR YOUR HOME
Liberty Tabletop Satin Annapolis 20 Piece Flatware Set 18/10
Oneida Mooncrest 45-Piece Flatware Set, Service for 8
Liberty Tabletop Annapolis 45 Piece Flatware Set Service for 8
---
Did you know that buying Made in USA has a bigger impact than you know? Click here for the top 4 reasons.
https://www.themadeinamericamovement.com/wp-content/uploads/2016/08/Blog-Liberty-Tabletop-MADE-IN-USA.png
315
560
The Made in America Movement Team
https://www.themadeinamericamovement.com/wp-content/uploads/2017/08/Made-in-America-Movement-Logo_340x156.png
The Made in America Movement Team
2017-05-30 19:37:34
2020-09-23 08:51:37
Last Flatware Maker in America is Alive and Growing