Manufacturing is the Engine of American Technology Development and Innovation
The fourth reason why manufacturing is important is that American manufacturers are responsible for more than two-thirds of all private sector R&D, which ultimately benefits other manufacturing and non-manufacturing activities. Nearly 60 percent of new patents derive from the manufacturing sector and the closely integrated engineering and technology-intensive services.
Manufacturing R&D is conducted in a wide array of industries and businesses of all sizes. The heaviest R&D expenditures take place in computers and electronics, transportation equipment, and chemicals (primarily pharmaceuticals).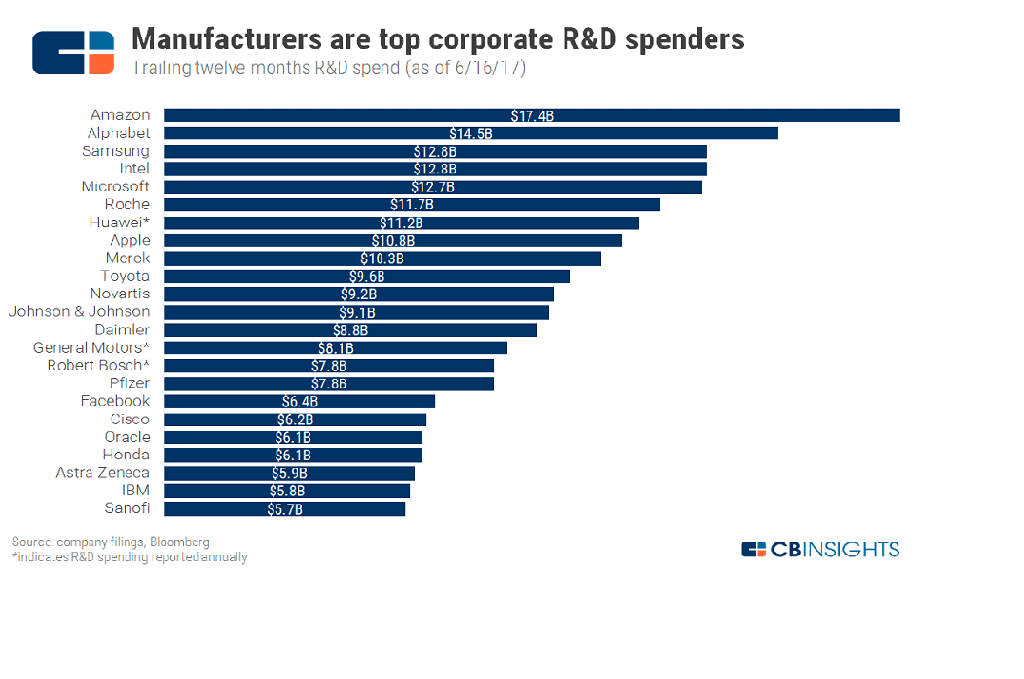 The competitive status of U.S. manufacturing gad been increasingly challenged by the state-of-the-art technologies being developed by established nations such as Japan, Germany, Korea, and Taiwan. China has acquired advanced manufacturing capability through R&D tax incentives, incentives for direct foreign investment, and theft of intellectual property.
According to the 2018 annual survey conducted by the Industrial Research Institute (IRI), 59 percent of the companies responding said they plan to increase R&D spending in 2018; only 29 percent reported anticipating little or no change, and 13 percent are expecting a decrease in total R&D spending." Note: This is the last year that the report is available for free, 2019 and 2010 reports now cost $51.)
"The State of U.S. Science and Engineering 2020" report by the National Science Board of the National Science Foundation states, "Although the levels of federal R&D funding rose across performing sectors between 2000 and 2017, the share of total U.S. R&D funded by the federal government declined from 25% to 22%…By type of R&D, the shares of federal government funding for basic research and experimental development declined since 2000 despite rising levels of funding. The federal government is a major funder of basic research, and between 2000 and 2017, the share of basic research funded by the federal government declined from 58% to 42%. Federally funded applied research was an exception during this period, as both the level and share rose."
America's manufacturing innovation process leads to investments in equipment and people, to productivity gains, the spreading of beneficial technology to other sectors, and to new and improved products and processes. It is an intricate process that begins with R&D for new goods and improvements in existing products. As products are improved in speed, accuracy, ease of use, and quality, new manufacturing processes are utilized to increase productivity. Education and training of employees is required to reap the benefits of such improvements in manufacturing processes.
Innovation is the hallmark of U.S. manufacturing, and it requires a certain mass of interconnected activities, which, like a snowball rolling downhill, grows in size as it proceeds toward end users. Substantial R&D is required to keep the ball rolling to ensure more successes than failures.
Innovation and production are intertwined. You need to know how to make a product in order to make it better. "Most innovation does not come from some disembodied laboratory," said Stephen S. Cohen, co-director of the Berkeley roundtable on the International Economy at the University of California, Berkeley. "In order to innovate in what you make, you have to be pretty good at making – and we are losing that ability."
Manufacturing is an incubator for technology and science, which require proximity to facilities where innovative ideas can be tested and worker feedback can fuel product innovation. Without this proximity, the science and technology jobs, like customer service jobs, follow the manufacturing jobs overseas.
The ability to fund R&D comes largely from the profits that a company can invest back into its business. Thus, the available cash flow of manufacturing companies is closely linked to their ability to conduct R&D as well as make capital investments.
The process through which R&D promotes economic prosperity is complex and multi-faceted. First, there are direct benefits to firms from their own R&D investments. Second, other companies derive benefits from the R&D of the innovating company in a "spillover" effect. Third, the feedback from R&D and its spillovers improves other products, processes, and distribution networks. Fourth, one industry's investment has a beneficial effect on other industries and the U.S. economy as a whole. "Spillover" effects are increased through sales transactions and knowledge transfers when the parties involved are interdependent and closer in geographic proximity.
Consumers have benefited greatly from the large selection and quality of manufactured goods available as a result of the innovative new products resulting from R&D. U.S. consumers now have a dizzying array of products from which to choose. Quality improvements in manufactured goods have also reduced the frequency of repair and reduced the cost of operation.
The maintenance of an effective U.S. R&D network is essential for attracting domestic and foreign R&D funds and the subsequent manufacturing that results from the innovation process, which increases U.S. value added, resulting in economic growth.
The problem today is that with the offshoring of so much manufacturing, certain tiers in the high-tech supply chain have disappeared in the U.S. When a tier in a supply chain has been moved offshore, domestic research and other supporting infrastructure are degraded, which can be a major problem for U.S. manufacturers transitioning to the next product life cycle.
In the past, technology would flow from new domestic R&D-intensive industries into the remainder of the economy, boosting overall national productivity. Today, such emerging technologies are flowing at least as rapidly to the innovators' foreign partners or suppliers.
In the report "The Case for a National Manufacturing Strategy," authors Ezell and Atkinson wrote, "manufacturing, R&D, and innovation go hand-in-hand." They concur with my argument that "the process of innovation and industrial loss becomes additive. Once one technological life cycle is lost to foreign competitors, subsequent technology life cycles are likely to be lost as well."
They add "[T]here is a deeply symbiotic, interdependent relationship between the health of a nation's manufacturing and services sectors: the health of one sector greatly shapes the health of the other. In particular, the technology-based services sector depends heavily on manufactured goods."
In my opinion, it doesn't matter whether American companies do their R&D within their own facility or hire it to be done by outside American consultants or product development firms, but it does matter whether the R&D is done within America. We need to keep innovation within our country if we want to remain on the cutting edge of technology and maintain the critical mass of our manufacturing industry. Outsourcing R&D to China is like a mayor giving the key to his city to a would-be conqueror. We need to protect the key to our future security as a nation and keep R&D and manufacturing within the United States.
This intricate process of R&D and product development generates greater growth and higher living standards than any other economic sector. But it requires a critical mass to generate this wealth. If the U.S. manufacturing base continues to shrink at its present rate, the critical mass will be lost. The manufacturing innovation process will shift to other global centers, and a decline in U.S. living standards will be the result.
---
Find the more articles from manufacturing expert, author, and speaker Michele Nash-Hoff
https://www.themadeinamericamovement.com/wp-content/uploads/Manufacturing-semiconductor-samples.jpg
800
1200
Michele Nash-Hoff
https://www.themadeinamericamovement.com/wp-content/uploads/2017/08/Made-in-America-Movement-Logo_340x156.png
Michele Nash-Hoff
2020-07-07 07:07:23
2020-07-16 16:09:00
Manufacturing is the Engine of American Technology Development and Innovation