U.S. Must Face up to the China Threat
Over the past ten years that I have been writing blog articles, one of my reoccurring themes has been the danger posed to the U.S. by China because of their predatory mercantilism through product dumping, currency manipulation, intellectual property theft, and government subsidies. More recently, I have written about China's written plan to become the superpower of the 21st Century through a combination of economic coercion, industrial espionage, and the buildup of their military.
In this article, I want to share some of the points made in the September 2020 issue of Imprimis, published by Hillsdale College. The article was "adapted from a speech delivered on September 29, 2020, in Rapid City, South Dakota, at a Hillsdale College National Leadership Seminar," by Brian T. Kennedy, "president of the American Strategy Group, chairman of the Committee for the Present Danger: China, and a board member and senior fellow of the Claremont Institute."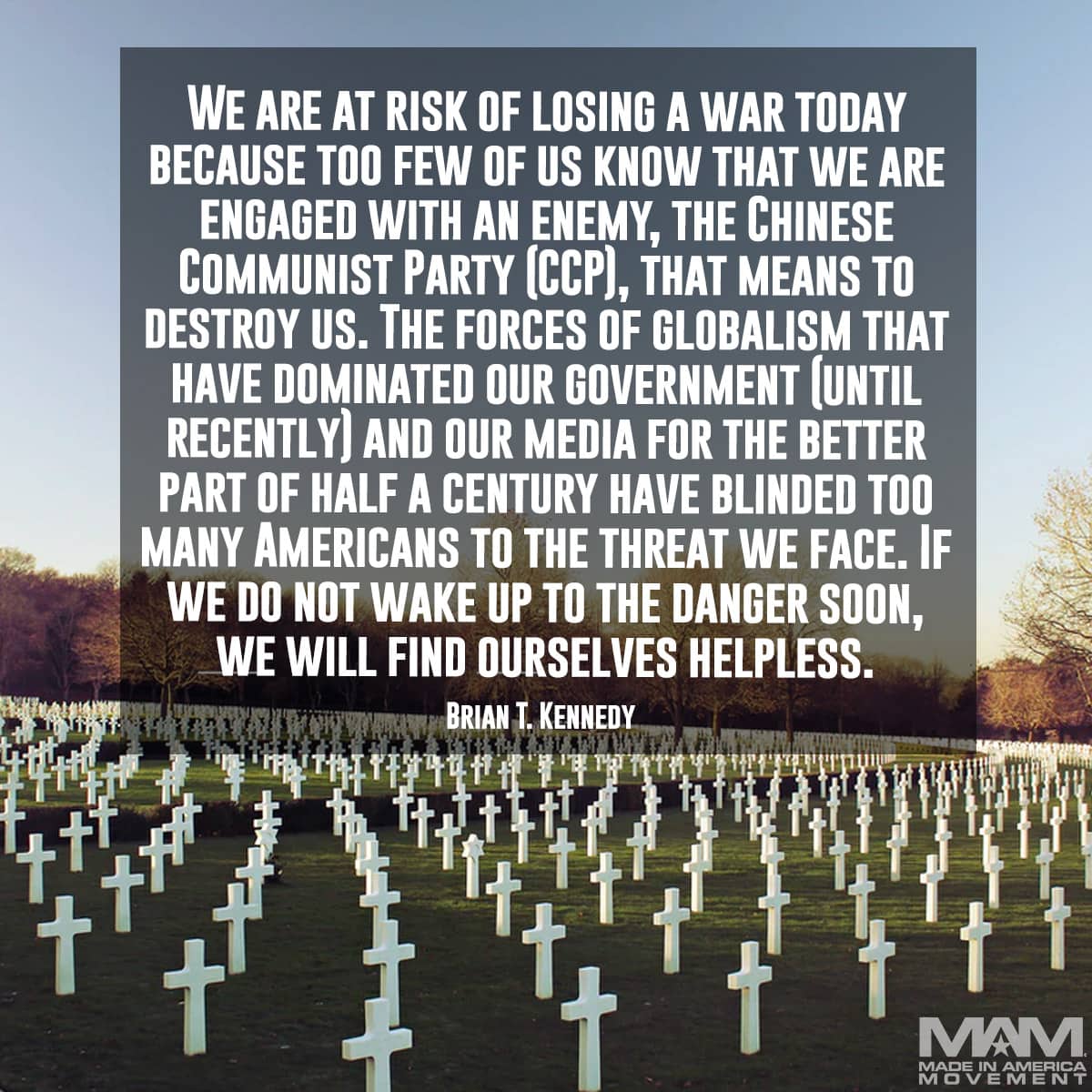 Kennedy catches your attention immediately saying, "We are at risk of losing a war today because too few of us know that we are engaged with an enemy, the Chinese Communist Party (CCP), that means to destroy us. The forces of globalism that have dominated our government (until recently) and our media for the better part of half a century have blinded too many Americans to the threat we face. If we do not wake up to the danger soon, we will find ourselves helpless."
He points out that our relationship is based on two beliefs initiated during the Cold War: "President Nixon's strategic belief that China could serve as a counterweight to the Soviet Union" and "economic liberalism would lead to political liberalism, and China's communist dictatorship would fade away." History has shown that these two beliefs were false and "America's China policy from the 1970s until recently was very costly because it involved a great deal of self-deception about the nature of the Chinese regime and the men who were running it."
He comments that after the Cold War, "pursuing the China dream appeared a safe course of action, given that the U.S. was then the world's preeminent military power." During the last year of the Clinton administration, "China was granted "Most Favored Nation" trading status and membership in the World Trade Organization." We know the disastrous consequences of this action: the lost of over 5 million good paying manufacturing jobs between 2001 – 2010 and the closure of some 67,000 manufacturers.
Under the subsequent Bush and Obama administrations,
"the U.S. failed to build a military that could challenge Communist China's aggression in the Pacific—specifically its building of a modern navy and its construction of military installations on artificial islands in the South China Sea—and acquiesced in the export of much of the U.S. manufacturing base to China and elsewhere."
He explains that China's 1.4 billion population is "governed by the Chinese Communist Party, which has 90 million members, and by an elite class of approximately 300 million additional Chinese who are deeply invested in the regime's success…The system benefits these elites, whose businesses, mostly state-owned enterprises, are privately run with active participation by the CCP. Once a business reaches a certain size, it will take on board a cadre of party members who serve as a direct liaison between the business and the government."
He goes on to explain that "the CCP operates a massive global intelligence network through its Ministry of State Security. This network does its part to assist Chinese business and industry through industrial espionage, cyber warfare, and economic coercion."
With regard to China's military buildup, he states that China "has a military of two million men, including the world's largest navy. This military may not be qualitatively on par with the U.S. military, but quantity has a quality of its own. In the last five years of U.S. naval war game simulations, in which the U.S. is pitted against China, the U.S. has failed to come out victorious. We do not have enough ships and munitions to defeat China's navy absent the use of nuclear weapons… "As for China's air force, it possesses and is building today advanced fighter aircraft that rival anything the U.S has built. They may not yet have the quantity, but that will come with time."
Next, he mentions the book, "Unrestricted Warfare, written in 1999 by two People's Liberation Army colonels. It argues that war between the PRC and the U.S. is inevitable, and that when it occurs China must be prepared to use whatever means are necessary to achieve victory. This includes economic warfare, cyber warfare, information warfare, political warfare, terrorism, and biological warfare, in addition to conventional and nuclear warfare. The book's purpose was not only to shape Chinese policy, but also to plant the idea in the minds of U.S. policymakers that China will consider nothing out of bounds."
He comments that
"In thinking about the implications of the word unrestricted, it is useful to look at the CCP's treatment of its own people. Estimates put the number of those killed at the hands of the CCP—whether through war, starvation, or execution—at roughly 100 million…. And these numbers do not even take into account the forced abortions stemming from China's one-child policy. That number is conservatively estimated to be 500 million—500 million children murdered in the womb."
He reminds us of
"CCP's imprisonment in concentration camps of one to two million Muslim Uyghurs in Xinjiang province. Fewer of us are aware of how the Chinese government facilitates the abduction of Uyghur women for sexual use by Chinese soldiers—or even worse, if that were possible, how the government harvests the organs of the Uyghur population for sale both in China and abroad."
Next, he states that "The CCP operates a vast intelligence network in the U.S as well. It is made up not merely of intelligence operatives working for the Ministry of State Security, but also a myriad of business and industry officials, Chinese scholar associations, Confucius Institutes operating on American campuses, and 370,000 Chinese students attending American universities.…It should not be surprising that a combination of the efforts of this network and of China-based cyber criminals yields $500 to $600 billion of intellectual property theft annually."
Of particular importance to me is his comment that
"Perhaps the greatest threat to the U.S. posed by the CCP is its corruption of America's business and financial elites, who view the economic benefits of dealing with China as more important than America's national interests. If there is a single group committed to the globalist project and the delusory China dream, it is Wall Street. Our great investment banks are now selling trillions of dollars in debt and equity in Chinese corporations to American investors and retirees. They are literally betting on the success of China at the expense of the U.S."
I've long written about how American companies have put short term profits before their loyalty to America by transferring so much of their manufacturing to China. As a result, we have decimated our middle class as manufacturing jobs are the foundation of the middle class.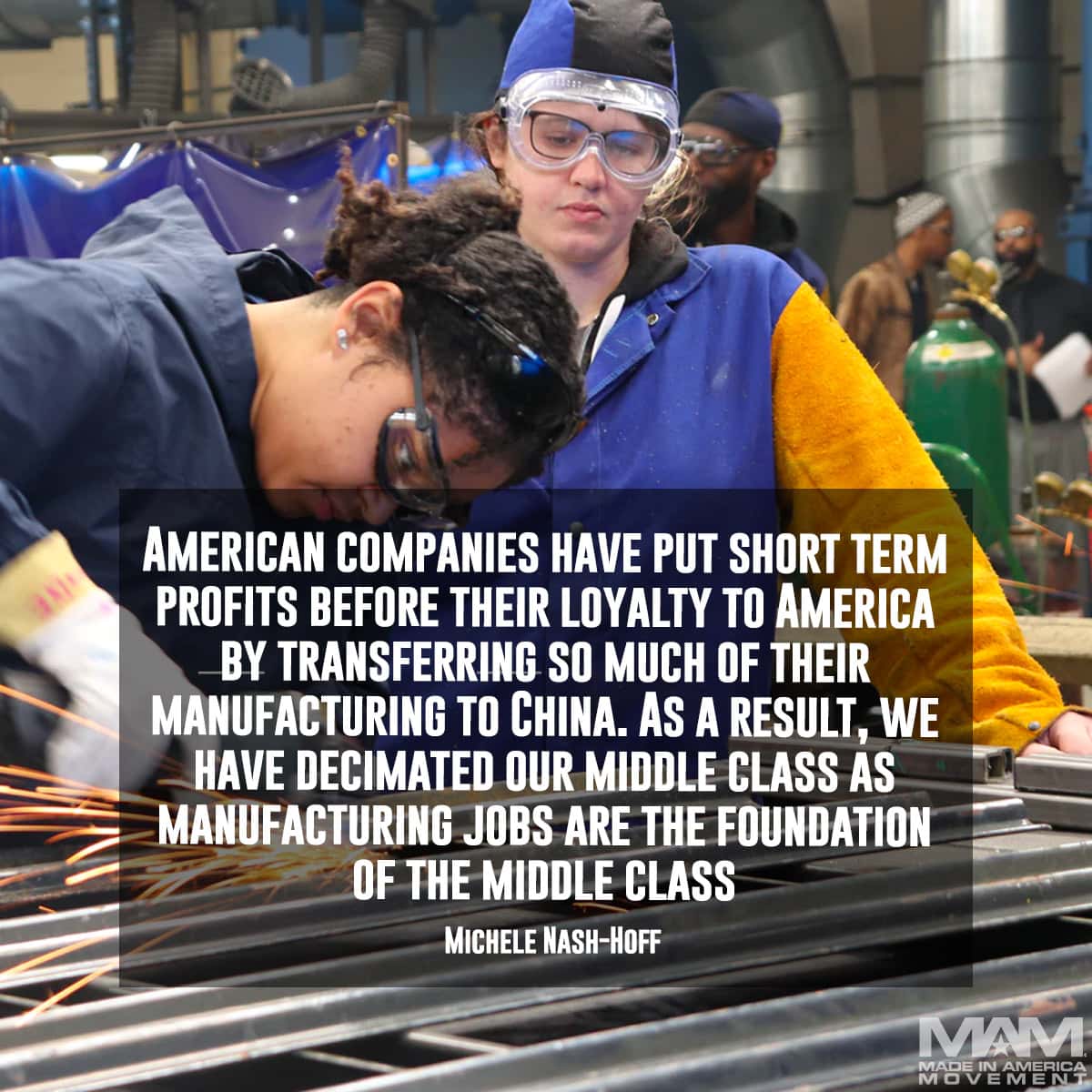 He concludes saying, "Americans are not looking for war with Communist China, but Communist China appears to be at war with us. As a first order of business, we must continue what we have at long last begun: building a military designed to deter Chinese aggression and pursuing trade and other policies that put our own national interests first.
Equally important—especially given the violence in our cities that our foreign enemies cheer—is defending our American way of life and teaching our countrymen why America deserves our love and devotion, now and in the days ahead."
It's past time to wake up. It's time for action.
The next administration must make putting American first if we want to remain a free democratic republic and maintain our national sovereignty.
---
What do you think our next steps should be as a country? Leave a comment below and join the discussion.
https://www.themadeinamericamovement.com/wp-content/uploads/made-in-america-made-in-china-quality.jpg
735
1400
Michele Nash-Hoff
https://www.themadeinamericamovement.com/wp-content/uploads/2017/08/Made-in-America-Movement-Logo_340x156.png
Michele Nash-Hoff
2020-11-20 08:41:39
2020-11-20 08:41:44
U.S. Must Face up to the China Threat